Media
Image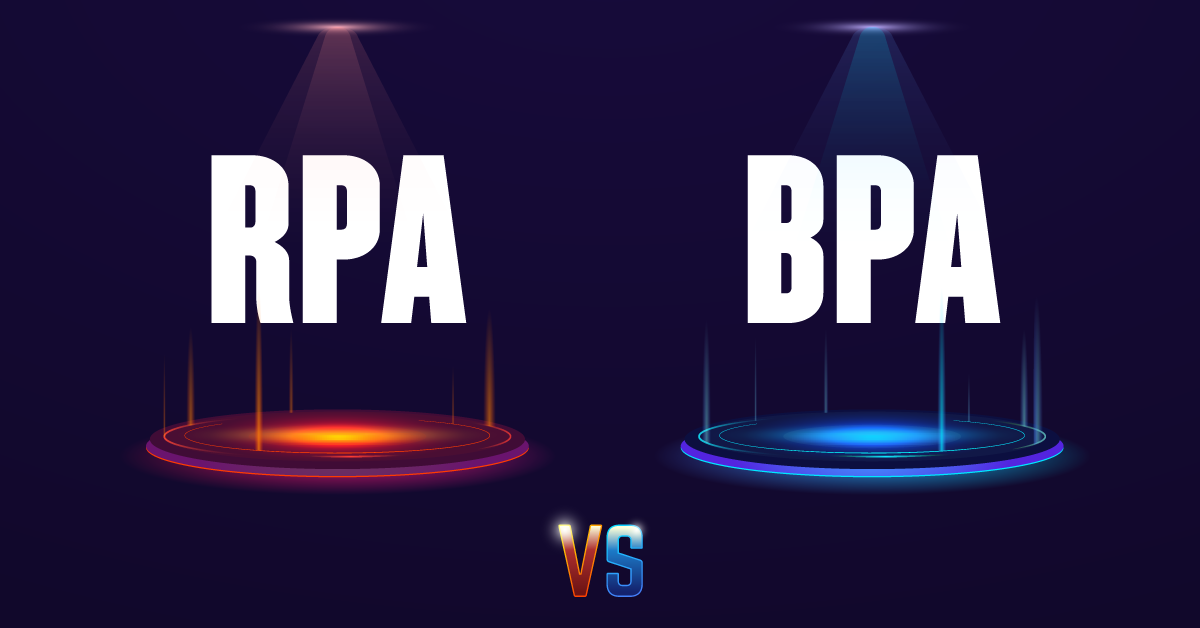 Text
Automation is a powerful way to transform your business to run more efficiently and with fewer errors. As you start down the path of automation, you're likely to hit a fork in the road when you stumble on the terms RPA and BPA. Oftentimes, RPA and BPA are used synonymously, but it's important to differentiate between the two and understand the two different aspects of the automation landscape.
Read on to find out what differentiates RPA from BPA and when to use either—or both—during digital transformation to streamline tedious tasks and simplify your processes.
Business Process Automation (BPA) vs. Robotic Process Automation (RPA)
Simply put, RPA hands individual tasks over to software robots to streamline, and BPA takes an entire business process and automates it from start to finish. While they are separate terms, RPA and BPA can work together to benefit your organization in many ways—and both RPA and BPA are critical parts of digital transformation initiatives.
With RPA and BPA, human error is virtually eliminated when tasks are automated, greatly improving the accuracy of your processes. Automating even one process can save several hours each day, which also reduces cost significantly. And freeing employees from their manual work means they can focus on more important things like high-level strategy and innovation. Plus, greater efficiency is not only better for employees, but it can lead to a better customer experience.
What is RPA?
Robotic process automation (RPA) is a type of automation technology where software robots manipulate and communicate with business systems and applications to streamline processes and reduce the burden on human employees. Think of it as automation on the user-interface level, or GUI automation. With RPA, powerful software robots interact with your business applications and systems the same way a human user would. With RPA you can mimic the manual tasks that take up your time so you can focus on the strategic work that adds the most value to your business.
Take the processes of a call center agent for example. The agent gets a customer call and needs to grab all the relevant information. The conversation is filled with "umm" and "one sec" as the agent fumbles with finding the customer file in their CRM system and then tracking down the order history in their ERP system. Aside from the awkward pauses in conversation, it takes up the agent's precious time, and the customer's.
But with RPA, agents can stick to providing a superior customer service experience. Now when the phone rings, the agent can focus on the customer's needs while software robots automatically and quickly access multiple systems to process the data they need. Saving the agent time to focus on helping more customers, and the customers getting back to their own daily tasks.
Want to see more of the types of process you can streamline with RPA?
Learn more.
What is BPA?
Business process automation (BPA) takes the repeatable processes that are taking up time in your company like transferring files, generating reports, or extracting data from unstructured sources and automates them from one central location. While automating singular tasks like web scraping or screen scraping is a solid start to automating your business, don't stop there. The key to BPA is the "process." When you implement BPA software, each step in the process automatically triggers the next and instead of just automatically handling single steps, you can create entire workflows for core parts of your business.
Think of the many different processes your human resources department must go through. Bringing on new employees is great, but your HR department ends up drowning in time-consuming paperwork and tasks that span multiple departments and applications. From applications needing to be provisioned to many forms needing to be completed and verified.
Enter business process automation to save the day. Now when a new employee is hired, an email is sent with the necessary information and your BPA software extracts the data and automatically creates user accounts and passwords in Active Directory and other critical applications. Then this information is sent to the hiring manager to get the new employee up and running. Less paperwork and headaches and more time for your HR department to focus on recruiting great employees.
Automate: The Solution for Your Automation Needs
Automate is an RPA and BPA solution that provides automation designed to meet the needs of any organization, large or small. Whether you're looking to increase the efficiency of a few tasks or streamline your most mission-critical IT and business processes, Automate can help across the full spectrum of enterprise needs. From easily configurable robots for desktop automation, to a scalable platform for comprehensive enterprise automation, Automate helps thousands of organizations around the world become more efficient.
See for yourself how RPA and BPA can transform your business and streamline any IT and business tasks. Schedule a personal demonstration of Automate from our team of software experts.
REQUEST A DEMO