Simplified Security Administration and Compliance Reporting
Powertech Security Auditor centralizes security administration across your cloud, on-premises or hybrid environment. Our agentless technology allows you to quickly enforce security policy adherence and mitigate the risks of security misconfiguration – a leading cause of data breaches.
How does it work? Security Auditor automatically protects new systems as they come online and continuously monitors those systems, identifying any configuration settings that don't match your requirements. You'll be notified of any policy exceptions and can make these changes yourself from an easy-to-use, web-based console, which simplifies tasks and compliance reporting requirements. Alternately, if you prefer more automation, you can run the FixIt function and let Security Auditor do the work for you.
Protect Your Data with Automated Security Policy Management and File Integrity Monitoring
Image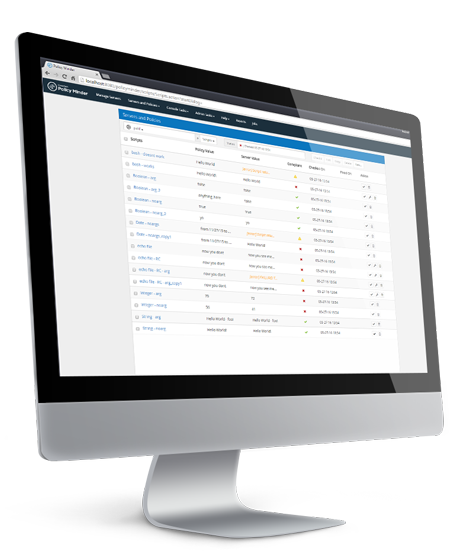 Auto Discovery
Simplify the identification and security configuration for your elastic cloud infrastructure by detecting new systems as they come online and automatically applying the proper security controls.
Continuous Monitoring
Gain complete visibility into avoidable security errors by continuously monitoring your systems against your security policy. Security Auditor will notify you in real time of any policy exceptions.
Automatic Remediation
Save time with automated security administration. When out-of-compliance settings are found, you have the choice to fix them or let Security Auditor do it for you automatically.
File Integrity Monitoring
Receive alerts for any changes to file content, attributes, permissions or access rights you can take immediate action and help maintain compliance.
Security Auditor Product Features
Exception-based reporting
Don't sift through mounds of data and alerts. Let Security Auditor notify you of critical out-of-compliance settings that need to be addressed.
Agentless installation
Manage servers easily and efficiently with agentless technology.
Centralized web-based console
See what is happening across your entire environment from one centralized web-based console.
Secure SSH connections
Secure SSH connections from theSecurity Auditor console to your systems ensures that no data flows in cleartext and no passwords are ever stored.
Complete audit trail
Security Auditor logs all checks, out-of-compliance settings, and fixes so that you have a complete audit trail.
Streamlined Compliance Reporting
Automatically create compliance reports from the central console on the schedule that you choose. System by system, consolidated groups, or all servers on one report—it's your choice.
Media
Image

Text
Secure Your Cloud Deployments
Security Auditor seamlessly integrates with public, private, and hybrid cloud deployments, including Amazon EC2 and S3. Security Auditor discovers the systems in your cloud infrastructure as they are created and then applies security settings to protect your cloud systems properly. Over time, Security Auditor continues to monitor and audit your configurations, making sure that your cloud systems are effectively secured from malicious attackers and inadvertent data breaches.
Are blacklisted services disabled?
Have critical system files been altered?
Are remote access settings properly secured?
Are unknown entities attempting to access your systems?
Media
Image

Text
Integrate Security & DevOps
Security Auditor will give you the visibility and security that your management teams require. As your DevOps team deploys systems to your on-premises or cloud environment, including Amazon EC2 servers, Security Auditor will automatically apply security controls and audits, instantly reporting on what it finds. No matter what regulatory framework you are working with, Security Auditor's automatic application of security controls will alert you to vulnerabilities and misconfigurations.
Controls can be applied differently to different groups of systems based upon your preferences. For example, use one set of configurations for development systems and a more stringent configuration set on your production deployments. If desired, Security Auditor can even automatically change non-compliant findings to the desired configuration settings.
Media
Image

Text
Automated Security Administration
When settings must be changed manually or by using scripting across multiple servers, the logistics of complying with your security policy become impractical and not auditable. From changing server settings to running compliance checks, you can take tedious and time-consuming security administration tasks off your plate and let software handle them automatically.
Here are just a few ways Security Auditor can automate your security administration tasks:
Apply your organization's security configuration as new on-premises or cloud servers come online
Manage the permissions and ownership of files and directories
Run compliance checks to identify new files or changes to settings or files
Return global security settings to match compliance requirements
Identify inactive local user accounts
Ensure local user accounts remain configured correctly
Confirm that authorized changes are auditable by compliance teams
Media
Image

Text
Easy Remedy of Policy Discrepancies
It's one thing to identify a full list of security policy exceptions across your servers, and another to actually resolve all of them. No security administrator has time for such an onerous, manual task. Security Auditor has the power to both find and fix discrepancies across your servers—resulting in a more secure system in less time.
After Security Auditor identifies cases in which your actual settings do not match your defined policy, the software uses the FixIt feature to automatically remedy policy exceptions. You can schedule FixIt to run at selected times or on the fly, and the software will log changes made in a report which you can easily save and distribute. With Security Auditor, complying with your security policy is quick and easy, allowing you to avoid security threats that might have otherwise lurked on your system unnoticed for months.
Media
Image

Text
Compliance Reporting
Reduce the burden on your administrators to provide compliance and audit reports across all of your systems. From a central console, Security Auditor allows you to monitor changes and run reports without the hassle of consolidating data across multiple servers or involving your operations staff.
Automating your compliance reporting with Security Auditor gives you the ability to:
Monitor for changes to ownership, permissions, and attributes for a specific set of files or directories
Document policies with detail, including notes proving corporate policy adherence, justifying deviations from best practices, or detailing out-of-compliance items
Run reports that display both new, changed values and previous values
Consolidate reports from multiple servers into one report for auditors, eliminating manual processes
Run reports on time, regardless of how busy administrators are
Easily distribute reports via email in PDF or CSV format to yourself or compliance officers
Put your system to the test and find out if your environment is at risk with our free security scan. 
SCAN MY SYSTEM
Multi-Platform Security Policy Management
Ensure policy adherence on multiple platforms. Security Auditor automates security administration and compliance reporting for organizations running:
Security Misconfiguration Is a Leading Cause of Data Breaches
Text
Poor system configuration is commonly exploited by attackers to gain access to valuable data, and it's been a banner year regarding the number of high-profile data breaches. Several of the most recent incidents were caused by little more than human error—a series of blunders reminding us that simple misconfiguration can have a disastrous impact.
Many systems are deployed with no regard for security, especially those in rapid-deployment cloud environments managed by DevOps teams. Other organizations may deploy systems with proper security controls but fail to continuously monitor their system security and misconfiguration results over time.
It is next to impossible to manage and maintain proper security without the right tools in place. Security Auditor helps you maintain your security configuration by discovering new servers and storage locations and automatically applying the proper security controls. In this way it ensures your policies are consistently maintained for on-premises and public/private cloud infrastructure around the clock.
Get Started
Security Auditor provides the visibility and automation today's IT security teams need to achieve security policy adherence. See how Security Auditor could simplify your organization's security policy management in a software demo.
REQUEST A DEMO