From what we saw on the Automate Forums during the past month it appears we may have whetted some of your appetites with the tiny screenshot of the Automate 7 Task Builder. Without further adieu here is the low-down on what that screenshot really means.
Image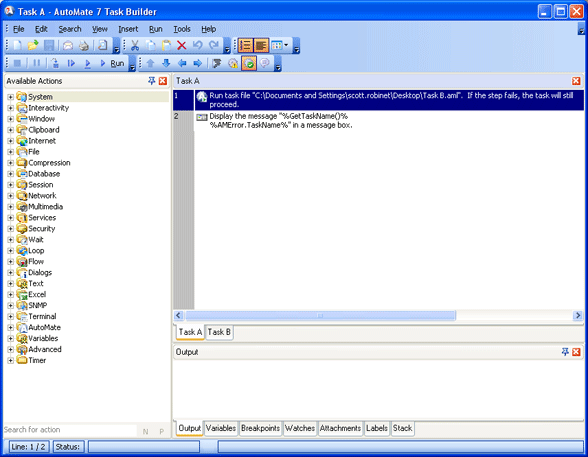 As you may have already guessed (together with Nathalie's hint in her interview in this month's newsletter) the Automate 7 Task Builder now supports multiple tasks within one Task Builder instance. While this has the obvious benefit of increasing the ease of use of editing and creating multiple tasks in one place we've taken it a step further and implemented a feature that many have asked for: The ability to watch a task execute in relation to its subtasks all in one view.
This has the potential to greatly enhance the productivity of any user who has used subtasks as part of their Automate solution (and we know there are a lot of you out there!) As many of you may have already noticed, the Automate 6 Task Builder does not show what happens when a subtask is executing. Instead, the current step indicator remains on the Start Task step until the subtask finishes executing. 
Image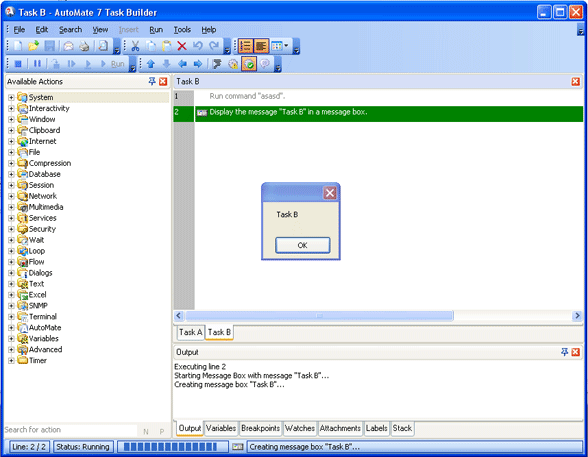 But in the Automate 7 Task Builder, a new task document page is opened once the Start Task step is encountered and the Task Builder follows the subtask's progress just as it did with the main task. The debug windows properly update and reflect the status of the subtask (as would be expected, the debug windows change depending on what task document page is being viewed). 
Subtasks can be paused and stepped manually or at breakpoints and variables can be examined. In short, the Task Builder allows multiple task documents to be open simultaneously and each can be debugged in the same manner regardless of whether they are a subtask or not.
Our in-house testers and developers have been overjoyed about this new functionality, and we're sure you will love it as well. This is just the tip of the iceberg for the new functionality coming in the next major version of Automate that we will be sharing with you in the coming months.
All the best,
Your Automate Development Team