Text
According to a recent Forrester research report, "Office 365 delivered an ROI of 321% with a payback period of two months for the composite midsize organization." The study, which was based off seven SMBs, reported that "Office 365 improves productivity, provides IT peace of mind, and reduces TCO compared to a similar on premises implementation."
With the eagerly anticipated release of Microsoft's cloud-based service, Office 365, on June 28, Network Automation immediately set to work on ensuring the current Microsoft Office automation facilities in Automate were enhanced to provide its customers with equivalent automation capabilities — irrespective of whether they are using Office as an on-premise installed product, or the Office 365 service in the cloud.
The upcoming release of Automate and BPA, version 8.1, will allow customers who have decided to adopt the Office 365 services, to auto-discover and connect to certain of their Office 365 services in order to take advantage of those services in their various business and IT process automation workflows and tasks.
As an example, the Automate "Get Email" Action has an Automate AutoDiscovery feature, whereby you can either specify your Exchange connection details or request Automate to auto-discover based on your user credentials: 
Media
Image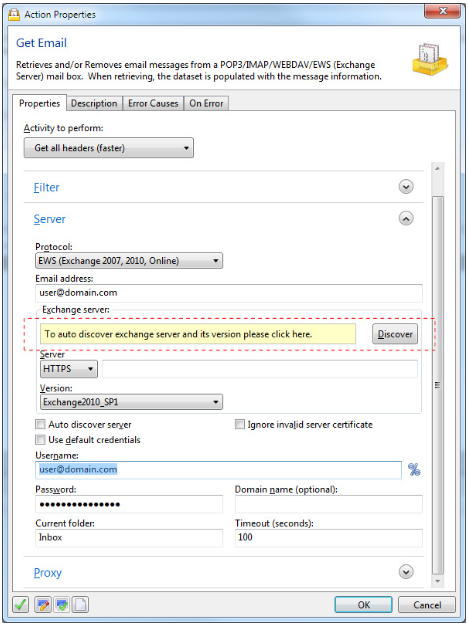 Text
In a similar vein to the changes made to the Exchange and email related actions in Automate (as seen above), we have enhanced Automate actions related to other Office 365 services, such as SharePoint, to include AutoDiscovery capabilities.
Thus, Network Automation customers will be in a position to take advantage of the various benefits of moving from an on-premise Microsoft Exchange and Office solution to a cloud-based Office 365 solution, without losing any of the automation currently associated with, or dependent upon, their on-premise Microsoft products.