You've known for years that you need a more sophisticated scheduling tool for automating the applications and administrative tasks running on the servers in your data center. Cron, Windows Task Scheduler, and the built-in, native IBM i job schedule entries don't allow dependencies, have no reporting or notification options, and allow no flexibility around dynamically calculating parameter values.
At Fortra, we have three job scheduling solutions that can be used individually or in combination, depending on your needs or what you may already have in place.
Solution #1: Robot SCHEDULE and Robot SCHEDULE Enterprise
What Is It?
Robot SCHEDULE has been automating IBM i batch work for over 30 years. With the Enterprise plug-in to Robot SCHEDULE, you have the added ability to incorporate cross-platform dependencies; task, process, and service monitoring; and file and directory event monitoring on multiple servers. 
All the features you expect for flexible scheduling, parameter calculation, interfaces to popular ERP applications, and notification if a task ends abnormally or runs too long or too short are there. Many tools are incorporated from the graphical interface, including a monitoring dashboard, job and event completion history, auditing of job changes, and several built-in reports.
Job scheduling with Robot also gives you the ability to incorporate FTP, FTPS, and MS SQL jobs, and with the SAP and Oracle JD Edwards EnterpriseOne interfaces, you can incorporate true completion status dependencies into your schedule.
Image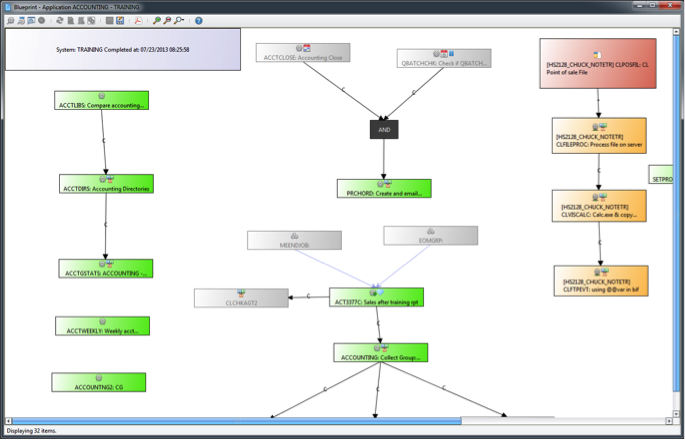 Figure 1: Robot SCHEDULE Job Flow Diagram
Is Robot Right for Me?
You will want to use Robot SCHEDULE and Robot SCHEDULE Enterprise if your needs match any of the following scenarios:
You are primarily an IBM i shop and don't have a need to automate distributed systems.
IBM i is the cornerstone of your business and you don't want to rely on a scheduling tool from an external platform for job and task management on your i.
You are IBM i-centric, it is your primary business application machine, but you have distributed systems Linux, Windows, and UNIX tasks to run, some cross-platform.
You already own Robot SCHEDULE and want to incorporate Windows, UNIX, and Linux dependencies or simply leverage your investment by adding a centralized scheduler for all platforms.
Solution #2: JAMS
What Is It?
JAMS Scheduler is an enterprise job scheduling and workload automation solution that automates IT processes, from simple batch processes to scripts to complex cross-platform workflows—whether on Windows, Linux, UNIX, IBM i, zOS, OpenVMS and more. JAMS integrates with various technologies throughout your enterprise to provide seamless, unattended job execution, allocating resources to run jobs in a sequence, at a specified time, or based on a trigger.
 Video 1: JAMS Dashboard
Is JAMS Right for Me?
You will want to use JAMS if your needs match any of the following scenarios:
You want to unite job scheduling with workload automation.
You have distributed systems and need cross-platform capabilities.
You need a solution that integrates directly with industry leading ERP, Finance, CRM, and BI applications.
Solution #3: Automate Schedule
What Is It?
Automate Schedule is an enterprise job scheduler that is hosted on Windows, AIX, or Linux and has agents for those platforms and IBM i. Automate Schedule is easy to deploy and offers a browser interface and integrated monitoring dashboard. 
Automate Schedule also has many robust scheduling and event dependency scheduling options, parameter calculation features, and a web services API. It has interfaces into popular applications such as SAP NetWeaver, Oracle E-Business Suite, and Informatica.
If you already own Robot SCHEDULE, you can also trigger Robot jobs from Automate Schedule and vice versa.
Image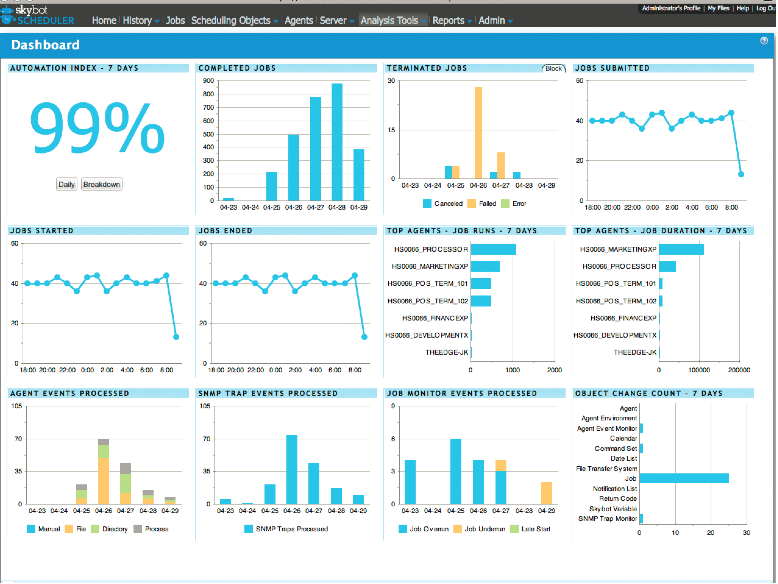 Figure 2: Automate Schedule Dashboard
Is Automate Schedule Right for Me?
You will want to use Automate Schedule if your needs match any of the following scenarios:
You don't have IBM i in your data center.
You already have Robot SCHEDULE, your distributed systems are managed separately, and you don't mind having two distinct schedulers to maintain.
You want a scheduler that is optimized for the distributed systems environment.
You use AIX, Linux, or Windows as your primary application server and have very few IBM i jobs to incorporate into a schedule, but you still want a centralized scheduler.
You may be transitioning away from IBM i and don't want to invest in a scheduler based on that platform, but you still want to have a centralized scheduler that also can handle IBM i tasks. 
When Would I Combine Automate Schedule with Robot SCHEDULE?
You want to have a tool that is optimized for applications running on distributed systems (e.g., Informatica and Web Services) and are also a heavy IBM i user with some cross-platform dependencies. In this scenario, it's best to use the combination of Robot SCHEDULE on IBM i and Automate Schedule with their built-in cross-schedule interfaces.
Whatever your strategic platform, Fortra can automate your workload. For help determining whether a single scheduling solution is right for you or if your data center complexity demands a combination, don't miss the Fortra enterprise job scheduling webinar.
Our automation experts are also available for personal consultations and live product demonstrations. Email us to discuss your specific needs with a technical solutions team member.