Every business has documents that they need to index, archive, file, and retrieve. Whether for compliance and audit purposes, or just your own company's records, these files should be easily accessible. Filing cabinets and pseudo-electronic document management is inefficient and takes up time that could be spent on more strategic work. An electronic document management system (EDMS) is a software solution that allows you to go paperless through automation, find your documents faster, and ensure your important files are being stored securely.
Media
Image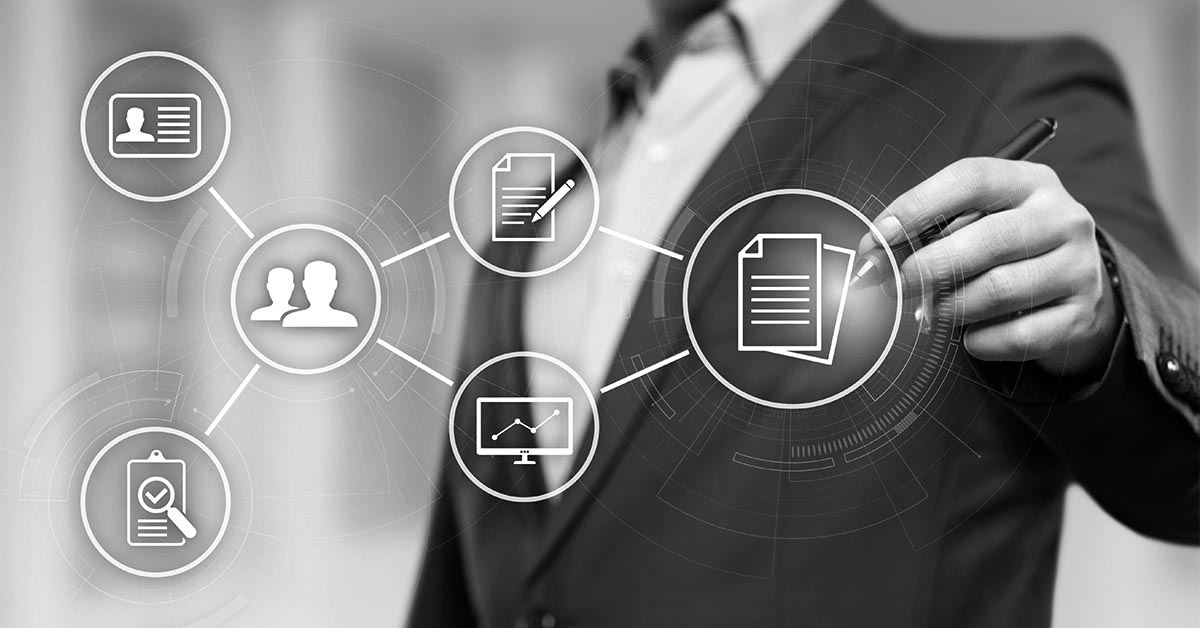 1. Will It Help You Go Fully Paperless?
Text
Going paperless is more than just scanning documents to your shared network. And digitizing your filing cabinets won't make your documents any easier to find and edit. To fully solve your paper problem, you need software that can store and manage your documents.
Start by evaluating your current situation. Identify your needs, both to choose a solution, and to prove the need to the decision-makers. An EDMS could be costly, so you need to make sure you can prove ROI. Figure out where you can save the most money in your processes. Is postage too much? Printing too expensive? Or are you losing money from slow processes?
The right EDMS will organize and route any kind of file for your key business processes. Whether they be invoicing, order processing, or employee onboarding. To truly go paperless, you need to change your workflows to better achieve your goals and save you money.
2. Will It Make Your Documents Easier To Find?
Text
Without a standardized process, employees can do whatever they want with their documents. Employee A could name an invoice one way, while the very same invoice from Employee B could be named another: Preventing Employee A from finding Employee B's invoice and vice versa.
Documents should be easy to find throughout every department of your business. Many teams use monthly business reports from their ERP or financial business systems. Your accounting team might receive vendor invoices, customer orders, contracts, certifications, and other paperwork that they need to capture and route through approvals and other processes. And your security and audit teams need a safe place to store their compliance documents.
Prevent headaches and duplicates by standardizing your document processes. An EDMS makes it easy to find documents across your organization—whether it's later that same day or years later. No matter who captured or received the document in the first place, employees will be able to find what they're looking for.
3. Will It Safely Store Your Documents?
Text
Keeping your documents secure is a very real concern for companies. Just think of HR documents. They contain confidential employee information that must stay private and secure. Without a proper document management system, your documents are vulnerable. From someone accidentally viewing or overriding confidential information, to a third-party accessing private information. Security breaches like this would stir up a series of unpleasant events for your company.
An electronic document management system secures documents so that only those who have the authority to view the document can view it. Version control prevents anyone from making unwanted changes to the document, and a formal check-in/check-out process ensures visibility over everyone who has made changes, as well as what changes have been made.
A secure EDMS also protects your documents from cybercrime, data leakage, and other threats. No matter what, with the right document management system, your company will rest assured that essential business documents are safe.
Meet Webdocs from Fortra
Webdocs is an EDMS that lets you manage all your documents and data with a complete, integrated solution. Request a demo to see how easy it is to go paperless and manage your documents electronically.
REQUEST A DEMO