HelpSystems has a new name, Fortra, but our commitment to our people remains the same.
Our Core Values
We Embrace the Journey

Change is a constant for our customers and our business. We always adapt and grow, both personally and as an organization as we strive to harmonize work and life.
We are Stronger Together

Varied points of view, trust, and teamwork lead to better decisions. We celebrate the power of diversity, equity, and inclusion at every level in our organization.
We Pursue Excellence

Commitment, resolve, and accountability. We care about how we do things as much as what we do. We tenaciously contribute each day and act decisively.
We are Helpful

We solve problems in everything we do. We help each other, our customers, our partners, and our communities in ways big and small.
We're Stronger When We're All Stronger
Text
At Fortra, we're on a journey to empower organizations everywhere achieve their full potential. Our Diversity, Equity, and Inclusion (DEI) Council is committed to effecting meaningful change in our organization — change that will make us stronger, more innovative, and better able to build more equitable communities.
The right way to do this is to channel the passion, talent, and perspectives of a diverse team. We strive for equity for all and recognize we're better when we involve everyone, inclusive of age, sex, race, nationality, gender identity, sexual orientation, religious affiliation, parental status, marital status, military service, disability status, neurodiversity, and all other qualities that create unique individuals.
Awards
Media
Image

Text
The happiness and commitment of our employees has helped make Fortra one of StarTribune's Top Work Places multiple years in a row. But our success is also due to the passion and hard work of our leaders. As a testament to Fortra's ongoing growth and commitment to excellence, the Minneapolis/St. Paul Business Journal has recognized several of our leaders. CEO Kate Bolseth and Chief People Officer Joanna Leach were Women in Business Honorees in 2021 and 2022, respectively. Likewise, CFO Matthew Reck was a 2021 CFO of the Year Honoree.
Wellness is also a top priority at Fortra, and we are the proud recipients of the Wellness by Design Award. This accolade recognizes organizations that prioritize employee health and environmental impact through creative and effective initiatives.
Our Benefits & Perks
Our people make us great. That's why Fortra offers a top-notch rewards package that includes competitive benefits and salaries, career-nurturing opportunities, and a host of other perks. We strive to provide all employees with everything they need to grow and perform their best every day. This includes an emphasis on finding harmony in the balance between work and life.
*Benefits and perks may vary by geographic location
Where We Are
Media
Image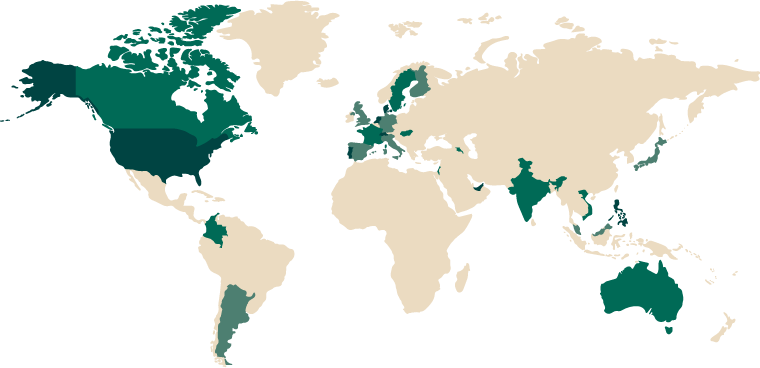 Text
We know that diversity of all kinds leads us to be more adaptable, have an increased variety of viewpoints, and increases innovation. Our headquarters are located in Eden Prairie, Minnesota, but we have teammates in more than 20 countries, making us a global company. Working at Fortra gives you the great opportunity to work on teams with people from all over the world. While members of your team may be across the pond, or a short flight away, you will feel like they are right in your home office.
What to Expect
Text
The Interview Process
Here at Fortra, we are always excited when people want to join our team. When we receive your application, you can be assured that our team will diligently review your profile, giving it the utmost consideration. Here's what to expect if your profile is a good fit:
You will be contacted directly by our recruitment team to get to know you better and allow you the chance to ask questions about our thriving company, corporate culture, and the position itself.
If there is continued mutual interest in proceeding with the process, we'll get phone interview scheduled so you can speak with the hiring manager.
Finally, we will be excited to connect with you in person or via video call to meet more of the team and share why our employees find Fortra such a wonderful place to work.
While our interview process may vary from position to position, we are always cognizant and appreciative of your time and will strive for transparency and expediency in our process.
If you should have questions throughout the process, feel free to contact us at [email protected].
---
At Fortra, we provide equal opportunity to all employees and applicants without regard to race, color, creed, religion, national origin, sex, sexual orientation, disability, genetic information, status as a covered veteran, age, marital status, membership or activity in a local human rights commission, status with regard to public assistance or any other protected characteristic.
Should an individual require a reasonable accommodation to the online application process they can contact Denice Montelongo in Human Resources at +1 (800) 328-1000. Visit the OFCCP regulations page for more information.
College Students
Text
Our interns receive hands-on experience in their area of study by participating in our internship program. You'll meet other interns, attend intern trainings and events, be a part of real projects, and apply what you learn in school.
We know the value of internships and want to make this the best experience for you. We offer internships in almost every department including Development, Human Resources, Marketing, QA, Support, and Finance. Many of our interns are given the opportunity to work at Fortra part-time during the school year, and some are even hired full-time after they graduate!
Interested in an internship opportunity at Fortra?
Fortra hires interns year round, so keep checking back and be on the lookout for Fortra at upcoming college career fairs.