Image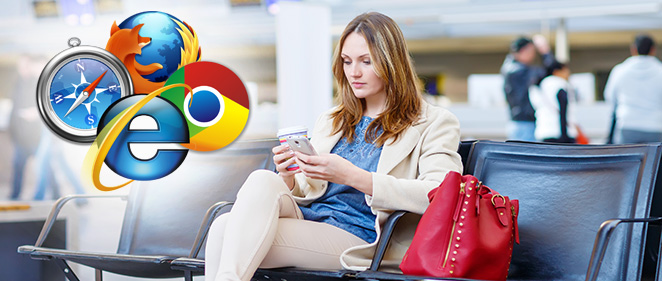 Every business needs data to gauge its status, gain insight into customer points-of-view, and plan for the future. While these statistics are helpful for any businessperson to know, access to such analytics is frequently gated.
BI software needs to be installed—and that means extra work for IT. Information needs to be accessed on certain PCs and laptops. As a result, this often means that you need to be in the office in order to have access to your key analytics.
To top it off, BI software can be complicated—particularly in the interfaces available to users. As IT departments know, users are expecting more and more from their software. And more means self-service whenever possible—even though self-service makes IT nervous, especially when it comes to secure data access.
While a green screen is great for a developer, a business user will often struggle with it. And while graphical user interface (GUI) is great for business users, it only fulfills their needs in the office. A user like a sales representative on the road might need an interface with mobility.
Mobile data access solutions can set your business up for success—without the hang-ups of gated BI.
Here's how it works: mobile data access can be available via a browser interface—without installing any additional software. As a result, users can get live, up-to-the-minute information wherever they are, empowering them to work outside of the office environment.
Zero Footprint
It's simple math. No software installation = zero footprint, and zero footprint = a happy IT department.
Instead of spending time installing BI software on device after device, IT can simplify their environment with data access powered by a browser. Business users and executives across an organization can be empowered to use a browser interface to access data on their PCs in the office. Plus, that same browser interface can also be used on mobile devices, like laptops, tablets, and smartphones.
Granting users data access in a browser eases the IT workload and helps users get up and running faster. Plus, navigating a browser-based application is already intuitive to most business users. Thus, using a browser interface for data access makes the process of accessing, analyzing, and reporting on data far quicker and easier than it has been in the past.
Because browser-based software delivers top-notch data access—with zero footprint—it saves IT time and maintenance.
Up-to-the-Minute Information
Browser-based and mobile business intelligence is not, by any means, limited or abbreviated. It's the same data access that users get in a green screen or GUI—just more mobile.
The data refreshes in real-time in a browser, just as it would in your green screen and GUI. Whether you're at your desk, in a meeting, or on the road, you'll always know that your information is the most accurate possible. Plus, accurate data leads to informed business decisions. And sometimes these decisions need to be made when you're on the road or simply away from your desk.
Because browser-based BI delivers up-to-the-minute information to you anywhere, it saves you from making poor business decisions based on inaccurate data. 
Get Out of the Office
In today's business world, everyone wants flexibility. And flexibility often means the ability to work remotely. Executives, sales representatives, and other business users often need to travel for work—and don't want to miss out on key business updates while on the road.
Accessing data via a browser gives you the ability to get your critical business information—no matter where you are. Once you have mobile data access, you can make informed business decisions from the airport, on the road, at the site of your business meeting, and so on! It even empowers you to check in on the status of your business before heading into the office.
Plus, with mobile data access, you could even work from home! In fact, a recent survey conveyed that 80–90% of the U.S. workforce would like to work at home—at least part-time. When your data access software gives you the option to use a browser interface, it makes it possible for you to work remotely and still access, analyze, and report on the data you need.
With browser-based data access, executives and business users alike can go mobile. You can get out of the office—whether it's to travel for a business meeting or work remotely—without missing a beat. Mobile data access saves you from being confined to an office. The browser interface gives you the freedom and flexibility you need to get work done—wherever you are.
Find Your Mobile Data Access Savior
The success of your business is critical, and to measure it, you need accurate data. In the old days, green screen and GUI met the data access needs of IT, executives, and business users alike. Today, it's a different story.
Data access software that includes a browser interface option is an excellent way to give executives and business users that self-service data access—while giving IT peace of mind.
Mobile data access can be your reality. If you're a Sequel user already, Sequel Web Interface (SWI) delivers the same secure data access you already count on in a friendly browser interface. With SWI, there's no need to install additional software. Business users and executives get up-to-the-minute information and the ability to get out of the office.
Sequel Web Interface Can Help You!
Ready to learn more about SWI and mobile data access?
WATCH THE WEBINAR