PRODUCT SUMMARY
A Robust Tool for Monitoring the MIMIX High Availability Solution
Text
Your business must be confident that their back-end processes are working at all times—any interruption is costly both in terms of lost sales and customer satisfaction. That's why so many companies have adopted high availability solutions to ensure business continuity.
A high availability solution allows you to instantly switch over to a replication of your production environment during planned maintenance or software upgrades, as well as times of unexpected downtime, so you need to make sure it's ready even when you aren't.
Automatic monitoring tools provide the functionality and flexibility you need to ensure your high availability solution is working as it should on both the source and target systems while also freeing your operators to focus on other projects.
MIMIX Monitoring
HA-MX Monitor ensures a maximum return on your investment for your MIMIX solution and helps eliminate lost income as a result of downtime. It efficiently and effectively monitors your MIMIX processes and alerts you to any issues, giving you peace of mind that the integrity of your replicated data has not been compromised.
Eliminate costly human error through highly customizable criteria. Precise monitoring rules and actions are versatile and easy to maintain. You can set monitoring thresholds and define rules to suit your own business needs in addition to choosing your desired method of alerting.
Image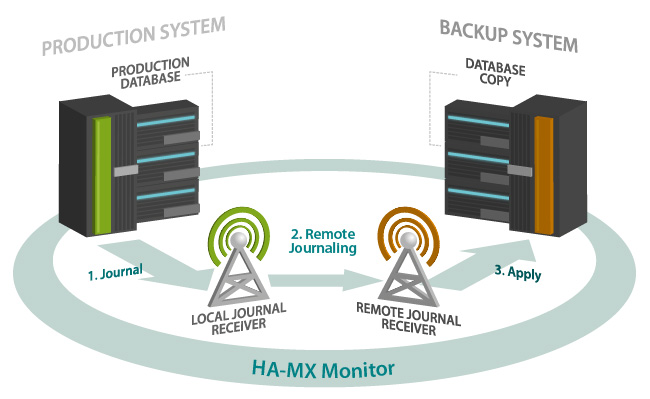 Advanced Alerting
HA-MX Monitor allows you to escalate alerts based on your company processes and procedures. Even if there are no issues, you can choose to receive an all-clear message to give you confidence that your replication data is current.
So that transient error conditions do not unnecessarily disturb you, HA-MX Monitor includes a grace period that handles intermittent, short-term issues that don't necessarily require reporting. You only get notified of real errors.
Mobile Apps

Image
HA-MX Monitor gives you full visibility into what is occurring on each MIMIX process from a single screen. Enterprise Console mobile app for Apple and Android devices is a centralized dashboard where you can manage all alerts even when you are away from your desk.
Easily drill down to status alerts for further details, saving considerable time and improving efficiency with a single point of access.
Let's Get Started
Seeing HA-MX Monitor in action will help you determine how proactive MIMIX monitoring can save you time and money.