Is Query/400 still cutting it? Probably not. You've most likely heard that there are other data access tools out there, but you might not be sure which one is right for you—or even if it's the right time to upgrade. The Query Decision-Making Kit can help.
For starters, you want data access to be simple, no matter your skill level. You want the option to view visual data in real-time, access data across different databases (like SQL Server, DB2, MySQL, and so on), and see your results in flexible formats, like Microsoft Excel. And you want to get set up and run your first query ASAP.
Image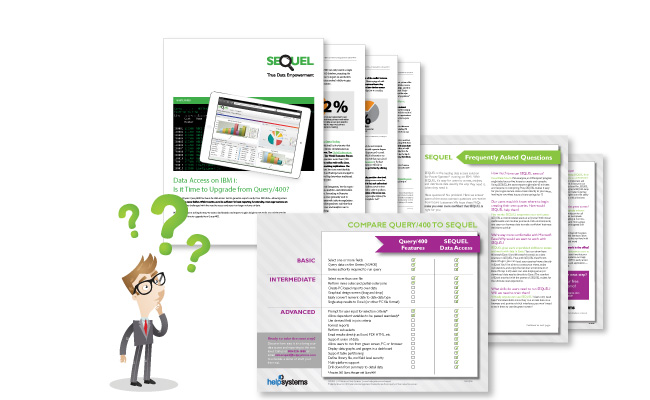 Use the Query Decision-Making Kit to decide if it's time for your organization to switch from Query/400 to a modern data access solution.
Text
Start with "Data Access on IBM i: Is it Time to Upgrade from Query/400?"
Query/400 has been around for over 30 years. It's had a long reign as the data access tool for IBM i. But it's fallen behind the times. Organizations—yours included—want more out of their data. In this white paper, you'll learn about:
How Query/400 is currently used for reporting
How organizations want to be able to use data today
The benefits of investing in a new data access tool, like fast ROI
Once you've learned about some of the limits of Query/400 and the benefits of upgrading to a modern data access tool, move on to the Comparison Checklist. The checklist helps you determine:
If Query/400 has the features you need, or
If a modern tool like Sequel Data Access could better meet your needs
After comparing Query/400 to Sequel, move on to the Sequel FAQs. The FAQs will help you decide if Sequel—and moving on from Query/400—is the right choice for you. You'll learn the answer to questions like:
Can we convert our existing queries?
What skills do users need to run Sequel? Will we need to train them?
How much does Sequel cost?
Sequel is so much more user friendly. Sequel's GUI is much better than the old IBM Query/400 green screen. Everything is right there. You see the big picture—your joins, your files and fields, and your expressions—right there in front of you.
Cameron Glenn, Senior Accounting Officer, MainSource Financial Group