Media
Image
Text
Automate Accounts Receivable the Right Way
Help your entire AR department adopt document management by taking the right first step.
Create Customer-Facing Documents Fast
Create professional high-quality documents, like invoices, using customer data.
Meet Customer Expectations
Keep your customers happy by answering their questions promptly, thanks to an AR document system.
See how Johnson Plastics did it.
Streamline Your Invoicing Processes
Media
Image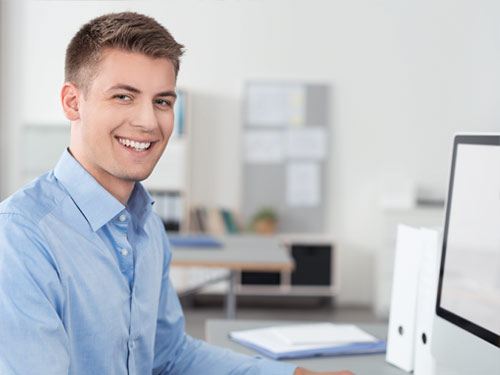 Text
Your AR department's goal is simple: make customers happy and collect timely payments. However, there are many ways manual processes get in the way of customer happiness and a balanced ledger.
Invoices, purchase orders (POs) customer acknowledgements, and shipping documents are top priority in AR. Manual processes lead to frustration for employees and customers.
Enterprise resource planning (ERP) systems generate documents you need to reference when creating AR documents. If routing and approval aren't electronic, you have more steps in your process to print and route.
Some documents, like proofs of delivery, need to be signed. Others, like invoices, require further action from the customer: payment. But whether you send an invoice by mail or email, it can be difficult to control the process. You're often left wondering: has the invoice arrived? Has it been approved? When will your company receive the payment?
And, most importantly, what if your customer calls with a question? If your documents are stored in filing cabinets, it will take minutes—even hours—to find the answer the customer needs.
It's time to automate your Accounts Receivable documents.
 If anyone has a question about an order, they can go into Webdocs to look it up. No matter where you are, you can see the information. There's no need to chase it down.
Ron Caucutt, IT Operations Director, Johnson Plastics
Benefits of AR Automation
Meet Customer Expectations by Automating AR
Remove the Paper Hurdle
Instead of tracking down paper, re-keying information, and mailing an invoice to customers, you can handle it digitally. The minute the customer places an order, they'll receive an automated order acknowledgement. No paper, no slowdowns. Plus, customer requests for documents can be fulfilled instantly with digital delivery.
Automate Your AR Processes
AR departments receive orders by phone, email, fax, EDI, and online purchases. ERP systems produce documents with data that you need to use to create AR documents. All of these documents need to be tracked and saved—which can be done automatically the right document management solution. Document management for AR integrates with your ERP, extracts data from ERP documents, and monitors every source of order placement, making AR documents easy to track and reference.
Speed Up Invoicing
Draw on existing data in your AR documents to create an invoice. Pull in a company name, purchase order, or amount due in a snap. Add an overlay. Use drag-and-drop tools to polish off a professional, high-quality invoice. Then send it off to the customer—faster than ever before.
Simplify Signature Capture
Without document management, this is a tedious process involving paper, scanning, and filing. With the right document management system for AR, you can capture signatures digitally and save signed documents into your system automatically. You'll save time, and so will your customers.
Gain Visibility Over AR Documents
The right AR document management solution provides all of the tools necessary to capture documents electronically. Once captured, documents are easy to track through various processes. You'll always know where a document is and if it's approved. The solution also keeps your documents secure, so you don't need to worry about unauthorized users viewing them.
Boost Customer Satisfaction
The next time a customer requests a copy of a purchase order (or any other document), you'll be able to find it quickly. Instead of digging through file after file of paper documents, all you need to do is run a quick keyword search. Then, presto: you'll meet the customer's needs in mere seconds.
Receive and Process Payments Faster
Make sure that payments are collected in a timely fashion. An AR document management solution makes it easy to track invoices and payments, so you'll always know how your accounts stand.
Phase In Automation
The best way to get started with AR document management is the phased approach. Start with the documents that your systems generate. From there add new levels of automation until you find the right fit for your department—and your company.
Take Your First Step to Automated Accounts Receivable
Get your AR automation project off the ground the right way. Our experts will guide you through the process and advise you on which level of automation is right for you to develop an automated accounts receivable system. Schedule your free 30-minute consultation to get started. 
SCHEDULE A CONSULTATION