Media
Image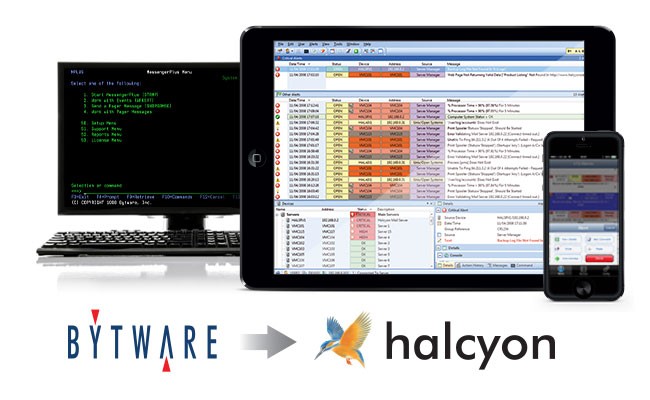 Text
Your business evolves. So should your monitoring solution.
Fortra has a rich history of acquiring and growing IT software companies, along with an unparalleled commitment to customer service and support. By adding Halcyon to our systems management offerings, we've made it even easier for you to find the solution that's right for your business and make a smooth transition without leaving the vendor you've come to trust.
Hundreds of MessengerPlus and MessengerConsole customers have already made a successful switch to Halcyon.
Top Benefits of Upgrading to Halcyon
All the system and message monitoring capabilities you have today, plus more!
Text
Halcyon makes it possible for you to centrally manage multiple servers from your preferred mobile device, identify and address issues that could impact performance, monitor business-critical applications using best-practice templates, and test product upgrades prior to production.
By moving to Halcyon's Systems Operations Suite (Level 2), Bytware Messenger users immediately gain:
Graphical user interface (Enterprise Console)
Android and Apple mobile apps
Automatic failover for disaster recovery
Application templates for monitoring ERP and HA tools
Data area, data queue, object size, object existence, job temporary storage, and file record count monitoring
Ability to install multiple instances of the product on a single LPAR
Product Comparison Checklist
Not all IBM i monitoring and automation software is created equal. When it comes to keeping your system—and your business—on track, it's important to identify which features are nice to have and which ones you need to have.
Built-in templates
Halcyon is ready to go out of the box with built-in monitoring templates for critical ERP and HA applications
Mobile-ready
Halcyon offers a graphical user interface plus mobile apps for Apple and Android devices
Multi-platform
Halcyon gives you visibility and control across IBM i, Windows, AIX, and Linux platforms
Halcyon Is a Scalable Solution for Today and Tomorrow
Media
Image
Text
As your business grows and evolves, Halcyon also offers the potential for you to easily add:
Multi-platform monitoring
MIMIX and MQ monitoring
Web application monitoring
Performance analysis
Disk space management
Spooled file management
Advanced job scheduling
SLA reporting
Intelligent alerting
And more
Get Started
Fortra has invested heavily to make the upgrade from MessengerPlus and MessengerConsole to Halcyon simple. While the upgrade is relatively simple, professional services are also available to save you additional time.
CONTACT US