Media
Image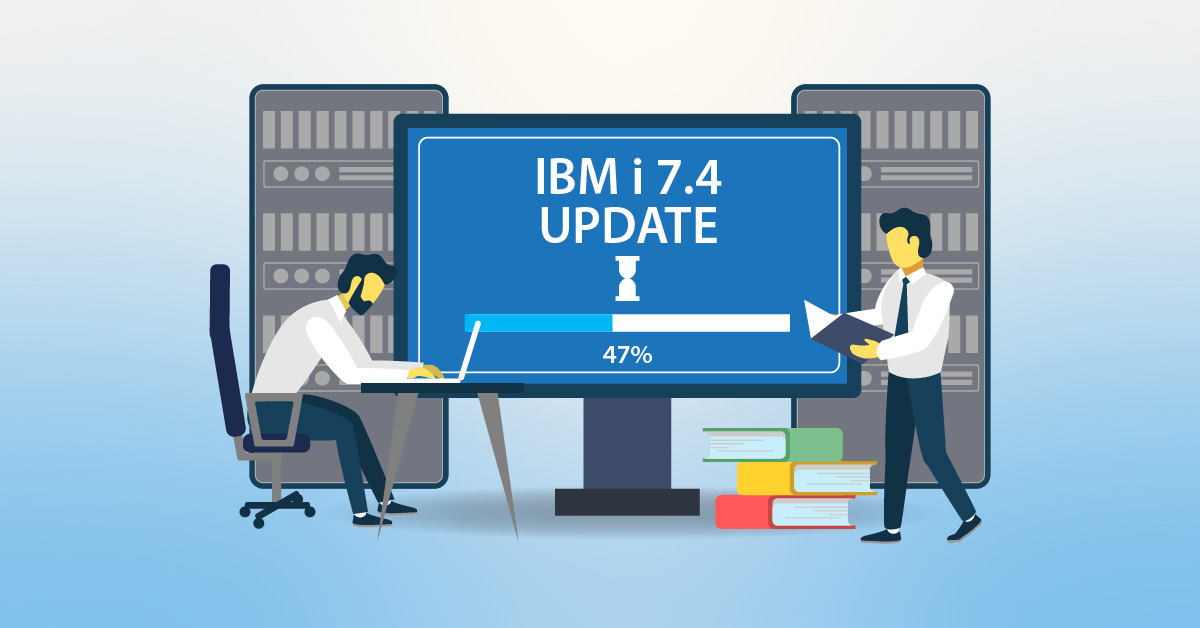 Text
IBM releases a new operating system level about every two or three years, and version 7.4 came out in June 2019. In between new operating system levels, IBM releases Technology Refreshes (TRs) to support new hardware features and to ease our burden of always chasing new OS levels, which is hard on change control teams. The roadmap for IBM i continues into 2032 and beyond, according to Steve Will, chief architect of the IBM i operating system at IBM, which is great news for those of us on the platform!
Fortra hosted a webinar with Darren Anderson, president of CPS Technology, on how to upgrade to version 7.4 of the IBM i operating system. Darren has been helping IBM i teams upgrade their OS level for over two decades. His strategies and tips will save you some time.
Why IBM i 7.4 (V7R4)?
Let's say you're on IBM i 7.1 or 7.2 and are considering updating to IBM i 7.3. Why would you waste your time going to a release that is already over two years old?
IBM has done a great job of documenting the new features in IBM i 7.4. Maybe you need the new high availability feature called Db2 Mirror for i, as you've been looking for active/active high availability. Another reason could be that you use PowerHA or BRMS and want to take advantage of the latest enhancements. Or maybe cybersecurity is on your mind. The enhancements for TLS and Authority Collections in IBM i 7.4 would be another good reason to upgrade.
You might also be doing new development on IBM i and want the latest Db2 enhancements along with new open source support. If this is you, you should know that Rational Developer for i (RDi) has also had several enhancements over this past year, independent of the new OS levels.
As you can see, there are many reasons to update to IBM i 7.4. Now, let's look at some steps you should consider for upgrading.
Plan the Upgrade
The order of the operating system upgrade is always HMC, then FSP firmware, then IBM i and LIC (license internal code a.k.a. microcode).
Have the same business partner where you got your hardware order IBM i 7.2, 7.3, or 7.4 about six weeks before your planned upgrade date. Make sure you have all license keys for the operating system and third-party vendors and be sure to ask whether your third-party vendors are ready for the level you are upgrading to. Fortra is ready!
Two weeks before the upgrade, you should order preventive service planning (PSP) information and PTFs. These are available online.
7.1: SF98710
7.2: SF98720
7.3: SF98730
7.4: SF98740
Finally, you're taking a big risk if you don't back up ahead of time! Be sure you have enough save media available and set aside approximately six hours of dedicated time to back up the server before the upgrade starts.
Keep in mind that technologies you may have used in the past might not be supported on newer OS and hardware levels. These links help you understand what is supported IBM i 7.4 for software and hardware.
Execute the Upgrade
You should verify the license keys you have for your IBM i software. You can check this IBM's Entitled Systems Support site, where you'll be able to see all of your license keys and select the ones you want.
You also need to set up your image catalog so you can just have the system upgrade without needing to shuffle DVDs. During this process, you'll be asked to allocate enough space for the LIC, too. Any PTFs that are not permanently applied need to be applied at this time. You will not be allowed to upgrade with temporary PTFs.
Make sure you document any changes you make to the operating system components, including items like system values, print files, and physical files, which are stored in the operating system and might have been changed in the past. Create a CLP with any customization for this area and then run the CLP after the OS upgrade. You will be creating an image catalog (CRTIMGCLG) for the install and will build a list of what to upgrade and specify the order during this process.
You will power down the system (PWRDWNSYS) and point the process to your image catalog. During the IPL, the system will boot from the image catalog and install the upgrade without you loading any media—it's all pre-staged—though you will see progress indicators.
This is the time-consuming part of the actual upgrade. Time to wait patiently.
After the Upgrade
Verify the install and check QSYSOPR for messages that you might have missed. Before you let anyone on, run the program that has your system values and other operating system changes documented. If you had these changes before, you will need them again.
The final step is to back up the operating system and save system data (Option 22).
Upgrading your IBM i operating system is no small task, but as with any computer, you will need upgrade it eventually. Whether you're upgrading IBM i, AIX, Windows, or any other operating system, it takes planning…and things can go wrong. That's why we recommend you plan, then plan some more, and then do your backups.
Best of luck on your next operating system upgrade!
Planning an upgrade to IBM i 7.4?
It's more work to plan an upgrade than to make the upgrade itself. Darren Anderson and IBM Champion Tom Huntington help you discover what you need to upgrade to IBM i 7.4 in this recorded webinar.
 
WATCH THE WEBINAR