Left Column
Image

Get live data access no matter where you are.
Middle Column
Image

Get users data without installing any extra software.
Right Column
Image

Make real-time decisions based on data.
Overcome Your Data Access Hurdles
Media
Image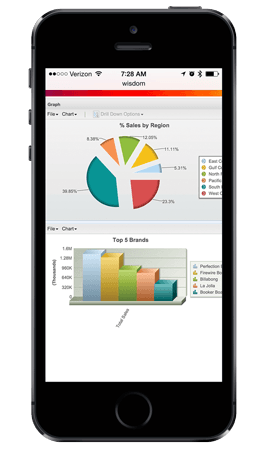 Text
No matter what industry you're in, it's crucial that you have the real-time data you need to make important business decisions. However, a big hurdle arises when you're not physically at your desk, on your PC, and directly connected to the system where your data is stored.
For instance, maybe you're on a business trip and need accurate data to relay in a meeting—or maybe you simply want to check in on the status of your business over your first cup of coffee at home. But when data access can only happen in the office, doing so is impossible. Instead, you have to rely on a previously-generated report—and too often, that report is out-of-date by the time you look at it.
As a result, you're caught between a rock and a hard place. Do you make a decision based on potentially outdated data? Or do you put it off and wait until you can get back to your office and get your live data? Either way is no way to run your business.
Another hurdle arises when business users at your company want to be able to access key business information on the fly—but doing so requires technical knowledge to comb through data on green screen applications. Very few business users actually have this technical knowledge—and, often, those who do would still prefer a simple, flexible way to access their data.
Mobile data access solutions can help you overcome these hurdles and achieve real-time data access—for yourself and your users—anytime, anywhere, no matter what.
Most of our users access data using a browser. A browser is all the software they need to get the information they need.
David Lunzman, Senior Software Developer, Security Mutual Life
Get Real-Time Data—Wherever You Are
With a mobile data access solution, you'll no longer need to be shackled to your PC in order to get the data you need. Instead, you can access your live data via a browser interface and from any mobile device. Plus, you'll make it easy for everyone in your organization to access the key data they need—whether they're in the office, at home, or traveling.
Make Real-Time Business Decisions
Real-time data powers smart business decisions. With the right mobile data access solution, you can get the real-time data you need, no matter where you are. Gone are the days when you needed to be physically in the office to access and assess accurate data.
Deliver Flexible Data Access
Since mobile data access solutions are browser-based, they're inherently user-friendly for any type of user. Whether you're a super-technical IT user or an average Joe who just wants to see how his Sales are, you have a flexible option to get the key business information you need.
Use Your Smartphone—or Any Mobile Device
Tired of going in early to check the numbers? When you have a mobile data access solution, you can check in on your data wherever you are—at your kitchen table, in the airport, or simply on the walk to your colleague's office. All it takes to access your data is a browser, so you can use your smartphone, tablet, laptop, or any other mobile device.
Relax: Your Data is Secure
The right mobile data access solution successfully merges anytime, anywhere access with secure data access. Even though data can be accessed through an intuitive browser, IBM i security and validation of user authority remain in place. Plus, and the controls can be set up to meet your organization's security needs.
Quickly and Easily Distribute Data
Your users want data fast, and browser-based data access can be the quickest way to give it to them. Simply export data directly from your browser into the PC format the user desires—or empower the user with their own mobile data access in the intuitive browser.
Text
Take Data Access with You—Anytime, Anywhere
Get access to data anytime, anywhere.
With Sequel Web Interface, it's easy to expand data access across your organization and keep everyone—from executives to business users to IT—happy. Executives can view key performance indicators (KPIs) on the go. Business users can check in on real-time data on the fly. And IT can effortlessly deploy browser-based data access.
Watch the video to learn more >>
Make Mobile Data Access Your Reality
Text
Sequel Data Access is business intelligence software for users working on IBM i. With Sequel's browser interface (Sequel Web Interface), users can access the IBM i data they need anytime, anywhere, and on any mobile device.