Three Intuitive Interfaces
Media
Image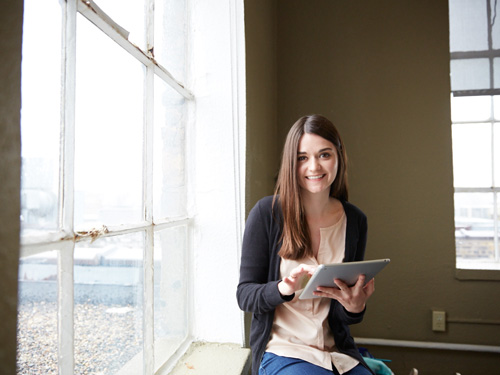 Text
Whether you prefer the classic green screen or a more modern interface, Sequel's interfaces have something for everyone.
Technical users can create queries using the green screen. They can even create scheduled jobs to query and output data to business users. CL programs and Sequel scripts are another favorite for technical users—especially programmers who love working with SQL queries.
Business users can create views using the point-and-click GUI, or they can access their views in an intuitive browser interface—from anywhere. It's simple, fast, and, most of all, intuitive.
Plus, any user can access their views directly in Microsoft Excel via a plug-in. And non-technical users can even access predefined views and easily create and share reports.
Choose the interface that works best for your skill level and expertise.
Easy Drill-Down
Media
Image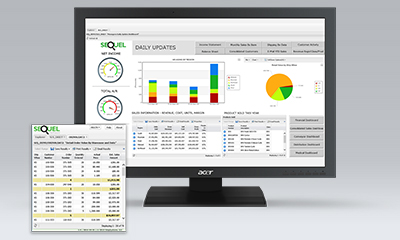 Text
We get it: your data access tool needs to offer you more than just data access. Flexible drill-down capabilities give you the power to dive into the details of your data.
Sequel's dynamic drill-down capability allows you to analyze database information with a single summarized view—no predefined drill paths or definitions required. Easily drill down to explore a sales report by region, see detailed sales information by sales rep, and even look at a specific date range. By choosing your own path with dynamic drill-down, you can enter the lowest level of detail available in the file in your view—giving you the detailed data you want for better business analysis.
Application drill-down offers you control over the pre-determined paths that your users take to drill into data, making it easy for you to specify how you want users to reach that next level of data. This drill-down functionality gives users the ability to simply click the path they want to follow.
Whether you choose dynamic or application drill-down, Sequel drill-down helps you and your users get the exact data you need.
Executive Dashboards and Custom Reporting
Media
Image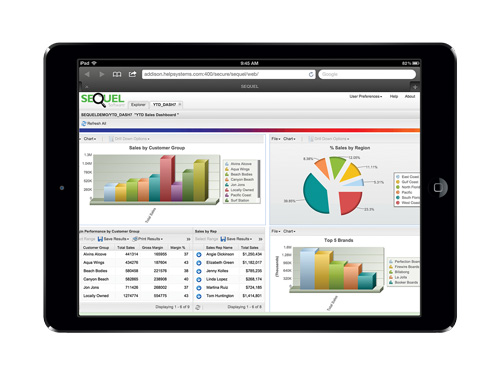 Text
The whole reason that your business users and C-suite executives want data in the first place is to assess and monitor business activities. Everyone, from you to your business users to your C-suite executives, can rely on Sequel for these top metrics.
Sequel dashboards provide a visual, real-time display of the information you need to make decisions. Any data you can access with Sequel—IBM i, DB2, SQL Server, MySQL, Oracle, and more—can be used in your dashboard. You can customize dashboards to meet department and individual needs. Plus, users can create their own dashboards to display key performance indicators and work with important business data.
A dashboard can contain any combination of the following objects to help you display, analyze, and manage your data:
Views
Graphs
Table results
Images
Gauges
Action buttons
Company logo and other graphics
Simply drag and drop relevant objects onto your dashboard and rearrange them with ease. Snap-to-grid functionality means you don't have to worry about lining them up precisely yourself.
Need to create a last-minute report? With Sequel, you can design sophisticated reports quickly and easily. Choose from Sequel's default report formats, or create one using the Sequel Report Writer Design Wizard. For extra effect, use the Sequel Client Report Option (CRO) to design beautiful, modern reports with specified fonts, colors, graphics, highlighting, and more.
Easy Query (View) Creation
Text
Every single day, you need to create and run queries to get access to critical business data that you, your users, and your C-suite executives need. With outdated data access tools, creating these queries quickly becomes the chore that you dread.
Sequel isn't just another query tool—the software makes it easy to design queries (called views in Sequel) using simple point-and-click operations. A view contains all of the selection criteria you need to access data from your System i.
With a Sequel view, you can:
Gather data, perform operations, and drill down for further insight directly in your views
Build additional Sequel objects to further enhance the information
Add run-time prompts to allow users to select their data by region, time period, and more
Convert your existing AS/400 queries to Sequel views (you won't lose any previous work)
Take advantage of SQE, a faster query engine
Output data to Microsoft Excel, PDF, and other common formats—or via a scheduled job
Customizable Pivot and Client Tables
Text
You might be looking at your data from the past six months and realize that you want to make connections across that time frame. Previously, you may have created tables in Microsoft Excel to help you understand your data, but working with tables in Excel is tedious and often includes many limits.
(Of course, you can still work with your Sequel data in Excel. Watch the video above to learn how.)
With Sequel, you have two tabling options to better analyze your data.
Pivot tables (Sequel Host Tables) can be generated in any Sequel view and offer great functionality for manipulating data to show the full picture. Pivot tables offer a wizard that makes it easy for you to automatically summarize data.
Client tables (Sequel Client Tables) are designed for dynamic pivoting for drill-down, reporting, and analysis. Both tabling options are customizable, user friendly, and easy to share.
Mobile Data Access
Text
Get easy, fast, secure access to your data and dashboards from a web browser. Sequel makes it simple for you to take your key business information with you wherever you go without installing any PC software. Plus, your data is safe—set user access to objects and data, and require IBM i IDs and passwords for log-in.
Use Sequel anywhere at any time to:
Access and run existing Sequel (and Query/400) objects
Create simple queries
View dashboards
Download data to your PC
Print or email data
Drill down into data
Manage and distribute spooled files
Drag and drop client tables