Robot Schedule has gone mobile! Leveraging the power of Fortra Insite, the browser-based user interface in Robot Schedule is easy to deploy, allows secure mobile access, and has additional functionality that allows for greater insight into your critical processes.
Let's look at how the web user interface can make a difference in managing your job schedule.
Secure Mobile Access
You won't have to grab your laptop or notebook to keep an eye on those critical processes, access a job log, or rerun a job. Do it right from your phone—not with a miniscule 5250 green screen!
The browser-based web interface features a responsive design that adjusts itself to fit your preferred device, from desktops and laptops to tablets and smartphones.
The web interface also means that you need not install or update a GUI in order for your operations staff to monitor and diagnose issues with the processes scheduled in Robot. Only those responsible for creating jobs, changing job streams, and modifying objects such as calendars need to install the GUI on their desktop.
 
Image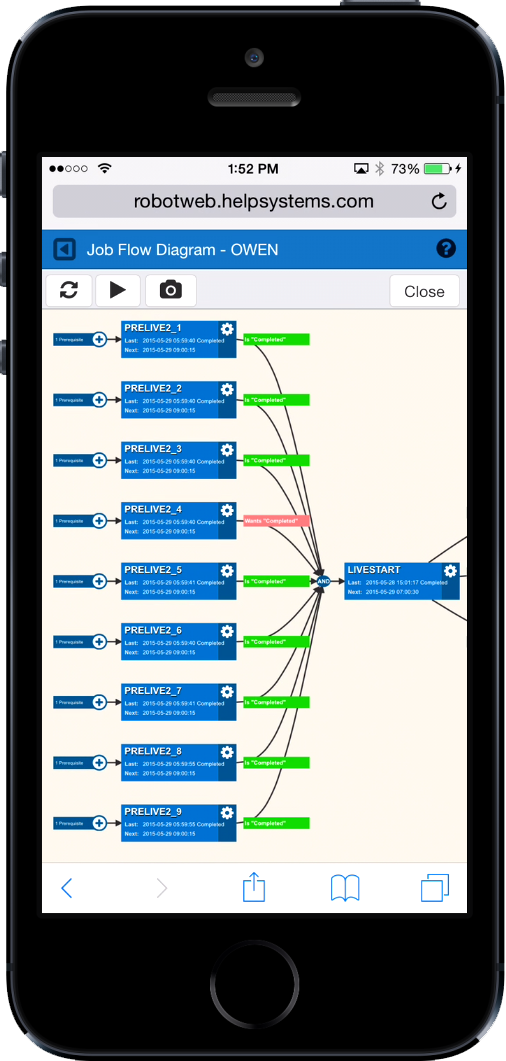 Figure 1 – Mobile access to Robot Schedule
 
Convenient, Configurable Dashboards
The Robot Schedule web interface also introduces user-definable dashboards—available only in the web interface—that provide operations staff and IT managers with key metrics and critical information at a glance. Dashboards are specific to a user but can optionally be shared by other users. They refresh automatically to display the latest information and can also show data from multiple systems. Some dashboard widget options include:
Business windows that allow you to see the status of jobs running during a pre-defined time period
Job metrics showing jobs summary information for one week, two weeks, or an entire month
Guest dashboards that can supply upper management with visibility into key metrics in Robot Schedule without requiring a profile on IBM i
Image


Figure 2 – Guest dashboard for the CIO or other interested parties
 
Critical Information at a Glance
Critical jobs lists are a new feature in the Robot Schedule web interface. They allow you to define and view those jobs critical to the organization, which must be watched closely.
Multiple critical job lists can be created for different categories of jobs, for instance all MRP-related jobs for a particular manufacturing plant, all financial reports for a particular line of business, or all month-end reports. The critical jobs lists are used in various displays, including the Schedule Activity Monitor (SAM) and other dashboard widgets.
The Schedule Activity Monitor gives you features for overriding a job to hold it, rerun it, look at the job log or spooled files, and diagram its job flow. This last feature is exclusive to the new web user interface.
Image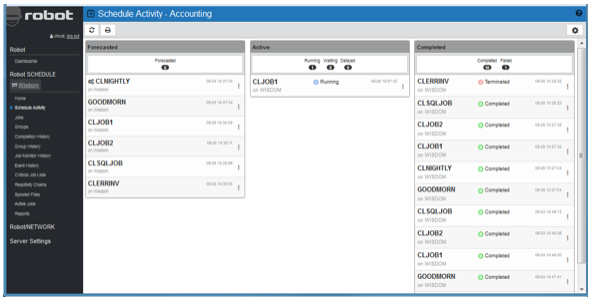 Figure 3 – Schedule Activity Monitor showing critical accounting jobs only
Reactivity chains are a way to diagram event dependencies and highlight those jobs that are part of a critical path by showing an end-to-end diagram and the job status. You select the first and last jobs to be included in the critical path and let Robot Schedule diagram the process from beginning to end for critical path monitoring and analysis.
 
Visibility for Change Management
Job flow diagrams show you what is running right now, the job status, and its dependencies. They can be displayed from a variety of locations with the web interface, including from the Schedule Activity Monitor or the jobs schedule list.
The diagram is initially a static display, but the play button in the top left animates the display and continues to retrieve the status of the jobs every 30 seconds. Jobs are color-coded as they complete and the dependency status between the jobs is displayed and updated automatically.
Image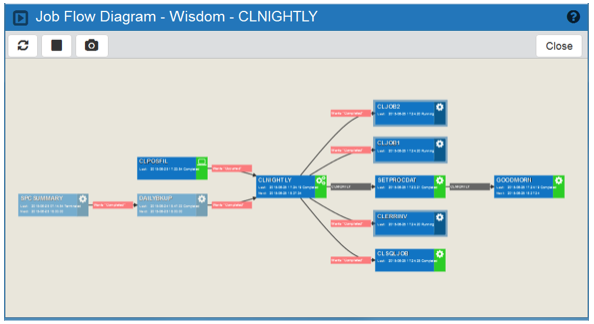 Figure 4 – Active Job Flow Diagram
Robot Schedule also features an active jobs list similar to the WRKACTJOB command that allows access to job logs and QHST and allows a job to be held, released, or ended if necessary.
Get Started
Find out how IBM i workload automation software can help you improve the efficiency of your job schedule. Request a free demo today.
REQUEST A DEMO