The Dangers of Neglecting Disk Space Management
Text
IBM i often houses the core applications that run our banking industry, casinos, retailers, insurance companies, manufacturing plants, transportation organizations, and more. These applications host the business-critical, transactional data that must remain available, no matter how big that data gets.
With data doubling in size every two years (IDC), it is increasingly difficult—and imperative—to track which libraries are growing and how fast in order to pinpoint who or what is consuming disk space before you reach maximum capacity.
Believe it or not, some organizations do nothing to manage their disk space, and the IBM i operating system has only one built-in storage threshold for overall disk space usage. When it exceeds 90 percent, you receive multiple notifications in QSYSOPR and performance degrades to conserve disk.
That's the last you'll hear about it until disk space usage reaches 100 percent and your system shuts down and automatically IPLs, possibly deleting all your spooled file reports. Oops. Hopefully you had all that irreplaceable data from your critical applications—including month-end, accounts payable, accounts receivable, general ledger, and inventory levels—backed up and know where to find it.
Any attempt at manually sifting through spooled files, the IFS, unsaved journal receivers, old PTF save files, and more to identify candidates for deletion on a regular basis is impractical, if not impossible. Using the disk space collection commands available in the OS to run reports over libraries and the IFS is a step in the right direction, but these are point-in-time reports with no easy way to compare growth trends over time.
We have thresholds in place and Robot will notify us when we cross them. We also have the trigger set on the OS, more so for our test environment. We've really seen the value of Robot Space and hope to push it out to all our servers, not just the production environment.
Charles Bertsch, Computer Operations Manager, Heartland Financial USA, Inc.
Why Organizations Need Disk Space Management
Media
Image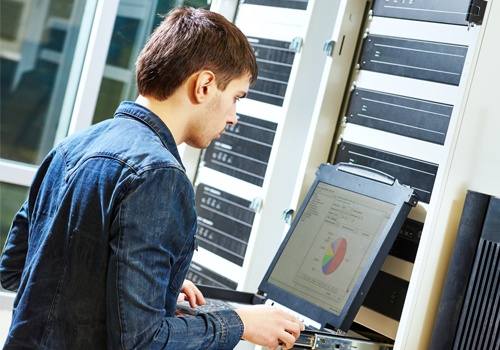 Text
When it comes to disk space, regular housekeeping is critical. Having real-time visibility into fast-growing libraries or directories and old or unused files and objects that could be cleaned up not only protects your good data that still matters, but also prevents against any unnecessary disk storage hardware expenditures.
Whether you're aware of it or not, you are running out of disk space and you will face budget problems if you don't adopt solutions to curb data growth and reduce storage costs. By actively monitoring and adopting tools that provide trend visualizations for storage pools, you're better equipped to predict future needs and make more strategic hardware investments
Fortra provides a comprehensive IBM i disk space management solution to monitor ASP, IASP, library, IFS, object, and job temporary storage usage. You can receive notification when thresholds are breached, perform over 20 disk cleanup duties automatically, and predict future data growth based on historical data.
Eliminate Disk Space Usage Crises
The Robot Space disk space management solution available from Fortra allows you to set storage thresholds, receive notifications, automate cleanup tasks, and predict future disk needs.
Set custom storage thresholds
Create multiple, flexible storage thresholds at the library, directory, and file level and receive notification of disk space storage problems.
Track trends and forecast growth
Map growth trends and predict future disk space requirements based on historical data, making it easier for you to plan and budget. Compare library and object collection statistics to determine growth from one collection to the next.
Quickly clean up old data
Cross a threshold, kick off an automated cleanup process. Clean up disk space and reduce disk drive use by running tasks to delete unused files, list duplicate and damaged objects, clear message queues, and more.
Audit and report on cleanup activities
Run a report beforehand to identify candidates for cleanup based on user-defined parameters and keep a record the objects that were deleted.
Robot Space Solves Disk Space Management Problems
Text
Robot Space is in-depth disk space management software for the IBM i operating system. It allows you to automate disk storage monitoring and predict future disk needs before investing in additional storage hardware by tracking historical trends for disk space analysis. Robot Space graphically displays key storage metrics, allows for as many as three size and growth thresholds to help eliminate wasted space before it happens, and automatically performs disk cleanup duties.
If disk space management regularly gets bumped to the back burner at your organization, Fortra also offers Managed Disk Space Services where our experts will take monitoring off your plate. We'll help you identify your disk space concerns, establish appropriate thresholds, and provide in-depth monthly reports that outline our findings and recommendations.