Media
Image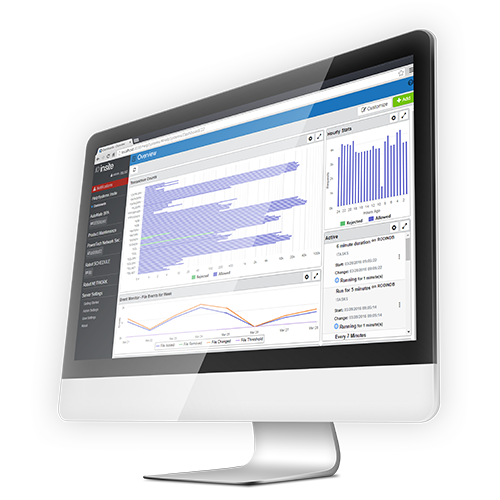 Text
Prevent IBM i Security Breaches
Protect your organization from the high cost of security breaches by tracking and monitoring data access with Powertech Exit Point Manager for IBM i software. An easy-to-use interface enables administrators to better follow security policy, resulting in a network that's more secure, more likely to be compliant with regulatory requirements, and less vulnerable to threats.
Control Exit Points
Secure network access points that traditional menu security plans don't protect. Safeguard your IBM i systems by closing any and all back doors to the network, including FTP, ODBC, SQL, JDBC, and Remote Command. Monitoring and controlling exit point traffic helps restrict data access only to authorized users.
Limit Access to Sensitive IBM i Data
Limit access to specific objects and libraries to only the users and groups who have a demonstrated business need. Assign rules by IP address, allowing system access to be limited to approved locations. Easily change and apply rules across your network, with Powertech Exit Point Manager for IBM i.
Maintain an Audit Trail
Monitor and track users who access data and issue remote commands. Satisfy regulatory initiatives by recording transactions to a secure journal.
[Powertech Exit Point Manager for IBM i] is an intuitive exit point control software that allows us to really lock down our network and improve our IBM i compliance.
Emily Shellabarger, Vice President of First Security Bank, First Security Bank
Available Services for Powertech Exit Point Manager for IBM i
Media
Image
Text
Consulting
When you're short on time or expertise, our consultants help get you up and running to make sure your project is done right.
Text
Powertech Exit Point Manager reduces the risk of unauthorized and unaudited server access by regulating user access to data and commands.
Get Started
Close back doors to your network, log exit point transactions, and enforce your security policy. See our Powertech Exit Point Manager for IBM i software in action in a demo.
REQUEST A DEMO
Want to secure your IBM i?
In just 10 minutes, find out where your IBM i security currently stands with a free Fortra Security Scan. We'll evaluate your system's vulnerabilities and suggest steps you can take to protect your critical data. It's quick and easy, with no obligation to you.
Get a free Security Scan