Trends for the Year
Text
The adoption of IBM i 7.4 continues to grow while some businesses have already started migrating to the newest version 7.5. At the same time, the use of older versions is steadily decreasing. Although IBM i 7.5 was just released in May of 2022, 2% of businesses have already moved to this new version. Meanwhile, this year's survey recorded the biggest shift toward 7.4, with nearly half of all respondents saying they are using 7.4 as their primary operating system level. It is evident that customers are adopting the most recent releases more quickly than previous releases, and this is justified by the need to reap the benefits of the features of newer versions along with the necessity to provide a secure environment to support remote operations. 
The use of 7.3 has dropped drastically from 56% in 2022 to just 39% this year. This year's survey recorded a further decrease in the use of 7.1 or older and 7.2, from 10% to 5%, and 8% to 5% respectively. This makes sense, as IBM ended support for IBM i 7.2 in April 2021, while the support for 7.3 ends in September 2023.  
Regarding Power servers, the use of Power9 has spiked—increasing from 55% to 67%. It is also interesting to note that although Power10 came out on H2 2022, 6% of organizations report having adopted the new server, a finding that correlates with the adoption rates of IBM i 7.4 and 7.5. Reliance on the IBM Power platform continues.  
Media
Image

Media
Image

Upgrades
Text
IBM i is an environment that provides great value to its users and one to which users show loyalty and commitment. This is reflected in this year's upgrade trends, with 66% of respondents planning to upgrade hardware, software, or both in 2023—up 5% from last year's responses. This corresponds with past history when IBM announces a new server version the following year becomes more active. 
This also means that 34% of respondents have no plans for hardware or software upgrades in 2023. Importantly, most clients are on a 3-5 year refresh cycle, but hardware and software upgrades are usually staggered, which is evident in the percentage differences between those that plan to update hardware or software only versus both at the same time. 
Organizations are beginning to adopt the IBM Power E1080 scale-up servers or the scale-out S1014, S1022, S1022s and S1024 running the Power10 processor which was launched in September 2021 and July 2022. This year's findings indicate that 6% of the respondents have already migrated to using Power10, while another 74% are strongly considering it. This is no surprise, as we know there are tangible benefits to new hardware around security, virtualization, and high availability. 
In H2 2022, IBM delivered the next round of Power10 servers geared toward their scale-out customers, which represent a large part of IBM's business. There was also the release of the new IBM i operating system 7.5. Both changes speak to the commitment IBM has to the Power platform. This also means that older hardware will begin to phase out because of the software levels it supports. Make sure to plan your upgrades accordingly, so you aren't left unsupported. 
Media
Image

Media
Image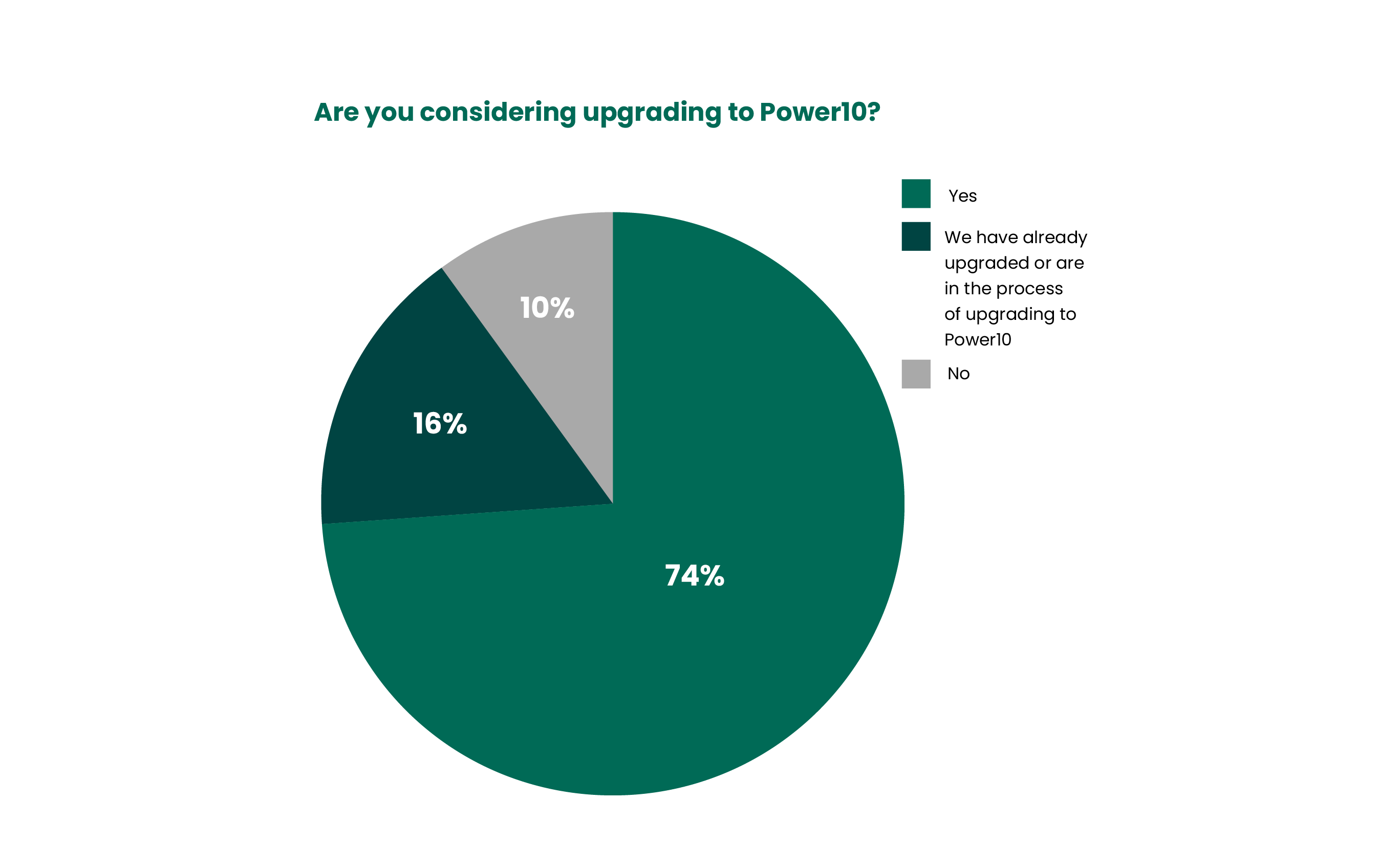 Power Server Capacity
Text
When it comes to the total number of IBM Power servers organizations use, the IBM i Marketplace Survey shows impressively stable patterns year after year, and this year is no different. Customers with two or more IBM Power servers are generally running some form of hardware or software-based high availability.  
Turning attention to the number of partitions (virtual machine technology) respondents are running, there's a steady trend that businesses often consolidate servers but increase the number of partitions they are running. 21% of respondents run one IBM i partition, which is almost the same as in 2022. Also consistent with last year's responses, nearly half of respondents are running between two and six partitions. These VMs can share storage, processor and memory and even support live partition mobility (LPM).  
The trend of taking advantage of virtual machine technology is one that we expect to continue in future editions of the IBM i Marketplace Survey. This allows customers to run separate environments for development, quality assurance, high availability, Linux, and AIX alongside their IBM i production environment all in one physical IBM Power server. It also enables reduced power consumption and more effective utilization of resources. 
Media
Image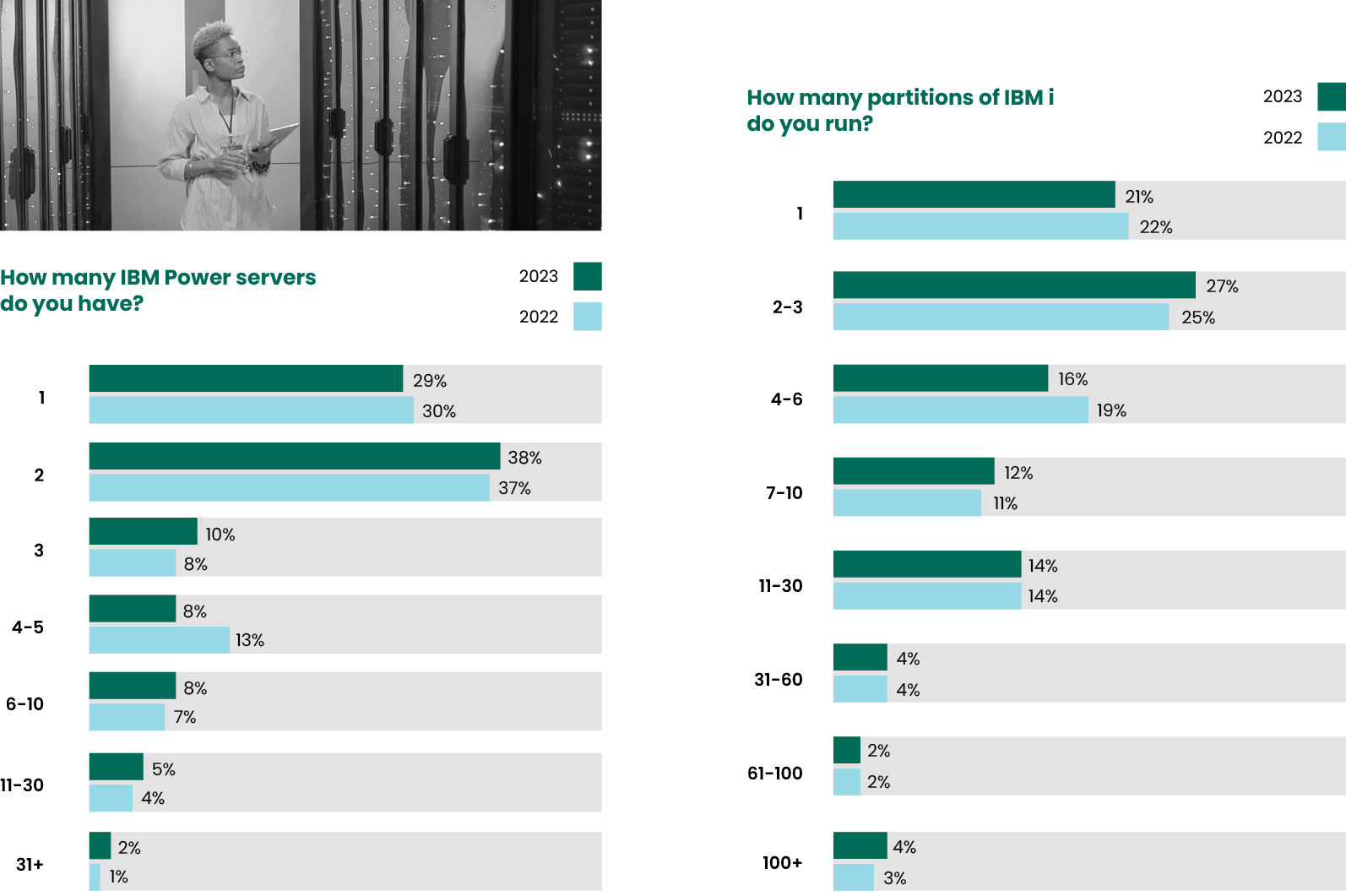 Other Operating Systems
Text
Most companies using IBM i also run additional operating systems beside it. Windows took the lead for a ninth consecutive year with 82% of respondents also using Windows servers. Linux is also becoming increasingly competitive as 57% of businesses are using this operating system.  
IBM i-only responses remained at almost the same level as 2022 – 18%. This signifies that there is a decent segment of customers that solely rely on IBM i to run their business. Another 28% of businesses leverage AIX and other Unix-based systems for their on-premises IT environment. 
It is interesting that Windows is staying high amongst Linux growth. This signifies that people could be shifting to using three operating systems in their environment. Growth in Linux could be based on new Linux workloads they are adding to their environment, while the Windows servers are staying around for those legacy workloads. Instead of replacing and moving legacy workloads, IT teams seem to be standing up different servers alongside Windows to eliminate the effort of moving servers where things are working properly. 
Media
Image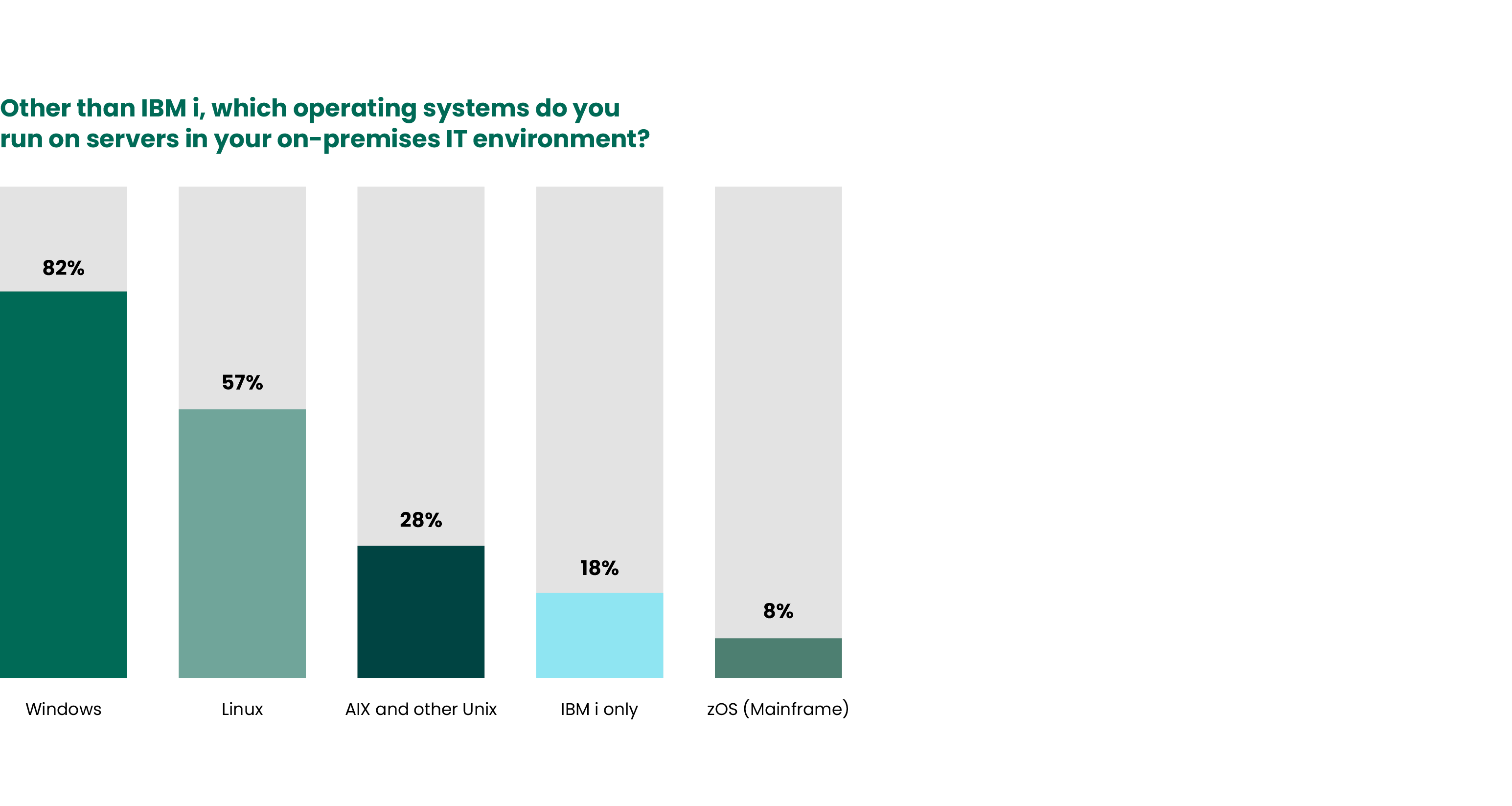 Infrastructure Location
Text
Historically and even today, IBM i users run most of their workloads on-premises. For example, in 2023 organizations plan to run 80% of their IBM i workloads on-premises. But, at the same time, there is a gradual increase in people using IBM i in the cloud.  Those who chose the cloud over the on-premises installations, also choose to run the majority of their workloads in the cloud. 
It is also worth noting that evolving technology, including cloud computing, is on the top 5 list of cybersecurity challenges. This concern contributes to a slower adoption rate of cloud-based settings or hybrid ones. 
When asked about which IBM i workloads people are running in a cloud/service provider environment, we noticed once more a fluctuation of percentages as the shift to the cloud may look different for an IBM i customer compared to other operating systems. For example, core business applications increased by 7%, reaching 65% versus 58% in 2022, and test and development grows by a staggering 12%, jumping to 65% compared to 53% in 2022. At the same time, backups and disaster recover remain rather stable, as well as other workloads, such as demo platforms and EDI.
Media
Image

Text
RECOMMENDATION: 
Running IBM i workloads in the cloud has great benefits. If you need help making the leap, whether hosting on private or public cloud, our IBM Power Systems Modernization Series is a great starting point.
Staffing
Text
A considerable proportion of businesses (26%) continue to report employing between three and five IBM i developers, a figure that is rather stable when compared to that of the previous last nine years' of data we've collected from this survey. This consistency in developer numbers corresponds to the variety of languages, open source, and tools like RDi that are used to continue furthering the core IBM i applications. It demonstrates a large commitment to modernizing the applications that service many industries. 
A key unique selling proposition of IBM i is its ability to require little day-to-day administration. This can be seen through this year's findings which revealed that 68% of our respondents have less than three administrators in total for IBM i, which is consistent with the findings from the previous years. However, there is a small uptick in the "none" option - this reflects people shifting to managed services and leveraging them as administrators for monitoring, backups, and upgrades.
Media
Image

Text
RECOMMENDATION: 
Having the right expertise is a key component of any successful IBM i environment. If you feel your team is under-resourced or lacking certain skills, check out the IBM i Academy or first-class training options to fill any gaps you may have. IBM i user group like COMMON USA and commeur.org Europe also offer educational and networking opportunities. If you are a member of COMMON, you also have access to free security and administration boot camps.
Business Applications
Text
Homegrown applications that are written in-house remain the most commonly run applications on IBM i (71%). Other "Write In" applications, tailored to specific business cases like medical, finance, and public administration, continue to account for almost one-third of business applications running on IBM i. In addition, Oracle and/or Infor continue to be used by about a quarter of survey respondents.
IBM i is a hugely flexible and versatile platform, as indicated by the volume of different business applications noted. With flexibility so highly valued in business, this trend is only likely to continue. These unique business applications will continue to make IBM i a sticky platform. It needs to be noted, however, that when writing in-house applications, it is essential to adhere to application security principles and your developers be educated and trained on writing secure and quality applications. 
Media
Image