Media
Image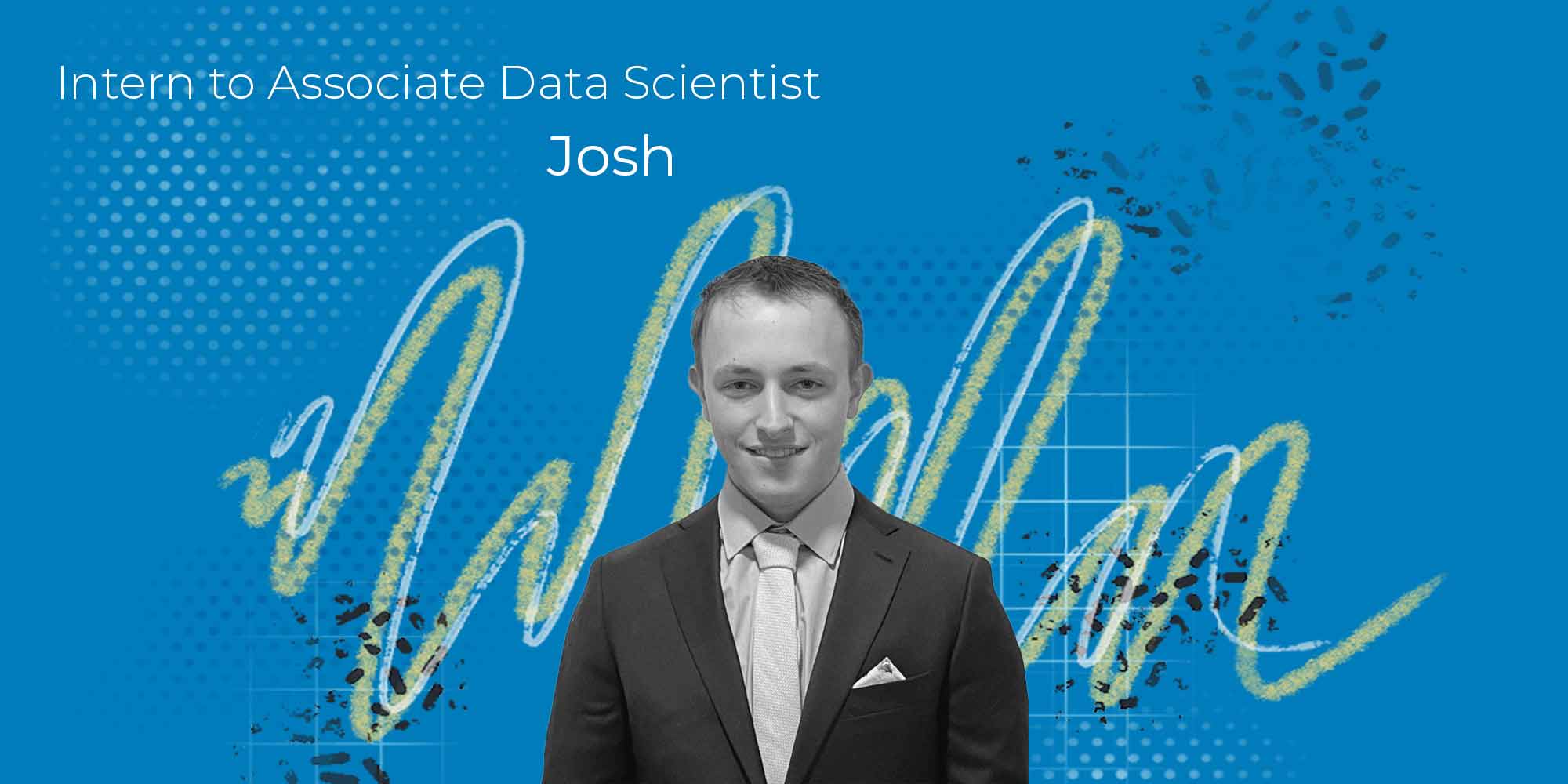 Text
Josh is not one to rest on his laurels. In fact, he's taken on several new challenges at Fortra since his days as an intern, even enrolling in a graduate program for computer science. His burgeoning machine learning expertise has presented a new and exciting path as an Associate Data Scientist for the company's Agari phishing defense solution.
Discovering Fortra
In 2018, Josh met with numerous companies at the University of Minnesota's career fair, but Fortra really sparked his interest. "It sounded like they were working on a lot of different products and had a lot of good opportunities," he remembers. "This told me they were a stable company that could be a great learning environment."
Early Days of the Internship
Josh began as a Software Development Intern the summer before his senior year of college. "I worked in the engineering department writing code and testing—getting to do real development tasks," he says. "It wasn't a toy project. I was doing real work that all the full-time people were doing as well. I got a lot of great learning experience as an intern, a lot of positive feedback."
Before working at Fortra, Josh's exposure to software development had been limited to his classroom experience and role as a student researcher in a university lab. But that soon changed. "The code you write there and the processes you go through aren't anything like actually working at a major company like Fortra, so that introduction as an intern was invaluable," he says.
A Seamless Transition from Intern to Employee
Josh continued to work part time at Fortra through the fall of 2018 and began his full-time role as an Associate Software Engineer in early 2019 after graduation. He started with the fast-growing GoAnywhere managed file transfer (MFT) product. "I was in nonstop learning mode," he says. "I was always learning new technologies and working on new features within MFT."
Pursuing an Advanced Degree Opens New Doors
In addition to his on-the-job learning from seasoned software veterans, Josh decided to accelerate his knowledge by taking advantage of the company's tuition reimbursement offering. He enrolled in a master's degree program for Computer Science at the Georgia Institute of Technology, which led to a new role on the company's Agari phishing defense team.
"Data science and machine learning and modeling have always been a big interest of mine," Josh says. "With Agari, you have millions of emails a day to process, so it's really cool seeing a production-level system that's actually going through all of this data. I enjoy being able to contribute to that. I went from a Software Engineer to an Associate Data Scientist, which is a new but related path. It's pretty exciting."
How to Stand Out as an Intern: Three Pointers
Josh believes interns should come to work with a willingness to learn new things and be humble, focusing on interpersonal relationships along the way.
Learn from mistakes: Making mistakes is a good way to learn. Obviously, you don't want to do anything too major, but when you do something wrong, you'll probably only make that mistake once. It comes down to your attitude and what you take away from that mistake.
Ask questions: I learned never to be afraid of asking questions and admitting when you don't know something. Everyone is always willing to help. No one wants you to fail, and no one's going to look down on you for asking for help.
Make personal connections: Make sure to keep an open line of communication with the people you're working with and develop good relationships with them. Be clear that you'd be interested in coming back full time if you're in your last year of college or even before that because it's a two-way street: They have to want you to return, and you'll definitely want to come back.
An Open-Book Culture Supports Continued Growth
"Our employee count has probably doubled since I joined as an intern," Josh says. "With all that growth you will get some culture change, and Fortra is hiring more remote employees." He's pleased the company has offered online get-togethers for trivia and other social events to support employees working from home. "Even with the distributed employee system, Fortra has maintained a really good, collaborative culture where you still get to know the people you're working with even though it's in a slightly different context."
He finds the culture at Fortra to be open and accessible. "We have monthly meetings where employees get to talk about the overall success of the company," he says. "Sometimes with a larger company it's easy to get caught up in the product you're working on and have no idea what's going on in the rest of the company. It's really cool being able to get a good feeling for how Fortra as a whole is doing."
Throughout his experience, Josh has always noticed how friendly and helpful his team members are. "Everyone I've worked with has been awesome," he says. "They all have different insights, and it's just been a great experience."