Text
At Fortra, we're always on the hunt for the latest tactics, techniques, and procedures employed by today's cybercriminals. We believe that decisions are only as good as the information behind them, and we've made it our mission to produce world-class threat intelligence and research as a result.
That's why we created Fortra Threat Brain, the culmination of our investigative efforts and the synthesis of combined Fortra technologies — and we're just getting started. Fortra Threat Brain is an all-in-one information hub fed by telemetry of our expansive portfolio of products. Augmenting that already sizeable set are additional insights gleaned from across the dark web, social media, law enforcement, and of course, a select pool of partners.
We leave nothing to chance when it comes to uncovering the exploits that could upend our customer base and its associates. With a proven track record and an arsenal of research resources, Fortra's team of world-class threat intelligence experts can get you the information you need to gain the upper hand in today's threat landscape.
Media
Image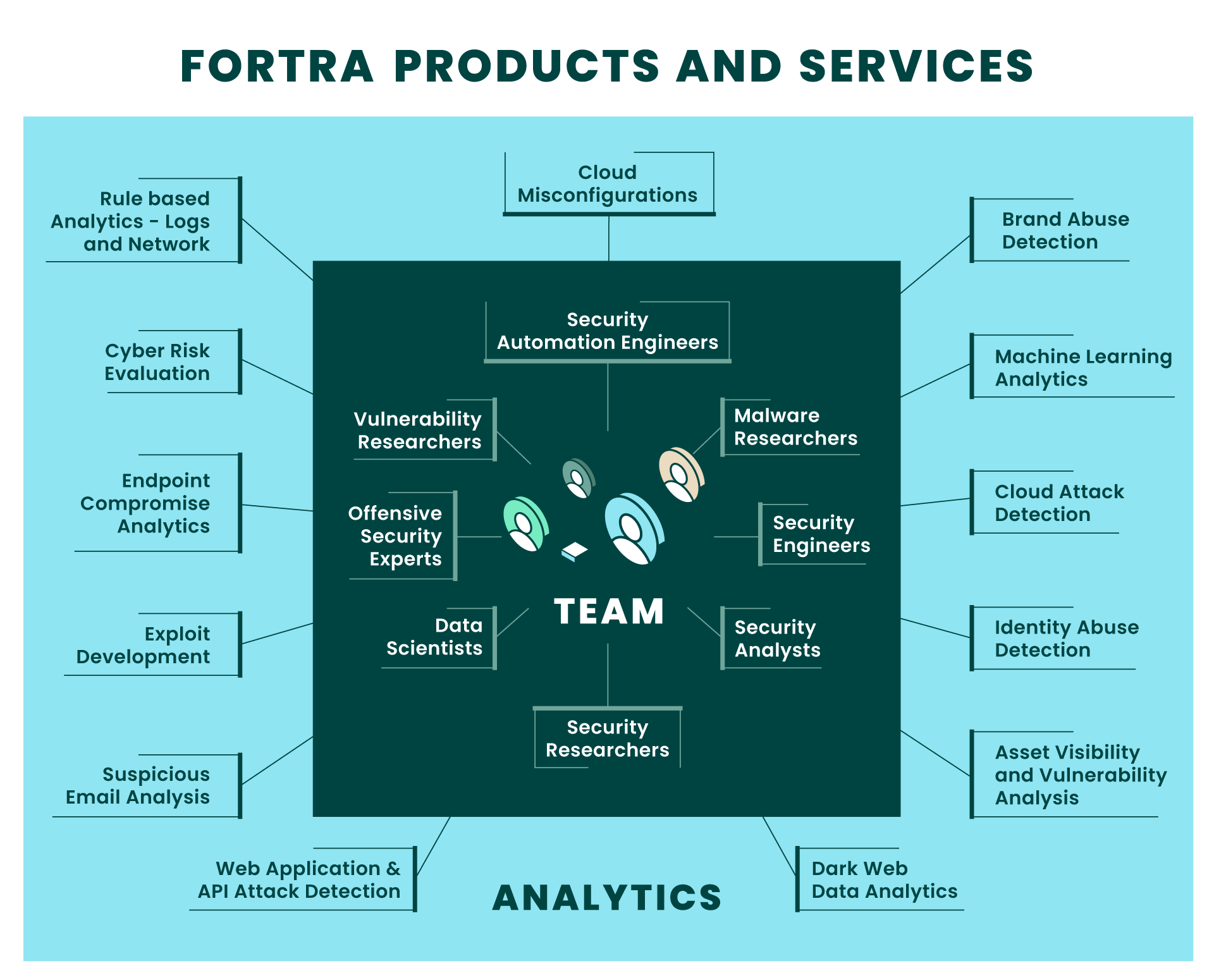 Benefits of Threat Intelligence & Research
Threat intelligence allows your enterprise to prioritize the areas of highest impact. Armed with critical data, you will be empowered to:
World-Class Threat Intelligence: Fortra Threat Brain
The Fortra Threat Brain is made up of three parts: people, technology, and a data sharing exchange of quickly corroborated information.
The Data Sharing Exchange
Media
Image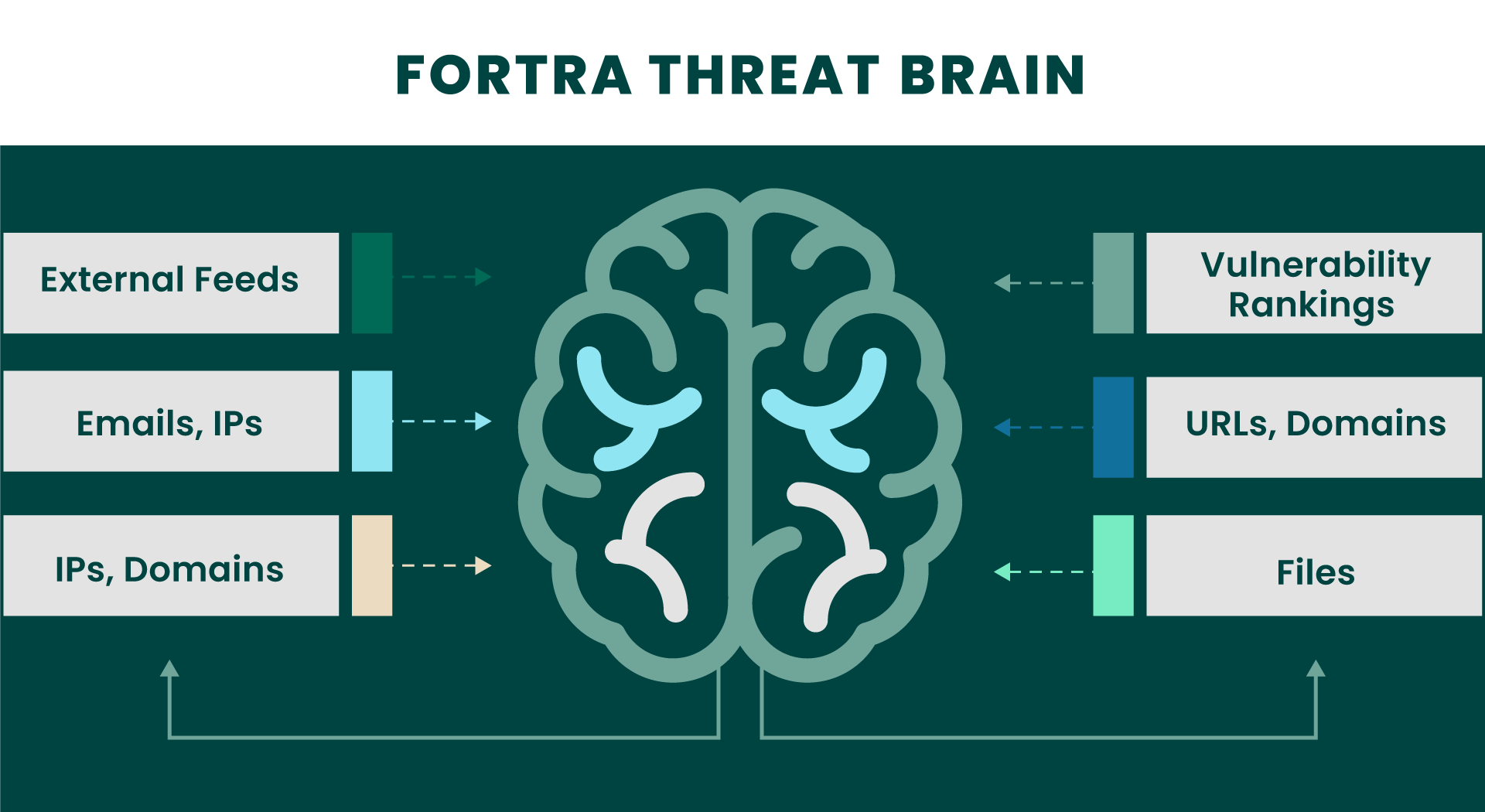 Text
Machine Learning Technology Use Cases
Fortra mobilizes machine learning to find threats faster and evaluate risks.
Anomaly detection through unsupervised learning and clustering across operating systems; web applications; and cloud, network, and SaaS applications
Malicious email and brand abuse detection using natural language processing (NLP), random forest classifier, and other techniques
Dynamic vulnerability ranking via supervised learning to add multiple dimensions to the CVSS score
Fortra's Team of Threat Intelligence Experts
Here at Fortra, we leave nothing to chance. Our team of dedicated threat intelligence experts are skilled professionals in their fields who share a common goal of dismantling emerging exploits. The diverse skillsets of our team members add credibility and a 360-degree perspective to our analysis, investigation, and threat vetting techniques. Team members include:
Vulnerability researchers
Red and blue team experts
Fortra's Threat Intelligence Research
Fortra Partners with Microsoft to Stop Cybercriminals
Stopping the Attack that Hijacked Ireland's Public Health System
Text
A cracked Cobalt Strike hack evaded capture for years, endangering human lives
When Fortra and Microsoft teamed up, cybercriminals had been wreaking havoc with the abused red teaming software for years. A weaponized Cobalt Strike was unleashed by adversaries on Ireland's public health system, infiltrating more than 80% of IT and forcing the entire organization — over 100,000 people strong — offline. With lives at risk, Fortra joined Microsoft in unprecedented measures to remove instances of the cracked software.
A Court Order to Go After Cracked Cobalt Strike
Text
"Instead of disrupting a malware family, we're trying to pull all illegal instances of Cobalt Strike offline"
The ransomware families associated with or deployed by cracked copies of Cobalt Strike have been linked to more than 68 ransomware attacks impacting healthcare organizations in more than 19 countries around the world. However, strategy shifted when a newly issued court order gave Fortra, Microsoft, Health-ISAC and others the green light for more aggressive measures to take the compromised tool offline.
Fuel your stategy with Fortra Threat Intelligence
Too many threats, too little time? Backed by insights from Fortra's powerful portfolio and the public threat scape, you can make critical decisions with confidence.
CONTACT US