The Fortra Story
Text
Problem solver. Proactive protector. Relentless ally.
These three pillars represent who Fortra is as a positive changemaker for cybersecurity. Our approach is different, and we're proud of that. We transformed the industry by bringing the leading cybersecurity solutions into one best-in-class portfolio, creating a stronger line of defense for the government and public sector in support of zero trust and RMF efforts. But we know cybersecurity is always changing, and we should never get too comfortable. It's why our team of expert problem solvers is dedicated to building leading solutions and adapting to stay ahead of the ever-evolving threat landscape to bring balance and control to organizations around the world. We're the positive changemakers and your relentless ally to provide peace of mind through every step of your cybersecurity journey.
Fortra's Cybersecurity Portfolio
Supporting government, civilian, and federal system integrators
Text
Image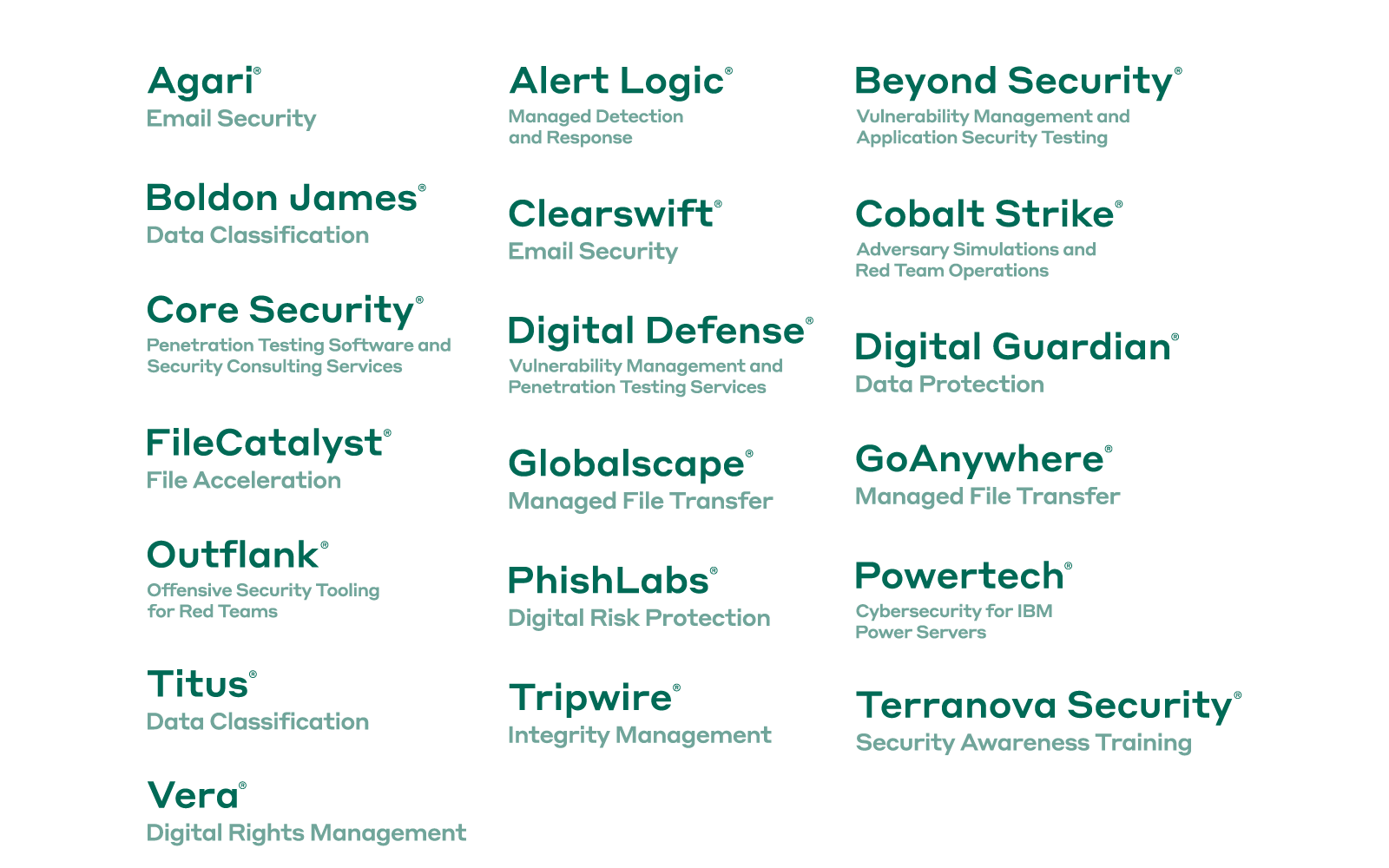 Procurement Contract Information for Fortra
Federal
GSA Multiple Award Schedule Contract (MAS)
47QSWA18D008F
Aug 22, 2018- Aug 21, 2028

NNG15SC03B/NNG15SC27B
May 01, 2015- Apr 30, 2025

W52P1J-20-D-0042
Aug 31, 2020- Aug 30, 2025
*Additional Option Years Available
State and Local
NASPO Cloud Solutions- UT
AR2472
Oct 14, 2016 – Sept 15, 2026

NCPA 01-86
NCPA001-86
Dec 01, 2022 - Nov 30, 2023

State of New Jersey
T3121 - Custom Agreement # 23-T3121-FORT01
Fortra Vendor # V00083399
Jan 18, 2023 – Jan 17, 2029
Education
Cobb County, GA Technology Products, Solutions and Related Services - OMNIA Partners, Public Sector
23-6692-01
May 01, 2023- Apr 30, 2025

Educational Software Solutions and Services - OMNIA Partners, Public Sector
R191902
Feb 27, 2020- Apr 30, 2024
*Additional Option Years Available

Illinois Learning Technology Purchase Program (ILTPP)
ILTPP-19CT011
May 20, 2019- Mar 01, 2023

Massachusetts Higher Education Consortium (MHEC)
MC15-04
Aug 10, 2019- Feb 28, 2025

E-8801-ACESCPS
Oct 20, 2015- Sep 03, 2025
Solutions for Securing Government Agencies
Bundled Cybersecurity Solutions from Fortra
Powerful combinations of Fortra products that solve complex cybersecurity challenges in innovative ways
Fortra's Federal & Government Cybersecurity Case Studies
Fortra is on the front lines of securing government services in cyberspace. Here are a few examples of our commitment.