Media
Image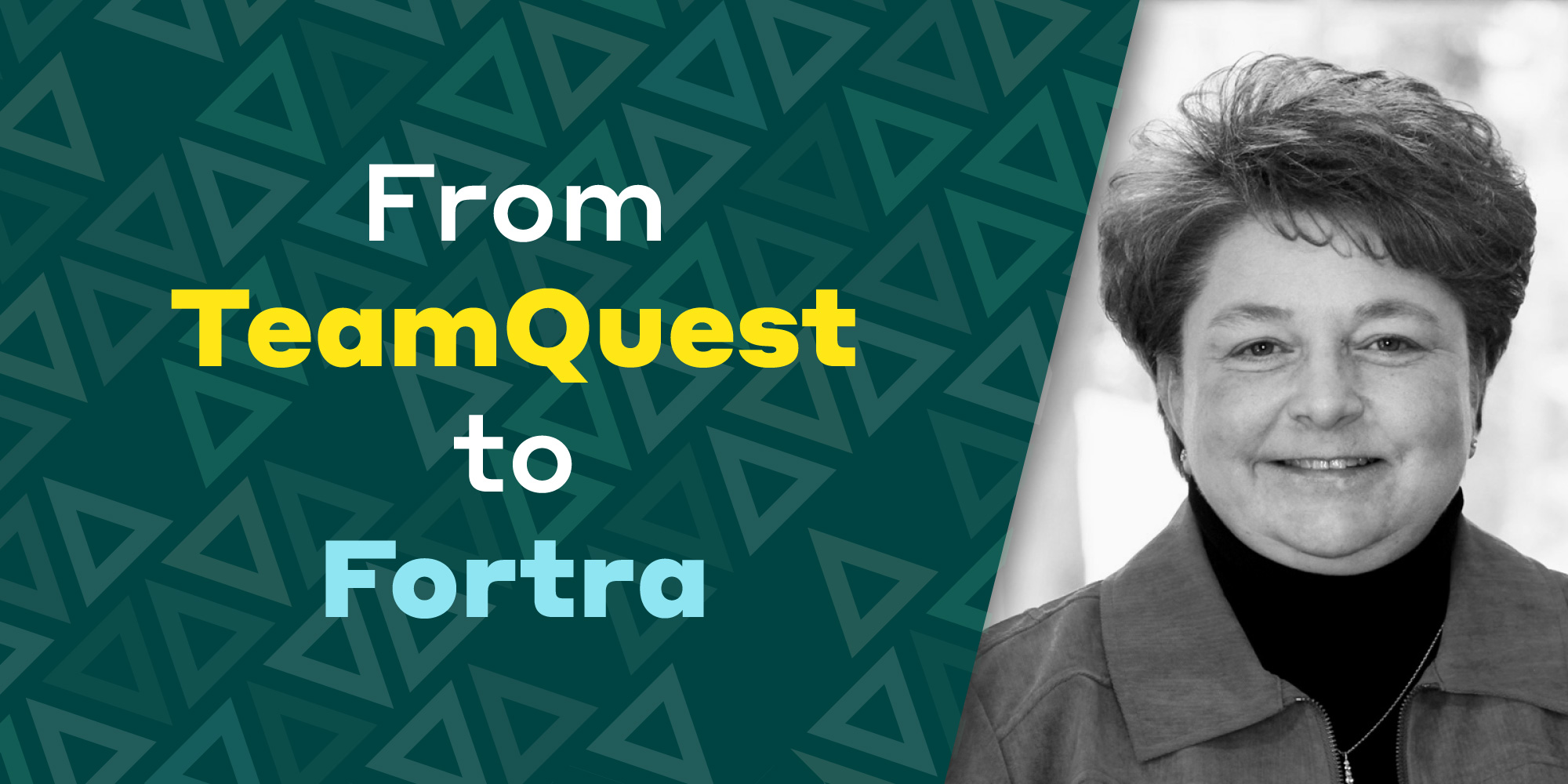 Text
Six years into her journey with Fortra, Renee Ritter is responsible for partner strategy and direction worldwide as vice president of channel. She looks back on the acquisition that brought her to the company and praises the unapologetically high bar Fortra sets for its culture.
The History of TeamQuest
TeamQuest was a performance management and capacity planning software company founded in 1991 as a spinoff of Unisys Corporation. The product suite evolved over time from its mainframe roots to modern-day cloud environments, offering customers great return on their investment. "It was a very powerful story and a great company," Renee says.
She joined the team in 1996 and served in various sales roles before moving into management in 2006.. She was vice president of global sales when Fortra (then HelpSystems) acquired TeamQuest in December 2016. "TeamQuest's performance management and capacity planning software filled a gap in the Fortra portfolio," she says. "There were synergies with our cultures which was also important."
Getting Things off on the Right Foot Post Acquisition
Not surprisingly, there was apprehension at TeamQuest when the acquisition was announced, but Fortra leaders calmed their concerns. "I was involved in the due diligence process prior to the acquisition, so I was fortunate to meet several folks on the leadership team. I was able to get acclimated to what was important to them and what they were trying to understand about us," she says.
Renee believes that the leadership Fortra assigned to TeamQuest helped everything get off on the right foot. One of those leaders was Scott Cole, Fortra's Chief Acquisition & Renewal Officer. "Scott worked very hard to ensure he understood the company and our products," she recalls. "He was excellent at uncovering gaps and what we needed to do to make sure the solution could be taken forward for Fortra in a positive way.
Taking the TeamQuest Product From Good to Great
Fortra decided to build out an end-to-end capacity management product within a year of the acquisition. "They knew the base technology was great, but we needed to do something different to truly compete in the global market for capacity management," Renee says.
The team worked hard to release the new product in Q1 2018. "You can imagine everybody was very proud of that effort when the first release came out," she says. "When you think about that journey, Fortra had done such a great job discerning how they wanted to fold us into their portfolio and what needed to be done to take us from the good position we were in product wise to a great position."
A High Bar for the Best Culture in the Biz
Renee says TeamQuest's core values really anchored employees, who felt their contributions made a difference in the company's success. "We would win against large, Fortune 500 software providers, kind of a David-and-Goliath situation, which fed into our culture and cemented it to a large extent."
She says TeamQuest had its ups and downs as far as culture, something she doesn't see at Fortra. "One of the most amazing things about Fortra is the culture," Renee emphasizes. "What an amazing hallmark when you think about the exponential growth Fortra has experienced. They've set the bar high and are unapologetic about that high bar. People kind of pinch themselves that they're working here. I certainly do, even six years later."
Renee sees CEO Kate Bolseth as the ultimate champion of the culture. This is because Bolseth wants employees to understand that while the business Fortra does is important, how they do business is even more important. "The way Kate leads this company, everybody feels they are an owner of our culture," she says. "It's on each of us to make sure we're delivering and interacting with each other and our customers and partners every day in a way that's representative of our culture and our core values."
Renee's Career Journey
Renee joined the Fortra senior leadership team in January 2020 when she became managing director for TeamQuest as well as the network monitoring team. "Being able to interact with the senior leadership team has been an incredible experience for me," she says. "They make me better, and I hope that I do the same for them."
In January 2021, she was asked to develop a new channel program for Fortra partners. "The program had gotten to the point where it just wasn't scaling," she says. She and her team spent the next several months overhauling the approach to ensure the global partner ecosystem would be successful and simplify how they interacted with Fortra. It launched in January 2022, the same month Renee became vice president of channel for Fortra.
The initiative has been met with positive response, including a five-star rating from industry bellwether CRN. "The biggest thing that makes me proud is that we stayed true to our values as we stood up this program," Renee says. "We wanted our partners to be very clear about what they could expect from the channel program and how it can make them successful. The fact that we delivered on that promise is something that we all can be very proud of as a company."
New Opportunities and Shared Successes
"I'm not the only one who's been given incredible career opportunities," Renee says. Many TeamQuesters remain with the capacity management solution, while others have moved into development, services, and support roles throughout the company. Fortra's leaders are committed to putting the right individuals in the right places to make the most significant impact for the business."
Renee knows the quality of the Fortra culture has far-reaching benefits. "Regardless of where they're serving in the company, everyone can come to work feeling good about what they're doing and the way they interact with their teammates, customers, and partners," she says. "The impact we're having in the cybersecurity and automation market space—it's mind blowing. Everyone has their fingerprints on Fortra's growth."