Media
Image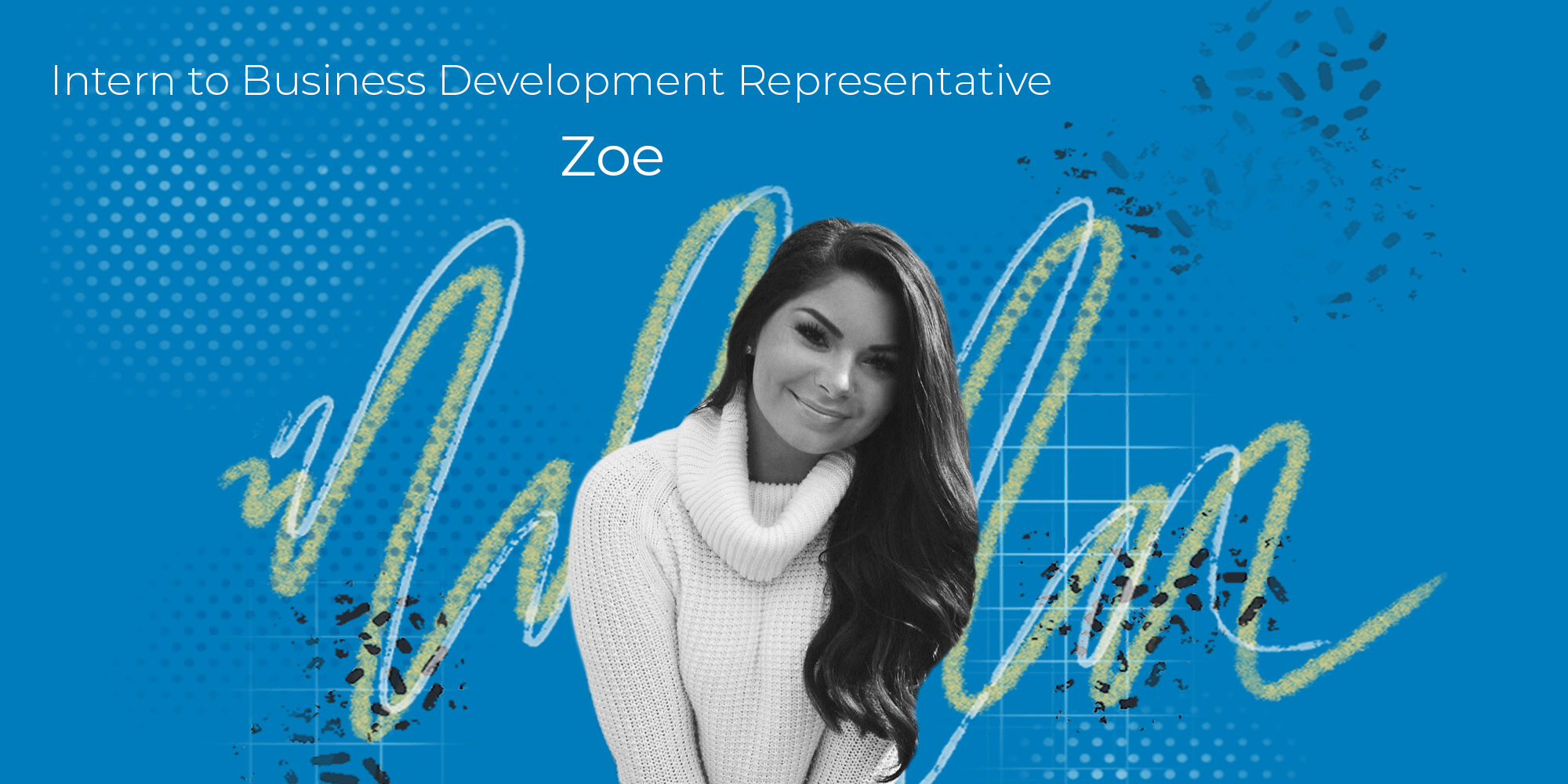 Text
A successful internship gives young professionals the chance to try on different hats to see which best suits them. Enter Zoe, whose internship with the Fortra marketing team led her to find her true passion in sales as a business development representative (BDR). Two years and one pandemic later, she loves the hustle of her job and the colleagues and customers she works with every day.
Here's what Zoe had to say about her experience:
How did you first hear about Fortra, and why did it interest you? 
I learned about the company from a family friend, and it sounded like a great company. I didn't know much about software, but it interested me. I liked that Fortra was a growing company with a great culture. 
What was your role?
I started as a marketing intern in 2020 and loved it. I worked mostly on building accounts for the sales team but got to handle a variety of other projects, like editing the website and video files. This variety helped me learn what I liked and didn't like.
What was your first week like?
I remember being blown away by all the training resources and how thorough the training was. I loved having two mentors who were helpful and kind and made my job enjoyable. Everyone was welcoming and eager to help me, which really calmed my nerves but made me excited about the role.
Describe your journey at Fortra.
My internship let me explore different areas in marketing and sales. I was able to meet with a lot of people around the company, which led me to realize I was very interested in sales.
I interviewed for a BDR role in 2021, and here I am. It's a different route than I thought I would take, but I love it. I'm thankful I was able to explore so many options before starting a full-time job.
What stood out to you during your internship about the Fortra culture?
Everyone is so welcoming and eager to help. I was never scared to ask a question or look stupid. There are a lot of good people who get along well.
What tips do you have for a successful internship?
Ask questions. Ask for help when you need it.
Keep an open mind. When I started as an intern, I never would have guessed I'd be in sales.
Have a good attitude and work hard.
Be yourself and enjoy the people you work with.
What was your favorite project as an intern?
I really enjoyed doing account builds for the sales team. I found it therapeutic in a way. I also enjoyed working on the website and would convert pages to Spanish and then to English. I have a minor in Spanish, so it was nice to use that and brush up on my skills.
How did you transition from marketing to the business development role in sales?
As an intern, I did certain projects for the sales team, which I found interesting. My mentors encouraged me to interview people on the sales team to learn more. I got a lot of information about their day-to-day jobs and realized it was something I would enjoy doing. I liked the hustle of it—that's what piqued my interest. When I talked with my mentors about it, they were totally open to me moving to sales, so I applied, and here I am.
I love that Fortra really encourages you to grow as a person and as an employee. It was great that I was able to meet with so many people as an intern in different parts of the company to explore my interests even though they were different than the role I was in.
Describe your current role.
As a business development rep, I reach out to prospective and current customers to discuss how things are going or how we can help. I also do a lot of prospecting to engage new customers.
How did your internship prepare you for your career?
I made a lot of good connections during my internship. When I started full time in sales, I already knew a lot of people. The internship also gave me the experience of just being in the workforce to understand what day-to-day work life is like and what's expected.
What's your favorite memory from your internship?
There were a lot of laughs during the weekly marketing team standups. I loved those. Also, I'd meet my mentors for lunch. It was fun to see them in person and hang out since we were all working remotely.