Media
Image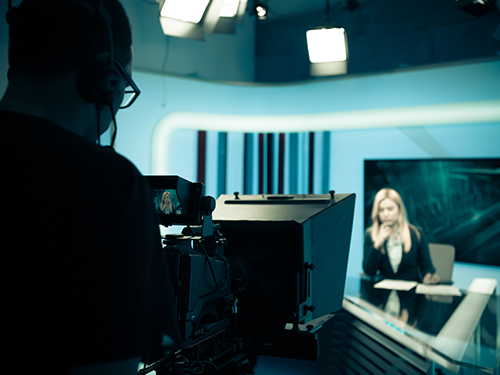 Text
For modern media companies, there's nothing more damaging to customer relationships than slowed or interrupted service. With the rapid growth of the Internet and mobile technology, media companies are delivering more and more content via social media and online streaming. When your content is being delivered in real time, there's simply no room for network outages or errors to cause disruption.
With a reliable network mapping and monitoring solution like Intermapper, you can discover all your critical IP-enabled technology, monitor its performance, and receive real-time alerts if anything abnormal occurs—so you're never blindsided by an embarrasing, costly outage.
Proactive Monitoring is a Must
Text
To keep consumers and customers happy, entertainment and media organizations must minimize network downtime as much as possible. All kinds of global entertainment and media companies rely on network monitoring software to help them get the best network performance possible, including: 
Publishing platforms, including organizations producing digital and print newspapers, books, and  magazines
Entertainment companies, including radio stations, movie/television studios, and providers of digital content such as gaming, music, and video
Advertising and marketing agencies who need to ensure websites, CRM systems, and Internet access is always available
How can Intermapper help?
Text
Intermapper allows you to map and monitor any device in your network with an IP address in real time. Map servers, routers, switches, broadcast equipment, printers, and any other equipment that's essential for delivering content to your audience. See the status of your equipment on your live map at all times, and change the icons, background images, or layout to make it intuitive to you.
Intermapper also comes equipped with hundreds of built-in probes to help you monitor any kind of device. You can also download user-contributed probes from the Intermapper community to help monitor non-standard devices and deliver information about a variety of factors on your devices. Measure everything from temperature to response time to network traffic with Intermapper probes.
As the only network monitoring system that is flexible enough to run on either the Windows, Mac, or Linux environments, Intermapper is uniquely qualified to support needs of media providers. Stay up and running 24/7 with our powerful, easy-to-use software.
Intermapper was simple enough for me to learn even though I was unfamiliar with network monitoring software. For radio engineers, Intermapper's Ping and SNMP traffic probes are really useful. The SNMP probe keeps tabs on my Layer 3 managed switches and broadcast equipment. Probes don't add to network traffic and they return valuable information; I can find out if a device is down before I need to communicate with it.
Mike Kernen, Chief Engineer, Greater Media Detroit
Get Started
Monitor, map, and alert with Intermapper for smoother, hiccup-free media productions. Try it for free for 30 days.
START A FREE TRIAL