Image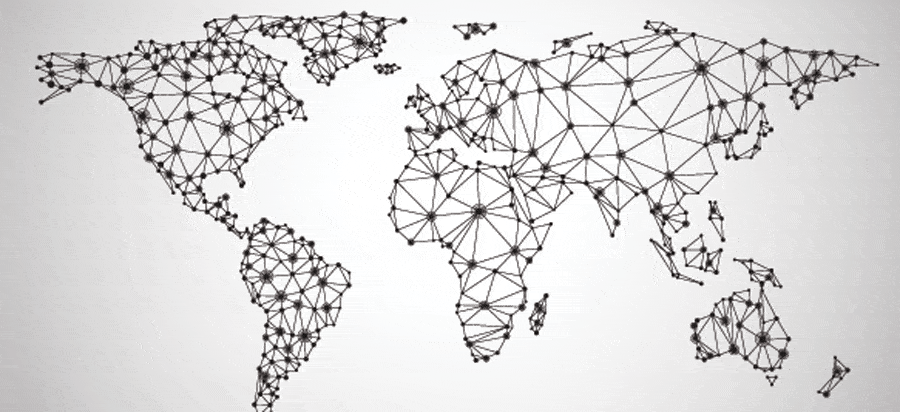 There's no shortage of network topology mapping tools out there. Throughout my IT career, I've tried a wide range of network mapping software, including the good and not-so-good.
Over the past few years, I've found Intermapper to be one of the best network mapping tools out there.
So why Intermapper?
8 Reasons to Use Intermapper as Your Network Mapping Tool
1. Quick installation and ease of use  
You don't need to purchase installation services or onboarding training to use Intermapper. IT professionals of all levels will find Intermapper easy to learn and manage.
Image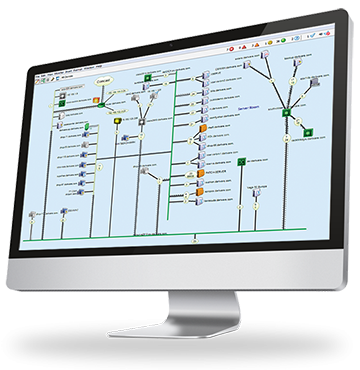 2. Automatic discovery and mapping
It's not realistic to expect network administrators to update maps every time a new device gets added to the network. That's the problem with static tools like Microsoft Visio, which make mapping more tedious than it needs to be. 
Intermapper saves you time by automatically scanning your network and displaying devices on a map—no manual effort required. While scan time will vary depending on the size and scope of your network, you can choose an IP range or subnet to go even faster.
3. Dynamic maps
If your map doesn't equip you with live performance metrics and actionable data that updates in real time, it's just a static inventory of devices.  Intermapper changes to reflect the status of all your network technology in real time. As an incredibly sophisticated network mapping tool, it gives you visuals no other product can.
Image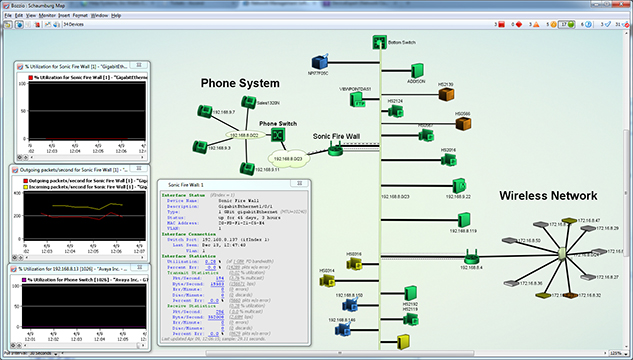 4. Easy personalization
With some tools, "what you see is what you get", and you have limited editing ability. Unfortunately every network is different, and default map layouts will not work for every organization.  
Intermapper helps you display your IT environment "as it truly is", with limitless map topology layouts, icons, and background images to choose from. You can lay out devices on a Google Earth map, floor plan, or a building map. You're the artist, and Intermapper is the canvas, so you can make your maps helpful to you.  
5. More than mapping
If your network map tool can only do mapping, you'll need to purchase separate tools for your monitoring, alerting, and other everyday network management necessities. While it's somewhat common to have several monitoring tools, having to purchase a separate mapping tool isn't ideal—especially if you don't have to.  
Intermapper combines network mapping, monitoring, NetFlow analysis, and alerting into one affordable, powerful tool.  
Related Content: Finding Your Way: Mapping Your Network to Improve Manageability 
6. Cross-platform functionality
Many network topology tools are limited to one operating system, but Intermapper runs on Mac OS X, Windows, and Linux to give you flexibility to fit your preferences.
7. Virtual and physical visibility
As more organizations invest in the cloud, you can rest assured that Intermapper will give you the visibility you need into your entire IT technology stack, whether it's on-premises, in the cloud, or a hybrid of both.  
8. Positive buzz from the IT community
Knowing your peers use and love a certain tool gives you confidence to try it out yourself. Intermapper consistently receives high praise for its unique and sophisticated mapping abilities on sites like G2Crowd and Capterra.
Speaking of positive buzz…
What Do Users Say?  
"[It is] very quick and easy to setup a map of your network. The first time you let Intermapper automatically discover your network, it is quite breathtaking. There is no other software package that can do this a well as Intermapper."
Jim C., Director of IT at Operation Smile
"The Intermapper live maps are infinitely better than any static Visio diagram, they are dynamically updated and show the network topology as 'it is' as opposed to how it was 'designed.'"
Administrator in Government Administration
"The graphical user interface is easy to navigate and allows network administrators to maintain an organized map of their network infrastructure."
Administrator in Higher Education
Read more reviews on G2Crowd.com >
Example Maps
Image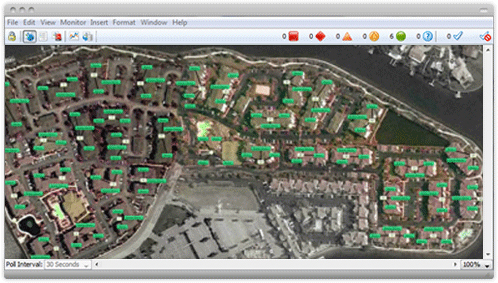 This university is displaying their network on top of a Google Earth image. This main map view shows them the top-level status of every network area, and then hierarchical maps can make it easy to drill into network health at various locations.
Image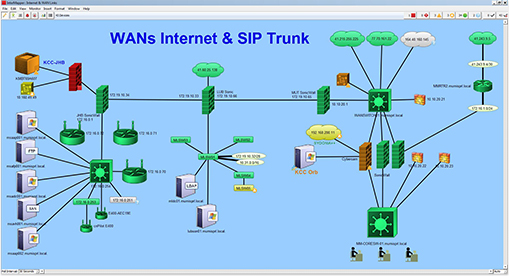 Map traditional and non-standard devices. In this example, a copper mining company in Africa has mapped both traditional and non-standard equipment, including trucks transporting copper loads.
Image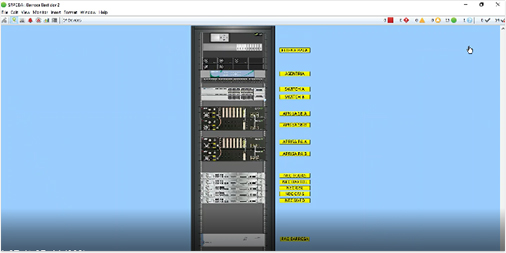 Display the details of your racks and monitor the devices within those racks.  
Monitor and Map Your Network Today
Intermapper combines dynamic network mapping with powerful monitoring and real-time alerts—all in one user-friendly tool. Get started with a free 30-day trial.
START A FREE TRIAL