Organizations are overburdened with the task of managing complex compliance expectations with even more complex security solutions. In many cases, they lack the headcount or the resources to do so effectively. Fortra's managed cybersecurity service offerings deliver the tools and expertise needed to handle compliance obligations of any scope, for organizations of any size.
In this guide, you'll learn how managed security services support your organization by providing:
Expert solution management for compliance software
Day-to-day enforcement of compliance-mandated security controls
Professionals that are up to date with the latest regulations
Robust reporting for audit preparations
Continuous monitoring for continuous compliance
And more
Image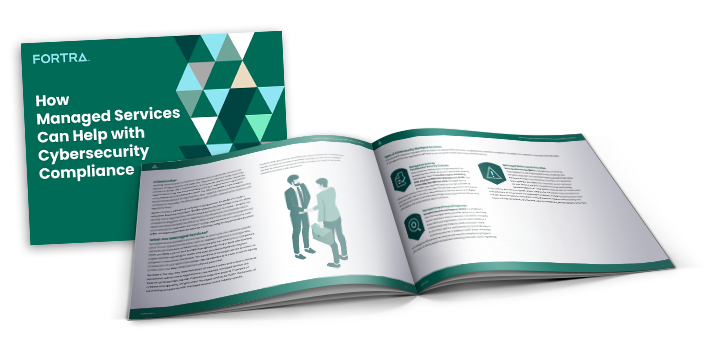 Fill out the form to download your copy of "How Managed Services Can Help With Cybersecurity Compliance" today.
What Are Managed Services?
Text
Managed services are outsourced offerings provided by security providers to help alleviate the burden of cybersecurity within an enterprise. These include parts of your operational process, such as:
Types of Cybersecurity Managed Services
Text
Here are a few key types of managed cybersecurity services your organization might want to use.
These include file integrity monitoring (FIM), security configuration management (SCM), and vulnerability management (VM).
The managed service provider serves as a real-time security operations center to uncover and address security issues within your organization, spanning traditional IT infrastructure and endpoints, SaaS, and other cloud environments.
Managed DLP providers track an organization's data, making sure sensitive data isn't lost and intercepting unauthorized users from accessing it and misusing it for their own purposes.
How Managed Cybersecurity Services Help with Compliance
Text
Managed service providers ensure deviations are remediated before any issues occur, monitoring for standard policies such as PCI DSS, SOX, and HIPAA. Advanced managed solutions also monitor for custom, internal policies. Organizations that entrust their compliance programs to managed service providers also have the added benefit of tracking their progress over time.
You Can Trust Fortra's Managed Services for Compliance
Text
Fortra's portfolio of best-in-class managed IT services makes it easy to entrust your cybersecurity compliance program to experts you can count on.
Fortra's Tripwire ExpertOps
Instant expertise and continuous staffing for your compliance needs
Fortra's Alert Logic Managed Detection and Response
Comply with myriad regulatory requirements simultaneously to prevent threats to your critical assets
Fortra's Digital Guardian Managed Security Program
Superior data loss prevention as a managed service, with global analysts working 24/7 to contain both outsider and insider threats