Media
Image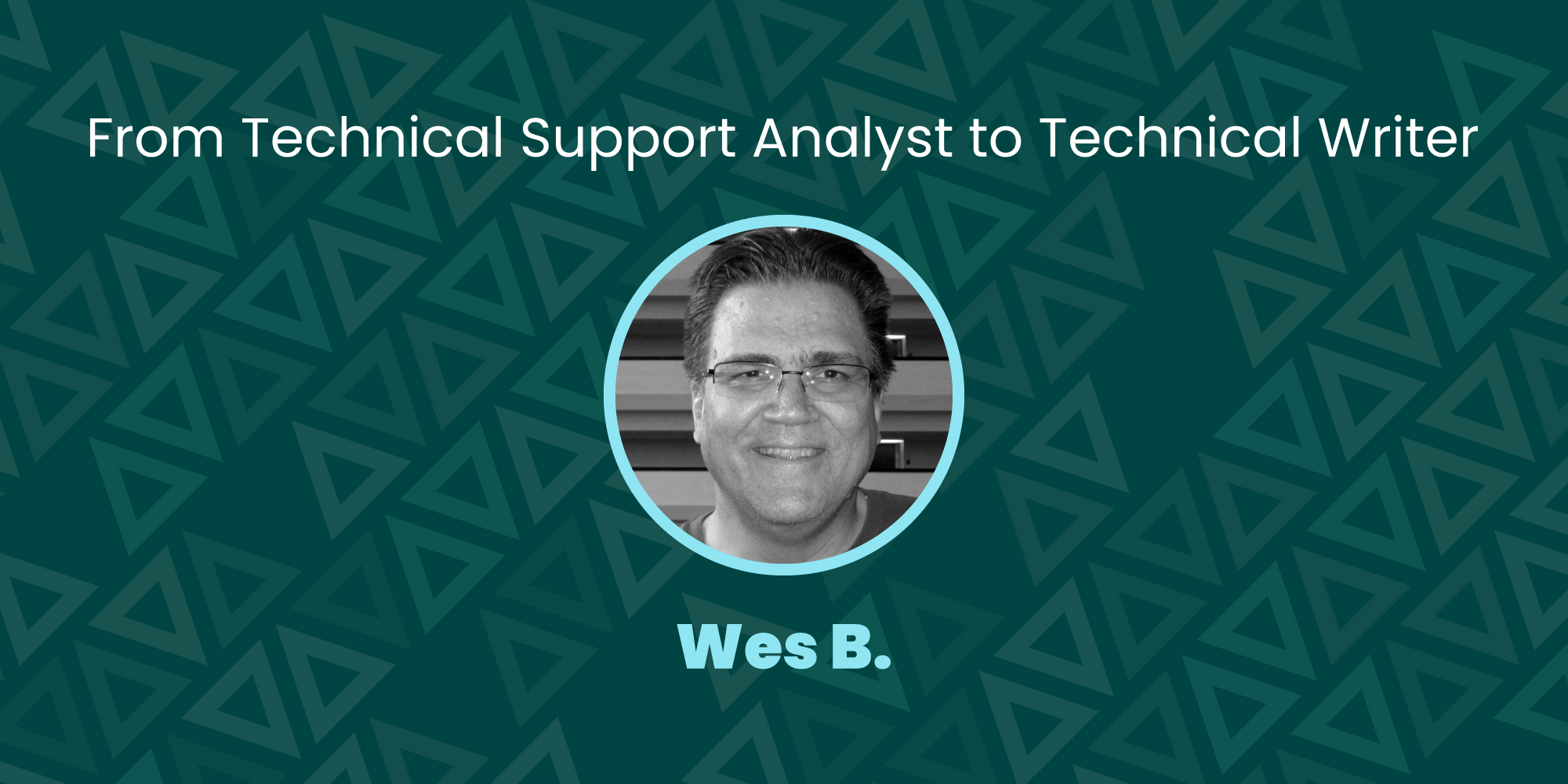 Text
Wes Byron knows it's never too late to pursue a different career. He was ready for a change after years in technical support, and Fortra gave him the opportunity to explore his interest in product documentation. Now a technical writer, he still enjoys supporting customers, but in a challenging new way.
How did you learn about Fortra, and what was your first role?
In 2019, I applied for a technical support analyst role at Fortra, and a recruiter called me. He was so upbeat, so positive about the company—I had goosebumps. At the time I wanted to remain in tech support and joined in November 2019. I left briefly in May 2021 and then decided to change careers, so I came back in February 2022 as a technical writer.
What were your first few months like?
I was brought in initially to support the document management product line, which I'd never worked with before. So it was a nice challenge to learn about these types of products.
I was paired with a mentor who provided me with all levels of information and training as it related to the company and the products I would be supporting. That worked out very well. He was available not only on a one-on-one basis, but also to join me on customer calls as needed.
You made a career shift from technical support to technical writing. Why the change?
When I first got into software support in 1995, the company I was working for was looking for somebody to do documentation. No one showed interest, so I stepped up. Although I stayed in tech support until this past year, I always really enjoyed the documentation element of my job. I liked doing these projects not only for the customers, but also for departmental processes for our team and other types of documentation that helped inform employees, customers, and partners. So, it was a hidden passion of mine and something I wish I would have pursued a long time ago.
What do you enjoy most about working at Fortra?
I enjoy the culture and being with a company with a strong focus on technology, as that is my passion. I find cybersecurity and automation very interesting. There isn't a day that goes by when you don't hear something in the news about cybersecurity and how it's impacting our society. I think that's where I get the greatest pride, knowing I'm working for a company with its finger on that cybersecurity pulse, influencing the space.
What in the Fortra structure has helped you get to where you are?
A combination of experienced, helpful and supportive management, friendly and knowledgeable coworkers, and the mentorship program—it really is the whole community of Fortra. These are well-established people who really invest all of their effort into Fortra to make it successful and such an amazing place to work.
Everybody is so helpful and works so well together, and this keeps it a fun, engaging environment. You can't help but grow because you're learning and developing continually. We all get better with those opportunities to learn and develop as employees.
Is there any feedback or advice you received in your time with Fortra that has stuck with you?
When I first got involved with documentation many years ago, it was nothing like it is now. Software has really gotten sophisticated and powerful as far as what tech writers can do to create, maintain, and enhance documentation. It's just amazing where we are today, but I was really worried about how I was doing the first few months.
Most everybody has been through that, and you shouldn't feel bad for finding things challenging. It's just part of learning a new job. But people were really supportive and told me to hang in there. Fortra has a very friendly, nurturing environment.
What's been your favorite project?
Seeing a new release of a product as it evolves through the development cycle. I'd never had the chance to be this close to quality assurance and development before. In the tech writer role I'm getting a little bit more hands-on with some of those things that exist in the development world. I enjoy helping bring about the changes to the products as we evolve them to satisfy what customers need to solve their problems.
Was there anything you did early in your career or at Fortra to stand out as an employee?
I always prided myself on my customer service. I remember once hearing that everybody is in customer service: You're either dealing directly with a customer or helping somebody else who is. I find that to be true in my technical writing role. Even though I'm not on the front end anymore working with customers directly, I'm creating and maintaining documentation for the products I'm supporting for them.
What advice do you have for new employees looking to grow with Fortra?
It really warms my heart to know we have people who care and want to see you succeed. They're not artificial with their support. They provide examples of how well you're doing. They give you information to help you succeed and position you for growth like no other company I've been with in my career. My advice is to take advantage of every learning opportunity and chance to do something new. Also – follow your heart; that is very important!