PRODUCT SUMMARY
Agile monitoring of IT applications and infrastructure with a business vision
Text
Vityl IT & Business Monitoring helps to identify, monitor, and prevent problems that negatively affect business applications or the unavailability of the technological infrastructure that supports them.
With a different approach to traditional monitoring, it improves IT services, critical processes, applications, and technologies, in order to work more efficiently and ensure stability and reliability.
Vityl IT & Business Monitoring is not just another IT monitoring tool. It is the only solution on the market capable of easily integrating information from any source, to provide visibility into the status of the business, and clear information to speed up the diagnosis of problems, prioritize their resolution, and maximize Service Levels (SLAs).
.
Image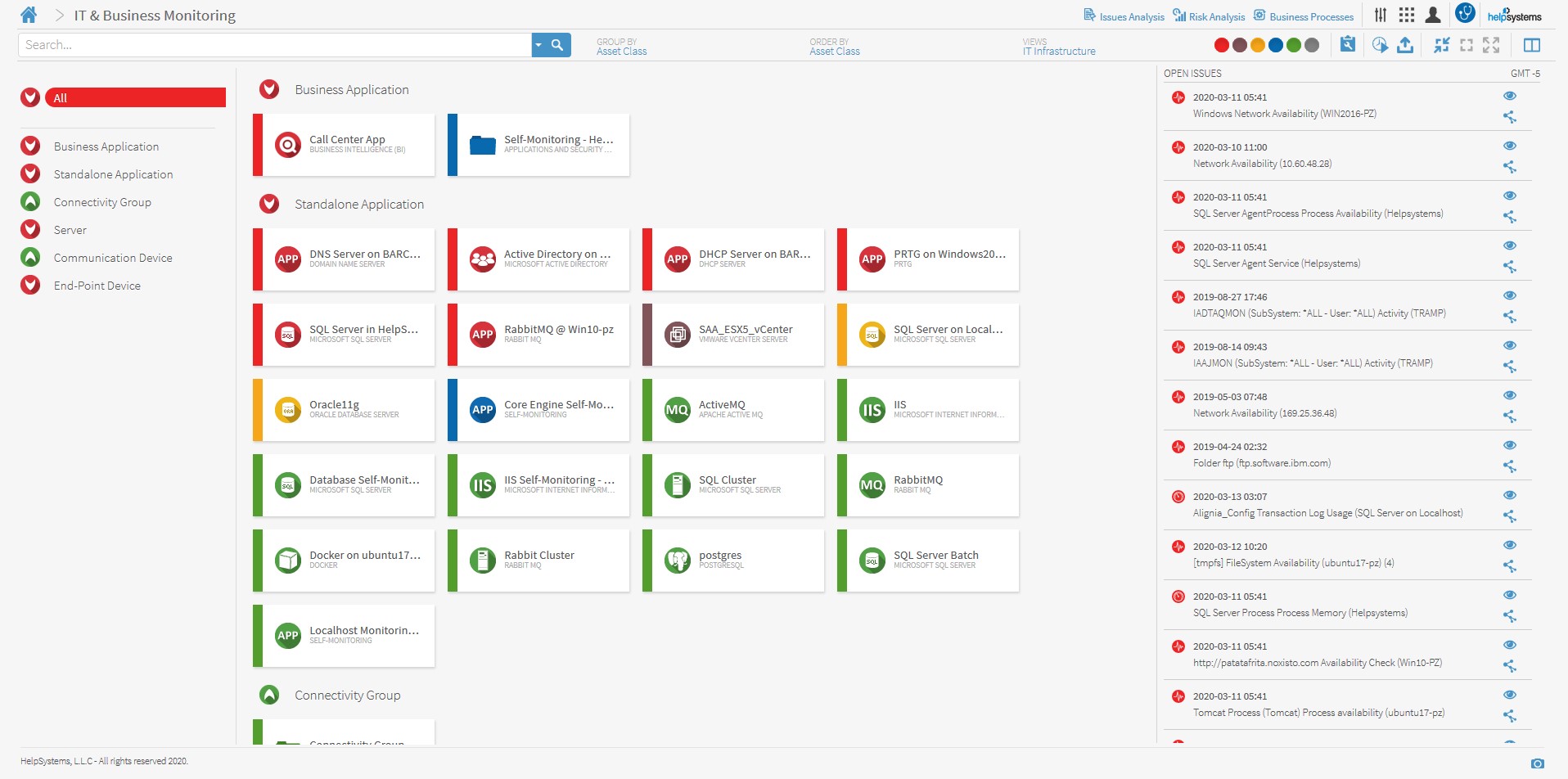 Vityl IT & Business Monitoring gives you an overview of all your IT applications and services, with indicators of their status by color, and the possibility to drill down on detected problems to find the root cause and work on their resolution.
Simplify the complexity of multiple technologies, both on premise and in the cloud!
Digital transformation poses new challenges when it comes to monitoring. Devices are increasingly complex, systems and applications are increasingly dispersed, and there are more and more infrastructures in multiple cloud environments (Amazon, Azure, etc.) or hybrid infrastructures. 
This scenario means that, at the time of a problem, it is very difficult for the IT team to identify the true root cause, the impact it causes on the business, and the decision of how to prioritize its resolution against other problems that also require attention. When deciding or justifying new investments, it is equally difficult to have clear and accurate information. Vityl IT & Business Monitoring responds to these questions, through agile, pragmatic, and business-oriented monitoring.
"According to Gartner, 66% of IT professionals feel that the complexity of the infrastructure makes their job difficult. Vityl IT & Business Monitoring was designed to help them manage it, through agile, pragmatic and business-oriented monitoring"
INTEGRATED DIAGNOSTIC TOOL FOR HELPDESK EQUIPMENT
Vityl IT & Business Monitoring provides the IT team with real-time visibility of all IT infrastructure, applications, and services. It allows you to easily detect any delay or interruption in a service or process and clearly identify the root cause and resolve it quickly, whether the problem is on a cloud server, on different platforms, or on interfaces.
Vityl IT & Business Monitoring performs a correlation of technical events to understand the impact of problems on the business (bottom-up view). At the same time, it has business controls (such as number of quotes, policies, orders, etc.) to discover problems that are affecting the company and the ability to find the root cause (top / down vision). 
It provides an ordered list of what problems exist in the environment and are prioritized according to the order of importance and context information. This allows the most urgent problems to be solved earlier and more easily. In addition, it offers tools to assign the incidents found among multiple users, so they can manage, close, escalate, or mark them as reviewed, which ensures that all incidents are evaluated. It is also possible to integrate Vityl IT & Business Monitoring with other HelpDesk tools that an organization uses.
SECURE SERVICE LEVEL AGREEMENTS (SLAs)
Provide business users with high-level dashboards: by customer, business partner, or channel, and give technicians visibility into the components that may affect their availability. Measure the SLAs agreed with your customers and, at the same time, control whether your suppliers are providing the agreed level of service.
FORENSIC ANALYSIS AND TREND METRICS FOR CONTINUOUS IMPROVEMENT
Vityl IT & Business Monitoring provides information on past incidents and problems that have been repeated most often, to perform forensic analysis and introduce a continuous improvement plan to mitigate them.
Plus, it has trending metrics and predictive analytics on service degradation, so your team can anticipate problems before they lead to a service outage.
INTEGRATION WITH THE MAIN IT TOOLS
Vityl IT & Business Monitoring integrates with monitoring tools such as Tivoli, Nagios and Dynatrace, APMs, infrastructure solutions, ITSM, SIEM, CRM, databases, Big Data tools, log files ... or whatever you need! Without the need to develop complicated interfaces.
TEMPLATES OUT-OF-THE BOX
Vityl IT & Business Monitoring has templates with predefined controls to monitor your infrastructure: Windows, Linux, AS / 400, Unix servers; devices such as routers, switches, and load balancers; or applications such as databases, application servers, virtualization servers (such as VMware), WebSphere, Jboss, web servers, clusters and much more.
CUSTOMIZABLE DASHBOARDS
Create custom dashboards easily, using the drag and drop functions. You can access them through mobile devices or tablets, and publish them for your users, business partners, or customers to consult.
IMPROVE THE ALIGNMENT BETWEEN THE IT AND BUSINESS TEAM
Vityl IT & Business Monitoring helps the IT department communicate better with the business, with information that is clear and easy to understand by non-technical profiles. It shows objective information on Service Levels (SLA), which allows you to make better decisions and justify new investments.
IMPLEMENT IT IN HOURS, NOT YEARS
Vityl IT & Business Monitoring was designed to monitor hundreds of applications, servers, devices and more, without the need for extensive configuration and maintenance efforts. Its implementation is very easy and agile, and its results are achieved very quickly, thanks to the large number of controls included in the product, the out-of-the-box templates, and its ease of use. It's even an excellent cross-platform option to replace other costly and maintenance-intensive monitoring solutions. 
FOR MORE INFORMATION
For more information visit https://www.fortra.com/products/it-service-monitoring-business-insights
Or write to [email protected] to schedule a live demo, download a trial free, and get more information.