Every two days we create as much data as we did from the dawn of civilization until 2003. Enterprises recognize the opportunity presented by having so much information at their fingertips, yet most businesses are not equipped to leverage a high volume of data. Fortra surveyed hundreds of professionals around the world and across multiple industries to discover how enterprises are managing data, why they are underprepared for an era of data-driven business, and how they can overcome the data management challenges they are facing.
The Data-Driven Enterprise
Text
Image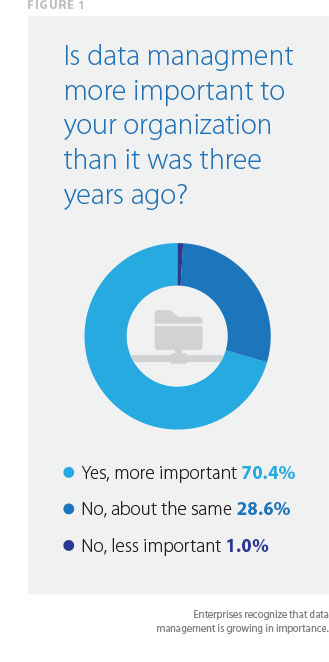 The volume of data available to businesses has skyrocketed over the last several years. In the past, a company might have relied only on simple information about the quantity of products sold. Today, data flows into the enterprise from detailed records of online transactions, channel sales, electronic scanners, mobile apps, and more. And the evidence is piling up that leveraging this data is essential for modern enterprises.

In 2012, a team from the MIT Center for Digital Business wanted to test the idea that data-driven companies outperform competitors. The researchers interviewed executives at 330 companies about their organizational and technology management practices and gathered performance data. The results were clear: companies that characterized themselves as data-driven performed better in terms of financial and operational results. Companies in the top third of their industry in the use of data-driven decision making were, on average, 5 percent more productive and 6 percent more profitable than competitors.

The importance of data isn't news to most executives. In 2013, KPMG found that nearly two-thirds of CFOs and CIOs in the Americas had changed their business strategy because of big data. But recognizing the value of data management is only the first step—successfully turning data into insightful, data-driven business decisions is more difficult.

To find out what challenges enterprises are facing managing their data and how they plan to meet those challenges, Fortra surveyed 506 professionals at organizations of all sizes. We discovered that most of our survey respondents understand the growing significance of data to business; 70.4 percent told us that data management is more important to their organizations than it was just three years ago (Figure 1).

Collecting and using this data comes with new technology challenges. Multiple data sources have to be integrated with each other and with the applications that use them. Moving data needs to be simple and fast. Data needs to be secure and private.

The Fortra study revealed that enterprises are still struggling with these issues and others, yet most have no clear plan to fix their problems. 67.6 percent of respondents have not made plans to implement new data management solutions in the next year, although 26.3 percent hope to. Only 18.2 percent are already working on implementing something new.
Text
"...companies that characterized themselves as data-driven performed better in terms of financial and operational results."
Why a New Solution is Needed
Text
Most executives have heard all about the rise of data-driven business, and they feel ready. After all, their enterprises are collecting a high volume of data. The average company that participated in our survey is pulling in data from at least three sources. Some typical sources are website analytics, point-of-sale data, or product usage. But where companies are failing is in how they leverage this data. It isn't because businesses are uninterested in strategically using the data they collect, but because of technological shortcomings that don't allow them to convert an abundance of data into actionable insights.
Systems and Applications Aren't Talking to Each Other
For data to be useful, it has to be fully integrated across the enterprise. This means not only combining multiple data sources, but also being able to push the data across multiple systems and applications. A business may need to use data with customer relationship management (CRM), enterprise resource planning (ERP), and extract transform and load (ETL) software as well as applications specific to certain departments or processes. Unfortunately, most modern enterprises are ill-equipped for this. Fewer than half of survey respondents said that their data sources are fully integrated with their enterprise applications.
Image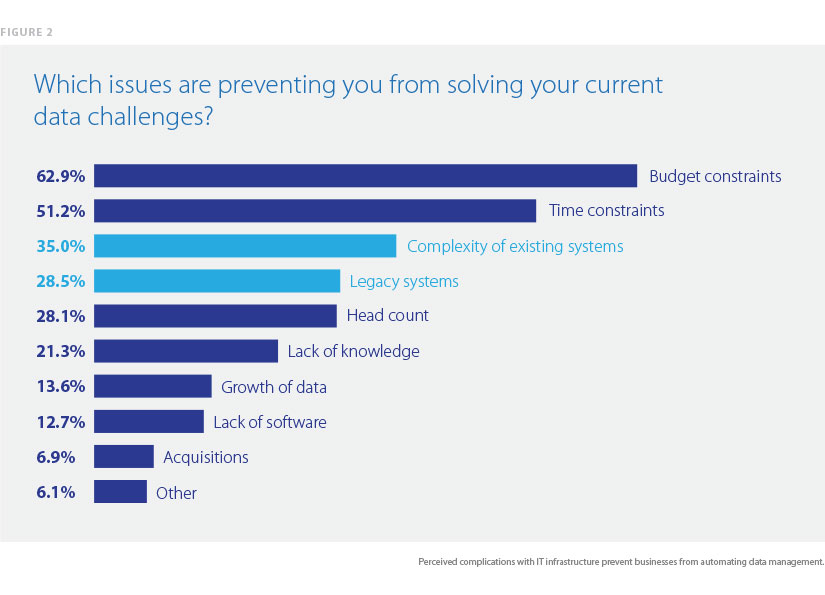 Furthermore, many organizations struggle to make data management work with their particular IT infrastructure. 28.5 percent say that their legacy systems are preventing them from solving their current data challenges, while 35 percent are thwarted by the complexity of their existing systems (Figure 2). Solutions exist that can create effective data management processes within these environments, but many companies seemingly haven't implemented the necessary tools.
Integration is key to using data strategically. The survey revealed that companies that have fully integrated data sources and enterprise applications are more likely to feel that their company is above average in data management efficiency.
Homegrown Solutions are Ubiquitous
50.6 percent of survey respondents are automating data management with a homegrown solution (Figure 3). Custom scripting and homegrown tools are often a simple way for IT administrators to automate repeated tasks. However, homegrown solutions are risky and hard to scale.
Image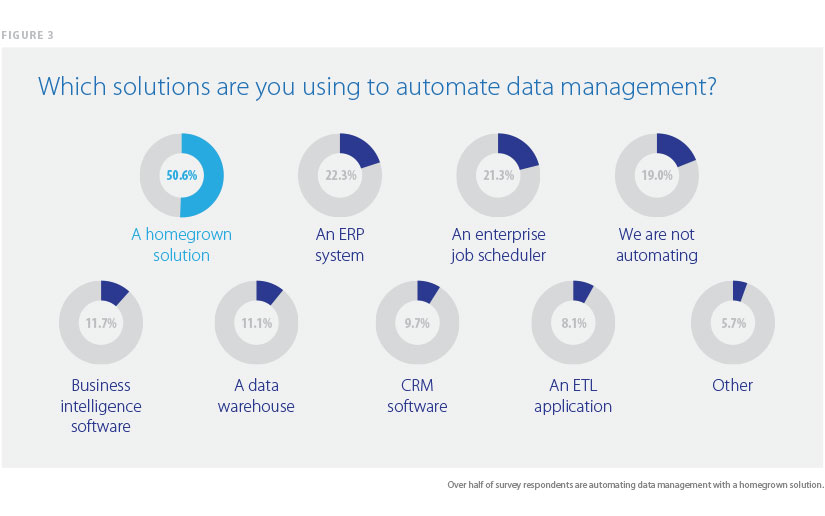 There are several reasons to move beyond homegrown tools. First, key knowledge about the custom code that is running data management processes often exists only in the mind of just one administrator, or at best a small team. If those people leave the organization or are temporarily unavailable when something goes wrong, fixing the problem will be difficult—and there's no support hotline to call. Custom scripting is also prone to human error, and the risk multiplies as more scripts are written. Finally, homegrown systems can't adapt to changes in the environment. This is especially important given increasing data management requirements. If a company adds new data sources to the mix, or if a business unit implements a new application that needs to integrate with the data, building on the homegrown solution will require time and resources while increasing the risk of error.
As data becomes more important to the enterprise, software that is already equipped to integrate with multiple systems and applications is the more scalable solution.
Data is Stored Both in the Cloud and On Premise
For many enterprises, cloud applications are key to data management processes. However, making use of the cloud creates additional challenges when it comes to integrating data sources and moving data, especially if an enterprise's data is stored both on premise and in the cloud. Based on the Fortra survey, 28.9 percent of companies use both cloud and on-premise data storage solutions. 7.1 percent use the cloud only (Figure 4).
Image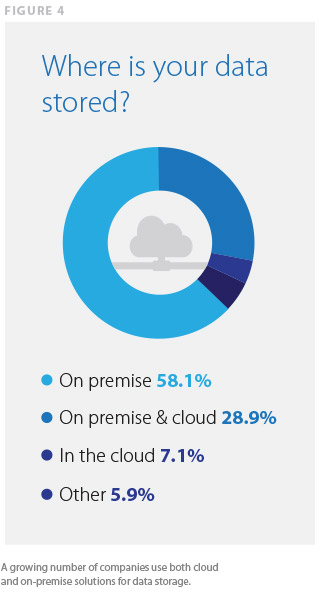 These numbers are likely to increase. A 2014 report by the Economist Intelligence Unit (EIU) suggests that cloud is becoming the dominant model of IT service delivery. One-third of organizations in the EIU study said that 60 percent or more of their technology was delivered via the cloud. Nearly twice as many believed that this would be the case for their businesses in two years' time.
Movement to the cloud doesn't mean that on-premise data management is a thing of the past. "IT departments are starting to rationalize the cloud as just part of an infrastructure," said Silicon Valley investor Mike Maples, quoted in Forbes in 2013, "You can't just let all the bits of your enterprise go to the cloud. It's not all or nothing. The world is becoming a more hybrid enterprise."
This type of hybrid environment will require superior data movement and integration capabilities.
Everyone Wants a Piece of the Data
In a data-driven enterprise, data informs decisions across the entire company. That means that for data to be used to its full potential, it needs to be easily accessible to multiple departments.
The average company surveyed had at least five departments accessing proprietary data. Each department is likely to be using the data with its own applications and processes, making robust data movement and integration tools necessary.
Not Every Enterprise is Automating
Given the increased volume of data and the pressure to use the data in multiple capacities, it seems like automating data management processes should be a given, FIGURE 5 and yet 19 percent of respondents don't automate any part of data management. This is more common in smaller companies, but even in organizations of over 1,000 employees, 13.7 percent aren't automating.
Text
"A 2014 report by the Economist Intelligence Unit (EIU) suggests that cloud is becoming the dominant model of IT service delivery...Nearly twice as many believed that this would be the case for their businesses in two years' time."
What Kind of Solution is Needed
Text
Image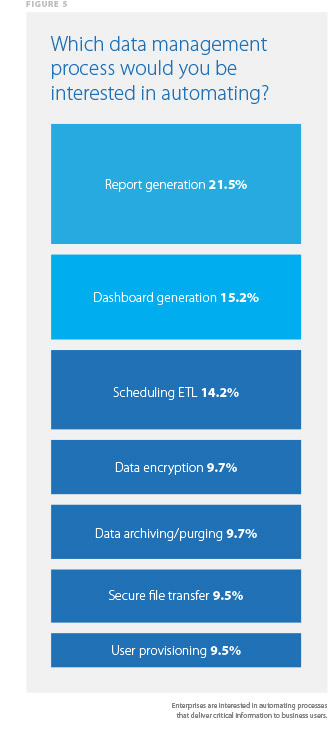 Most of the companies surveyed by Fortra are facing similar issues. A solution that will best prepare these enterprises for the era of data-driven business will need several key qualities.
A Versatile Platform
Organizations are facing a wide variety of data challenges. The most concerning issue for respondents was privacy and security, followed by ensuring data accuracy, followed by integrating multiple data sources. For most companies, finding a solution that addresses several of these challenges will offer a better ROI than implementing multiple tools.
Software That Can Talk to Everything
The 506 professionals who responded to the survey are using at least 11 different ETL solutions, 16 CRM platforms, and 27 ERP systems between them. About one-third of companies have multiple data management automation tools within the same enterprise. A valuable data management tool should be able to integrate with all of a company's enterprise software—including solutions they will implement in the future.
The proportion of homegrown solutions is significant. While homegrown tools are risky, the reality is that most businesses can't afford to start from scratch. Ideally, custom tools will not all have to be replaced, but can be incorporated into a more robust and scalable infrastructure.
A Means to Achieve Business Objectives
The survey asked which data management process people are most interested in automating (Figure 5). The top selection was report generation (21.5 percent of respondents selected this as their number one choice) followed by dashboard generation (15.2 percent). Both choices won over the more traditional IT tasks like data archiving and purging (9.7 percent) and scheduling ETL (14.2 percent). What reporting and dashboard generation have in common is that they are aimed at sharing information with business users, including those with no technical expertise. In write-in answers, respondents mentioned wishing they could automate data processes related to accounting, sales, invoicing, and other non-IT areas.
When asked which department would be most impacted by a failure of data management processes, most companies answered IT or operations. But 32.2 percent felt there would be a greater impact on a department outside of IT like Marketing, HR, or Product Management.
The most useful solutions for modern data management practices will offer features that focus on achieving business objectives.
Affordable Software
62.9 percent of respondents say that budget constraints are holding back their data management. In fact, budget issues were the top obstacle they faced. A solution that is widely useful will have to be affordable to businesses of all sizes.
Summary
Text
Despite increasing evidence that data-driven businesses outperform competitors, the average modern enterprise is underprepared to utilize data effectively. As the volume of available data continues to grow, automating data management and movement will be necessary to maintain a competitive edge.
The primary technological challenge to efficient data management is systems that can't work together and can't fully integrate with data sources. If enterprises hope to avoid falling behind, they should implement a versatile solution that can manage data across multiple systems and applications, allowing the strategic use of data to achieve business objectives.
For more information on survey questions and respondent demographics, download the PDF version.
Automate Your Data Management
See how enterprise job scheduling can streamline data management processes with a personalized demonstration of Automate Schedule.
REQUEST A DEMO