Media
Image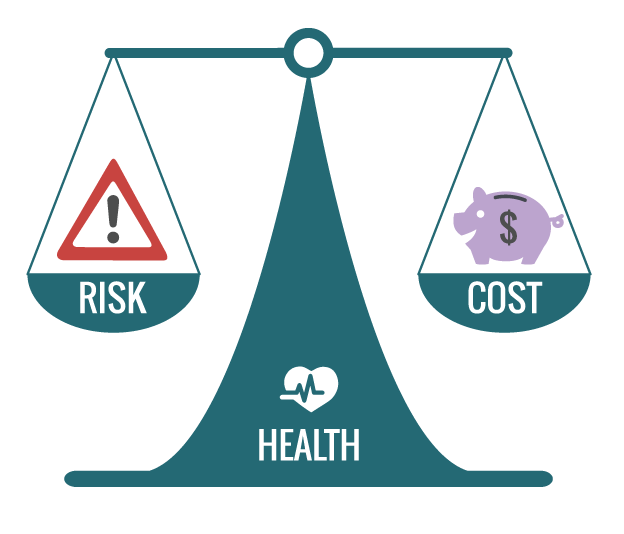 Text
Risk - Without the proper resources and funding, IT management can't defer the risk of slow response times and crashes
Cost - To avoid the over-allocation of resources and communicate the true value of their department, IT staff must minimize costs and attribute them to the appropriate operations.
Health - Good capacity management results in a strong knowledge of both risk and cost, giving IT the ability to justify budgets while increasing accountability across the organization.
---
In today's technology-driven economy, managing IT Health, Risk, and Cost effectively are paramount to the success of the entire business. Under-allocating IT budget creates the risk that service levels won't be met, or worse, that outages will occur. Overprovisioning, on the other hand, wastes mission-critical budget. Effective IT financial forecasting will properly align your company's IT needs with its budget, ensuring optimal usage of resources.
The goal of this article is to provide you with free resources to improve your organization's IT Financial Management maturity and drive improved service at a lower cost. Although highly dependent on your position in an organization, optimizing your IT infrastructure can impact your own professional success, as well as that of the entire company. With that in mind, explore the business unit below that most closely represents your role to see IT Financial Management resources targeted directly to your expertise.
Business Leaders
Text
Fortra has tools to connect executives to their IT departments, giving them visibility into cost and value, creating more ROI, and driving fact-based decisions.
IT budgeting that gives business leaders...
Media
Image

Text
The servers and software that today's companies rely on can meet higher demands with more efficiency than ever before, but that doesn't mean that providing great IT service has gotten any cheaper. Business leaders are constantly thinking of new projects and initiatives to help meet increasing customer expectations, but are understandably frustrated when their IT departments tell them their ideas will require extensive time and money to complete.
What today's business leaders need is transparency into the IT budgeting and forecasting process. Capacity management tools empower managers and executives to:
Understand what goes into IT costs
Identify IT value
Furnish their companies and departments with more efficient and effective IT services
Lead with the Facts
For consumer or client-facing services, proper IT budgeting allows for fact-based decision making. Armed with accurate data put into the proper context, business leaders can propose new digital services that they know their budget can support. This knowledge also prevents risk by ensuring that IT services aren't stretched too thin, causing downtime or crashes. The same goes for internal initiatives — good IT finance tools can lead to increased productivity without a corresponding increase in costs.
Meet All of Your Customers' Expectations
Leaders with accurate, real-time data will not only have a better understanding of their IT investment, but increase their return on it. As consumers expect more and more from digital services, executives will need all the resources they can get to meet these heightened expectations more effectively and efficiently than the competition.
By strengthening the connections between leadership, finance, and IT, Vityl Capacity Management makes IT budgeting not a constraint, but instead, a powerful tool for business success.
Make sure your IT department can provide the right resources at the right time.
Learn how capacity management solutions enable IT to do capacity planning and manage system and server performance.
IT Finance
Text
Our capacity management tools support rolling forecasts and provide accurate, real-time data on IT costs, taking all the headaches out of the IT budgeting process.
IT budgeting that gives Finance Managers...
Media
Image

Text
In spite of the rapid digital development of today's businesses, it often feels as if executive leadership and their IT departments are worlds apart — and if you're the person in your company charged with IT financial management, no one knows this better than you. Balancing ambitious corporate plans with more pragmatic IT ones can be a nightmarish task if you don't have the proper tools, and the resulting budget could still end up leaving both parties dissatisfied.
Unite Corporate and IT Once and for All
Our tools put the true cost of service delivery in the hands of IT professionals, eliminating surprises from the IT budgeting process. IT leaders will be able to take the growth projections and new product proposals that business leaders bring to the table and identify hardware requirements and costs based on our tools, making finance management easy. No more struggling to unite the interests and expectations of corporate and IT — you get one simple idea of what IT needs to meet its SLAs each year.
Say Goodbye to Annual Forecasts
And IT finance managers need this data constantly, not just once a year. Annual forecasts lead to projections that are inevitably out of date because they start after trading has already begun — capacity management software can support rolling forecasts, enabling a more agile, responsive, cost-effective IT budget. This agility also empowers finance managers to account for seasonality, greatly deferring or eliminating the risk of under-allocating funds when demand spikes.
Budgeting decisions should be driven by data, but without the proper capacity management tools, that data can get lost in translation.
Vityl Capacity Management puts accurate IT data in business context, cutting through the office politics to make IT financial management easier.
IT Management and Staff
Text
Fortra helps IT staff communicate more productively with the larger business by arming them with the true costs of service delivery. Justify your budget, prove your value, and cut costs for the entire company with our capacity management tools.
IT budgeting that gives IT Management...
Media
Image

Text
While it's the job of business leaders to propose exciting new digital projects and services, it's an Information Technology manager's job to know how much they would actually cost. That means that IT either has to reject many of these proposals and end up labeled as perpetual naysayers, or approve them — only to face the wrath of senior leadership when they see the bill. 
Turn Tech Expertise into Effective Communication
Technical expertise is what makes IT staff members so valuable, but it also makes communication with the rest of the business difficult. Finance and leadership often don't have a strong sense of how IT costs are generated, which makes it difficult for IT professionals to justify their budgets. IT needs the data that supports their cost projections at their fingertips, and they need it put into a context that the entire company can understand. 
Real Visibility into IT Consumption
Vityl Capacity Management arms IT management and staff with that information, allowing for better communication with leadership and the finance department and make immediate, fact-based judgements about new projects. These tools also allow you to link showback and chargeback data to planning and budgeting submissions, which makes it easy to determine which departments and services are contributing to your IT burden. This wide visibility into IT consumption will
Allow for reduced costs and improved service
Improve efficiency across the organization
If business leaders don't have the context they need, they won't be able to make good strategic use of IT. Once you start communicating IT's value to the business, you'll be able to deliver more consistent service, justify bigger budgets, and increase margins for the entire company.
Visa Europe Uses Vityl Software to Make Best Use of Investments
See how See how Vityl software helped Visa Europe avoid costs, prevent outages, and assure performance through peak processing periods.
Try IT Capacity Management Software Today
Do capacity management like a pro. Try Vityl Capacity Management free for 30 days.
START A FREE TRIAL