Media
Image

Text
Demands for services are increasing. Both the business and customers expect high performance and availability. Yet budgets, labor and floor space are all being constrained.
I guess nobody ever said running a data center was easy.
That's where capacity management comes in. Capacity management can improve efficiency and guarantee reliability of your business systems.
But like anything else, you have to crawl before you walk. Just remember: the value of capacity management practices is there.
So what does it take to adopt more mature processes?
Gartner defined an IT Management Process Maturity Model over a decade ago. It laid the groundwork.
But capacity management maturity goes much further today. Here's a more relevant model for today's standards.
Media
Image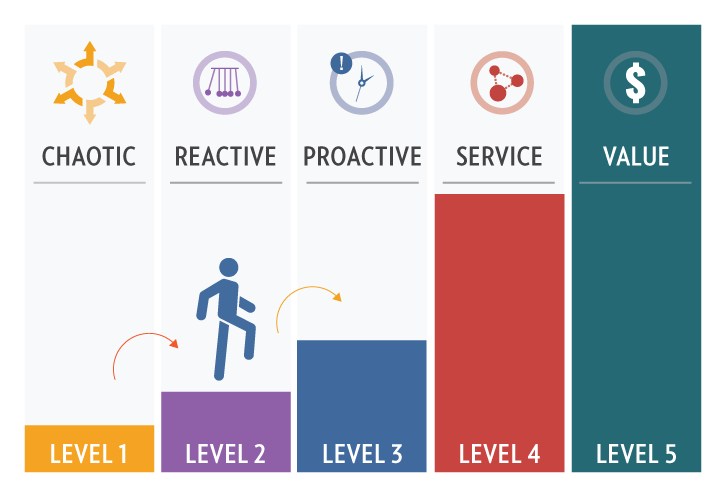 Text
Level 1: Chaotic
At this level of maturity it's the lack of purpose that stands out the most. You are missing a consistent strategy for managing and improving service quality.
Level 2: Reactive
Moving up to the Reactive level is primarily about improving your ability to react in a consistent and timely fashion. However, it's also about ensuring that you have enough information to allow for proper handling of those events.
Level 3: Proactive
You have already developed an ability to efficiently react to events. Taking the next step involves discovering patterns and learning from the available empirical data. Once you master that, you will be able to proactively mitigate risks before they have a negative impact on your services. This also has the potential of raising overall efficiency.
Level 4: Service
So far, any planning and proactive measures have been based on extrapolation of trends in historic data. But there are more powerful and accurate ways of making predictions, especially if the scenarios involve nonlinear growth or making multiple changes at once. By employing the next level of analytics, you can accurately predict the outcome of such scenarios and offer powerful service quality indicators.
Level 5: Value
To reach this maturity level, you should leverage the decision support produced at the lower levels to provide continuous improvement. The suggested actions should of course be aligned with your overall business objectives.
Where does your organization fall today? Unless you're already at the Value stage, there's room to improve your maturity.
Plus, increasing your capacity management maturity:
Lowers costs
Improves service quality
Increases IT productivity
By taking steps to become a more mature organization, your staff will be able to focus on the most important duties—rather than fight fires.
Learn more about improving capacity management maturity.
Check Your IT Maturity
Take the maturity assessment and find out where your IT organization ranks on the maturity scale. Answer 20 yes/no questions, and you'll immediately receive your results and tips on moving to the next level.