Implement an extra layer of cybersecurity when exchanging files with trading partners.

Keep Inbound Ports Closed
GoAnywhere Gateway uses a reverse proxy to keep inbound ports into your private or internal network closed. Implementing this feature in your organization will help you comply with regulations and privacy laws like PCI DSS, HIPAA, HITECH, SOX, ISO 27000, and GLBA.
Connect to External Systems
When acting as a forward proxy, GoAnywhere will connect to external systems on behalf of user and applications working in your private or internal network. Outbound requests are routed through a centralized point, allowing you to easily manage your data exchange from your firewall.
Distribute Workloads to Multiple Systems
GoAnywhere Gateway can serve as a load balancer, which you can use to distribute workloads across multiple systems. If a critical system fails, your trading partner connections and file transfers will reroute to your remaining systems, providing high availability for mission-critical environments.
DMZ Secure Gateways: Secret Weapons for Data Security
Exchanging files with customers and trading partners is commonplace in today's global economy, but keeping that data secure remains a difficult challenge. Find out how adding a DMZ secure gateway to your file transfer processes can provide a critical layer of security that boosts compliance readiness
Media
Image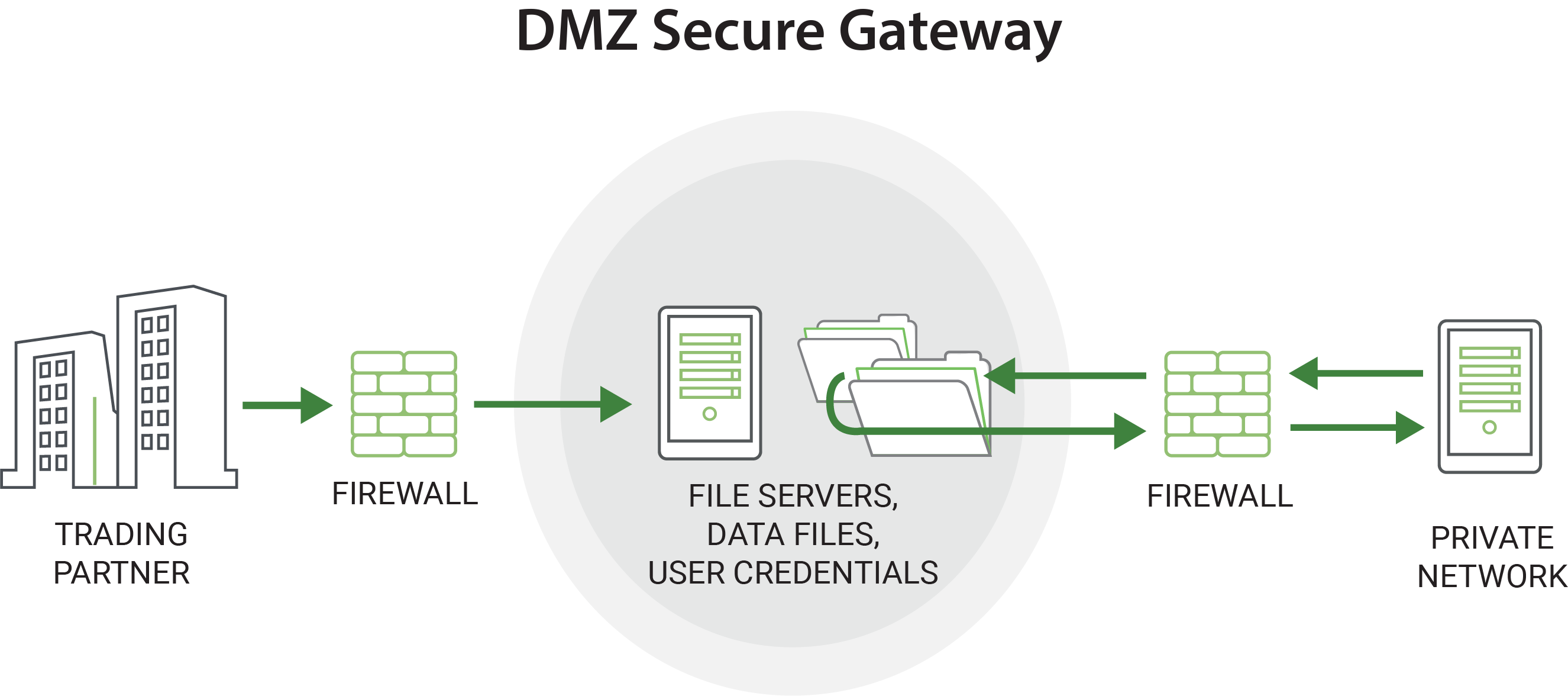 How GoAnywhere Gateway Works
Text
The ins-and-outs of GoAnywhere Gateway
GoAnywhere Gateway serves as a reverse and forward proxy. Most users install it in the DMZ (Demilitarized Zone), with GoAnywhere's secure file transfer solution, GoAnywhere MFT, implemented in the private network.
Upon starting GoAnywhere Gateway, GoAnywhere MFT creates an outbound connection. This is used as a "control channel" for passing commands and messages to and from GoAnywhere Gateway. The control channel initially provides proxy details (e.g. IP and port mappings) to GoAnywhere Gateway, at which point the proxy software starts up "listeners" on the designated IPs and ports for incoming traffic.
Achieve PCI DSS Compliance
Text
Does your organization need to maintain compliance with the Payment Card Industry Data Security Standard (PCI DSS)? GoAnywhere Gateway helps IT teams protect cardholder data by keeping sensitive files and credentials out of the DMZ while ensuring that all inbound ports are closed.
GoAnywhere Gateway is specifically helpful for organizations who need to meet requirements for PCI DSS Section 1.3.
Ready to Get Started?
Try GoAnywhere MFT free! Our 30-day trial lets you test all of the software's features, including automation and encryption, to see if it's the right fit for your organization.
START A FREE 30-DAY TRIAL