Text
Intermapper probes give you insight into how your network's performing. You can create Intermapper probes to monitor virtually any type of gear on your network—from standard switches and routers to non-standard environmental sensors and wireless devices. Keep reading to learn how.
What is an Intermapper probe?
Media
Image

Text
Some network management applications use the word "probe" for something you install on equipment you're monitoring. That's actually not how Intermapper probes work. An Intermapper probe is a software plug-in that tells Intermapper what actions it should perform to monitor equipment on your network. As the engine that powers your network monitoring, probes can alert you to critical network issues, locate problem devices, and supply you with the diagnostic information you need.
How do Intermapper probes work?
Intermapper probes help you get real-time information about network performance. In a nutshell, probes:
Go out to test a device on your network
Receive performance information from that device
Bring back that data to display in your network maps
Trigger an alarm if pre-set performance thresholds have been exceeded
You can find or create an Intermapper probe to monitor virtually any kind of device, application, or service running on your network.
How do I find probes I need?
Media
Image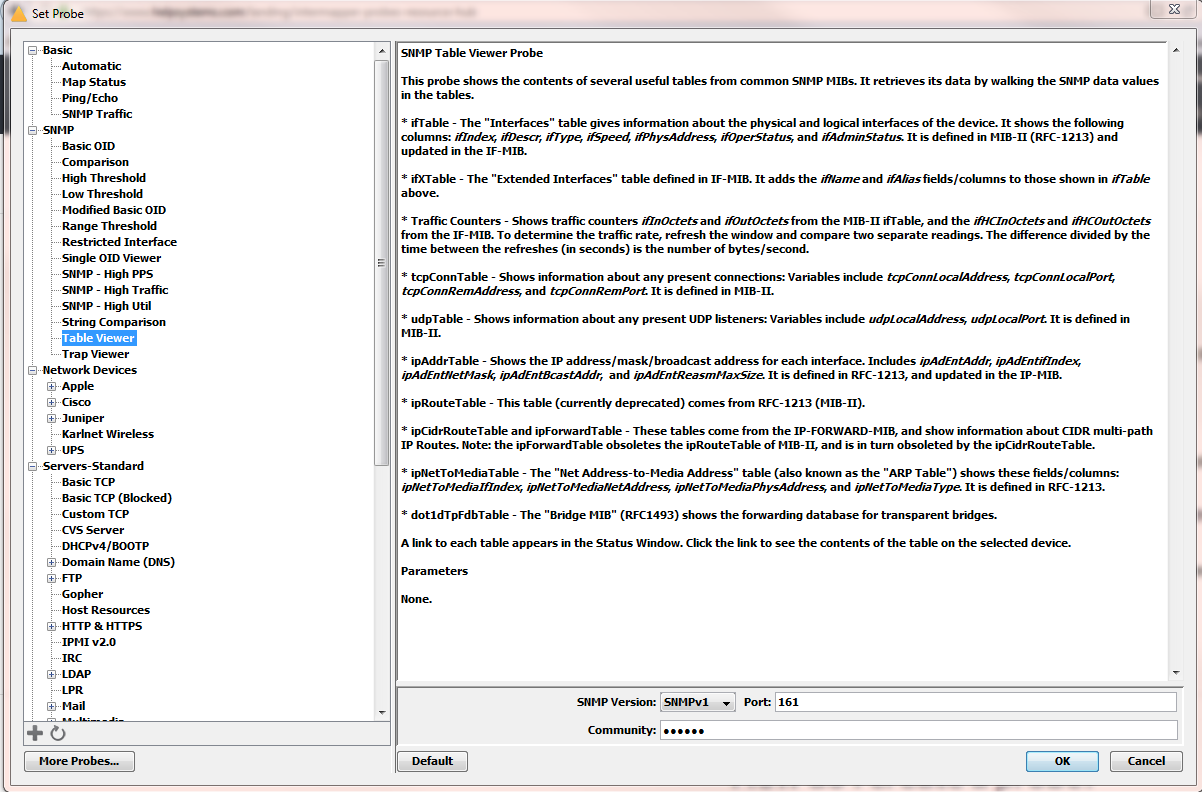 Text
The first place to start is right within Intermapper. Intermapper comes with over 100 probes built into the product to help you monitor all kinds of gear.
If we don't have the probe you need, you have several options:
Search probes within Intermapper. Right away, Intermapper comes with hundreds of probes for a variety of equipment, from basic SNMP traffic probes to probes for Apple, Cisco, and Juniper devices, and more. From a map, just go to Monitor > Set Probe and search for the probe you need.
Explore our probes library. Intermapper users are constantly creating new probes for equipment they want to monitor, and they love to share them. You'll find tons of options to download for free in our user-contributed probes library. Explore the probes library >
Get help from certified probes developers. If you can't find the probe you need and don't have time to create it yourself, we can work with you to develop it. Request a custom probe >
How do I create a probe?
Text
Because Intermapper probes are simply text files, creating your own probe is very straightforward process. This article will walk you through it. Learn how to create a probe >
These resources will also help you create the probes you need:
The Ultimate Guide to Intermapper Probes
Take a closer look at how to take advantage of Intermapper probes and get greater insights into your network's health.
Interviews with Probe Creators
Explore the Intermapper Probes Library
You'll find all kinds of probes shared by everyday Intermapper users—available for free download.
FIND A PROBE