Comprehensive monitoring software for your network servers

24/7 Monitoring for Your Unique Network
Windows, Linux, AIX, VIOS, SNMP devices—whatever combination your network serves up, you need fully configurable monitoring software to fit your unique needs. Whether you're a busy system administrator or a managed service provider, monitor all of your network servers, services, and devices for maximum availability 24/7.
No Additional Expertise Required
Ensuring that smooth sailing for all your network servers, regardless of operating system, doesn't require bulking up your platform knowledge or hiring extra help. Deliver seamless IT operations across platforms without increasing headcount.
One-Stop Mobile Management
Manage all of your network servers, services, applications, and devices from a single, mobile-ready console. View all messages and alerts across your environment in real time within Enterprise Console.
Manage Multiple Environments from a Centralized Location
Key Features
Quick, easy software installation
Centralized view of real-time performance
Advanced network monitoring of servers, applications, and services
Unlimited network monitoring of SNMP devices
Automatic alerts via email or SMS
Single Pane of Glass
Enterprise Console is the hub of systems managagement for the Halcyon solution from Fortra . Free with Network Server Suite, Enterprise Console allows you to view messages and alerts from your IBM i, VIOS, AIX, Linux, and Windows servers on a centralized, graphical console, providing a dashboard view of your entire enterprise.
Reponses can be given to messages and alerts closed from the central console while color-coded options help identify different servers and/or different types of alerts. Comprehensive filters can escalate actions, change severity, and forward alerts via email or SMS text messaging. This is ideal for monitoring and controlling multiple servers from a single location.
Mobile apps for Enterprise Console are available for Apple and Android devices, so you can manage your environment from anywhere for complete piece of mind, day or night.
Image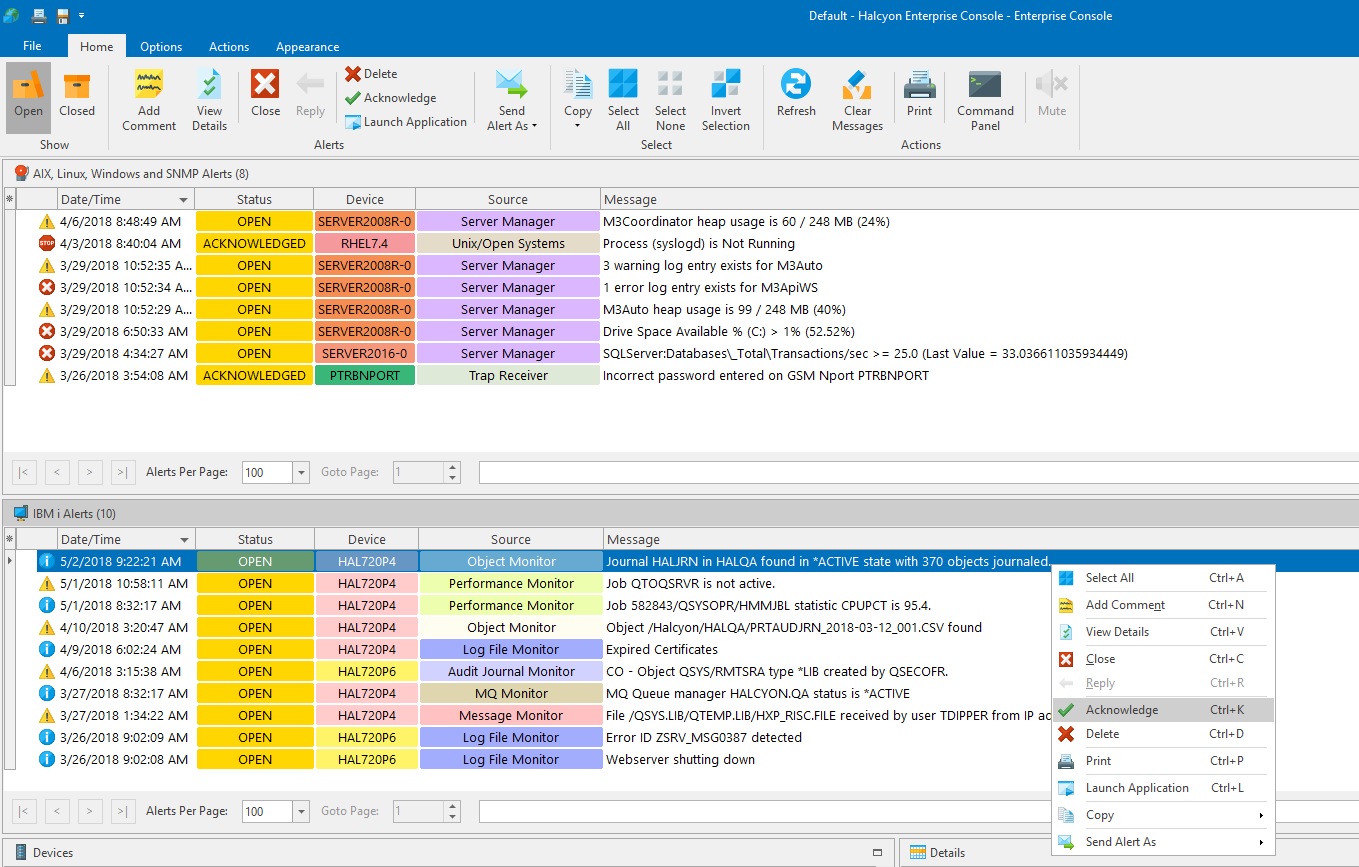 We now have high levels of confidence that our whole infrastructure is being monitored efficiently and that critical alerts will be received without delay so appropriate actions can be taken to minimize business disruption.
Andrew Richardson, Senior Manager IT Service Delivery, BGL Group
Resources
Left Column
Who's Afraid of Linux on Power, AIX, and VIOS? Not i.
It can be scary stepping out of your comfort zone to manage and take responsibility for new technologies, but it's also exciting—and increasingly important.
Middle Column
Comparison Checklist for Managed Service Providers
This checklist helps you distinguish between Fortra and other monitoring, automation, and reporting solutions so you can make the best decision for your company. 
Right Column
Need to Monitor IBM i Servers?
IBM i Server Suites provides flexible server monitoring for the entire IBM i environment.
Get Started
Find out how to take control of your network server monitoring, automation, and reporting across platforms. Request a demo and we'll show you.
REQUEST A DEMO