Media
Image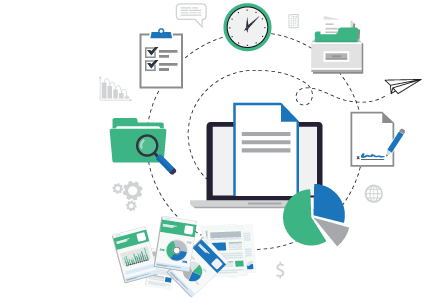 Text
How Can Document Solutions Help Your Organization?
Documents and forms are essential to your business, but the processes around them are often filled with inefficiencies.
Capturing documents and data by hand is prone to errors. Managing paper documents consumes employee time and makes it difficult to ensure document security. Distributing documents and forms and processing invoices individually is often painstaking. 
You don't have to settle for the status quo.
Take the next step with electronic document and forms management solutions, including electronic document distribution.
When you capture, manage, and distribute all of your key documents and forms electronically (or in the cloud), you'll:
Cut printing and storage costs
Speed up your processes
Boost employee productivity.
See how well you're doing today. Take the quiz >
We know that by using a document and forms management solution, we're being as efficient as possible, and we're saving time every single day.
Dave Williams, IT Director, Roland Corporation
Document Solutions for Every Department
Choose your path to document management.
Text
Not every business is the same, and not every business has the same requirements for document management. That's why you need a solution that meets the specific needs of your business.
To make document management as easy and seamless as possible, Fortra offers solutions designed to meet departmental and industry needs. 
Explore Document and Forms Management Resources