Media
Image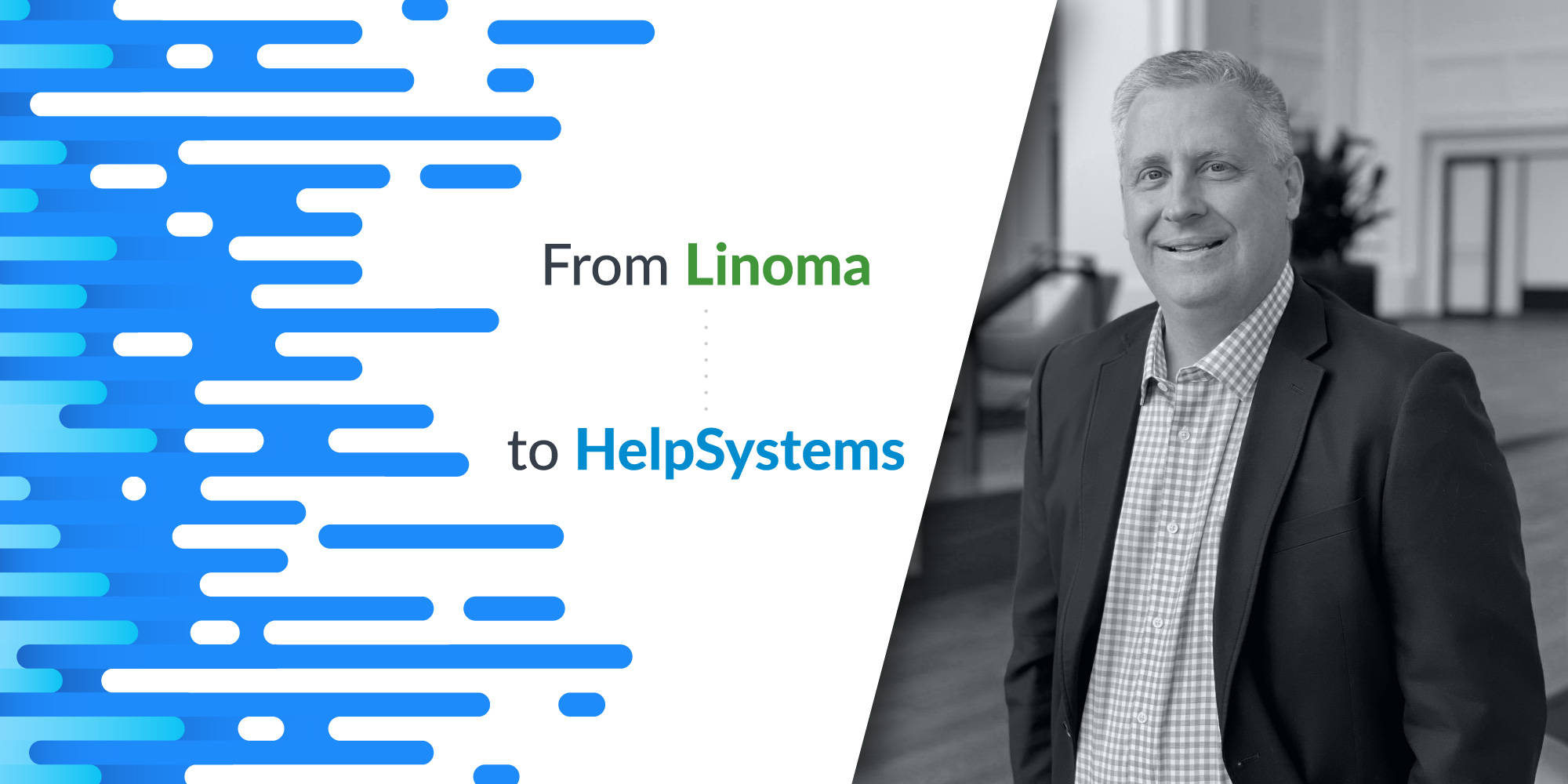 Text
From his days as a Linoma Software Sales Manager to his current role as General Manager of Managed File Transfer (MFT) at Fortra, Brian Pick knows a thing or two about how a well-thought-out acquisition can open new doors for all involved. Today Brian oversees Linoma's GoAnywhere solution as well as offerings from two related acquisitions, FileCatalyst and Globalscape, to help customers protect sensitive information from unauthorized access as it's shared. 
The History of Linoma Software
Bob and Christy Luebbe founded Linoma Software in 1994 to offer productivity tools for the IBM i platform. Over time, the business expanded into secure managed file transfer and data encryption, which propelled its growth in the wake of increasing cyberattacks. Linoma ultimately caught the attention of Fortra, which acquired it in 2016 due to the strength of its MFT solution and global potential.
Meet Brian Pick
"I started working for Linoma in 1999 when Bob wanted some help growing the new software side of the business," Brian says. The two had met previously when Brian approached Bob about purchasing accounting software.
"He was so impressed with how I handled his evaluation of our software and the sales process, that he said he'll buy the software if I came to work for him. I didn't jump ship initially, but a few months later he talked me into it, and the rest is history."  
From Linoma to Fortra
Linoma was achieving 10 to 20% growth in the U.S. but had limited success on the international front. "I think Bob felt we were getting to the point where we needed some help to get to the next level," Brian recalls. "Investors were reaching out to him all the time, but when Fortra approached him, he said they were different. He really liked how they would handle the acquisition for him and all the employees."   
A Successful Pairing
"Linoma is a tight-knit group, so everyone was nervous about the acquisition," Brian says. "It took a few months to get comfortable, but I think the transition went well. The leaders at Fortra were all very friendly and happy to answer any questions we had." 
Since the acquisition, the team has enjoyed being part of a global company. "It's been great to meet people from around the world and learn more about how they're handling their jobs, whether they're in development, services, or sales," Brian says. "We can all learn from each other." 
Managed File Transfer Gets the Rocket Fuel It Needed
Brian is pleased the Linoma acquisition has been so successful for Fortra from both the employee perspective and from a strategic standpoint. "After the acquisition, our marketing efforts and results improved substantially. Once the resources were put in place to help us grow, we took off and haven't stopped," he says.
"In addition, our international sales took off since we now had offices in EMEA, APAC, and Latin America along with a strong partner channel that was eager to sell our products. We've been growing by over 35% almost every year since we were acquired. We've been the fastest-growing business unit almost every year since the acquisition and have merged with two other acquired companies [FileCatalyst and Globalscape] with complementary products," Brian says.
Brian's Career Journey
Brian's own career path has advanced in tandem with the company's growth. "At the time of acquisition, I was the leader of the sales team," he says. "Once Bob stepped down, I was promoted to Managing Director. Today, I'm the General Manager for the entire suite of file transfer solutions from Fortra." 
Bigger Company, Bigger Opportunities
Fortra provides a wealth of resources and opportunities for employees to grow personally through training but also in their careers. "We've had several people who were with Linoma originally but have taken on bigger roles in other business units or with Fortra overall," Brian says. "For example, we've had support people who have moved to the services, cloud operations, and development teams."
Brian notes that employees appreciate that they now have more of an opportunity to achieve their career goals at one company, especially if they decide to go in a different direction. "Working for Fortra provides our employees with opportunities that would not have been available to them if they were still working for the Linoma company of six years ago. I'm still focused on the MFT products, but someday I could have an opportunity outside of MFT that I might want to explore, and that's exciting."