Media
Image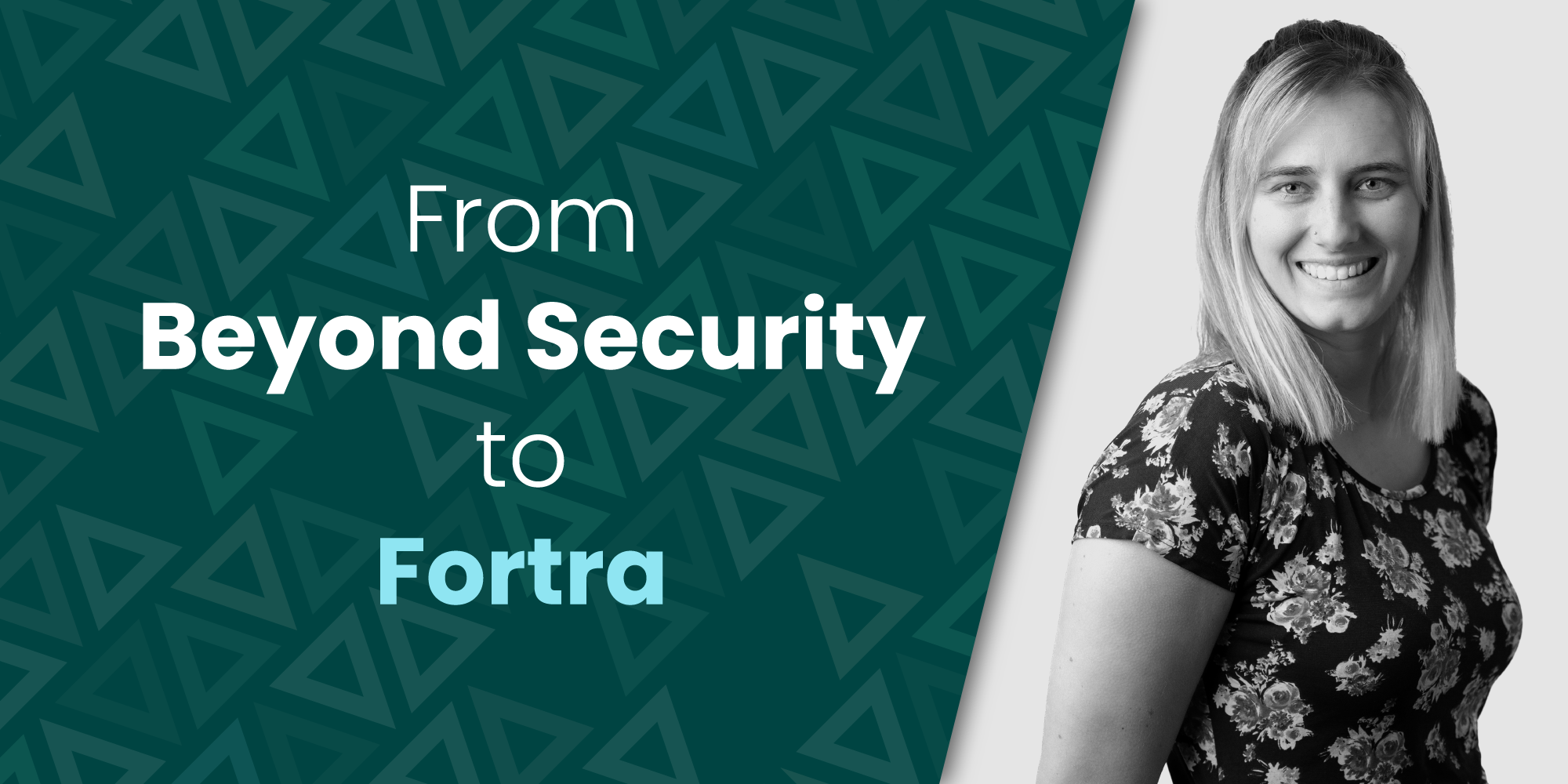 Text
Jasmine Zaker is a solutions engineer with our infrastructure protection team. She joined Fortra's Beyond Security as an intern in Tel Aviv, and now advances her technical and customer support skills as part of the Fortra family. Jasmine loves the training opportunities she can now pursue, and recently completed her PCI certification.
A History of Beyond Security
Beyond Security was founded in 1999 to enable organizations to scan their increasingly complex IT environments for network and application vulnerabilities. "We help small and midsize businesses, managed service providers, and others reach their security goals," Jasmine says. "We also help with the development and production aspects of the software development lifecycle by covering both known and unknown vulnerabilities."
In 2021, Fortra was building out its cybersecurity portfolio and acquired a company with a complementary vulnerability management solution, Fortra's Digital Defense. Beyond Security offered additional capabilities in the same space with its cloud-based vulnerability assessment and management software, and Fortra acquired the organization in May of the same year.
An Exciting New Phase
"Everyone wore many hats," Jasmine says of the 30-person Beyond Security business. "Being acquired gave us access to additional resources to help grow our tools and focus on growth."
Beyond Security quickly went from a company with three products to being an essential part of a portfolio of related infrastructure protection solutions. "We learned new products very quickly while also teaching other members of our new team about the Beyond Security products," Jasmine says. "There were a lot of moving parts as our roles were defined, and new teams were created."
Culture: Pleasant Surprises
"We were a small team that worked very closely with each other," Jasmine recalls. "We knew one another on a very personal level. Our office only had four people in it." She was initially nervous about becoming part of Fortra, thinking its size would mean no one would care about Beyond Security employees as individuals. It was something she'd experienced at a previous company where managers didn't even know her name.
However, as part of the infrastructure protection team, she feels valued on a personal level and says the team has retained its close-knit feel. "Fortra actually cares and supports me as a human first. I think that's really important," she says.
As for the team, she finds they still work closely together, but now they have access to additional resources. "It's nice being able to reach out to different team members you don't necessarily work with or to managers and directors and be able to have open conversations with them and feel like they care about you," she says.
Jasmine's Career Journey
Jasmine was making a career pivot when she decided to join Beyond Security in 2019. "I worked in the Tel Aviv office in Israel as an intern for about five months before COVID cut that short," she says. She returned to the U.S. and focused on being a sales engineer out of the company's office in Sacramento, California. Now a solutions engineer at Fortra, she helps customers and prospects understand the technical benefits of the Infrastructure Protection products.
Jasmine has been pleased with Fortra's focus on advancing education. "I've had a lot of learning opportunities, like obtaining my PCI certification and participating in red team training," she says. "I really like the opportunity to continue my education and get the chance to really dig into the technical side of my job."
Enhancing the Fortra Product Offering
The acquisitions of Beyond Security and Digital Defense allowed Fortra to combine the strongest functionality of each vulnerability management solution into an even better tool. "The acquisition has allowed us to dedicate more development time toward this product," Jasmine says. "I see it being enhanced and know we're able to provide better support for it than we could in the past."
Team Growth and a Bright Future
"We've all had a lot of learning opportunities to grow our technical and sales knowledge and work with people around the world," Jasmine says. "We have a solid future in sales and tech with Fortra as our products and the infrastructure protection area continue to add new and amazing capabilities."