What is Performance Management?
IT performance management is responsible for everyday aspects of capacity management, like monitoring performance and resources, planning changes to make efficient use of resources, analyzing performance, and reporting back to the business.
Now more than ever, your company's bottom line rests on your ability to provide 24/7 service online. Even short outages can cost tens of thousands of dollars in online sales. And those that don't conduct transactions online can suffer serious damage to their reputation from failed or slow online service.
However, enterprise IT infrastructure is increasingly spread across multiple environments. So finding issues that are negatively impacting performance is becoming more difficult.
Now that IT teams are relying (at least partially) on cloud computing, resource allocation is more flexible. It's now easier to support services as demand increases to avoid outages.
But this flexibility has also made it difficult to gauge application performance. Applications that appear to be high-performing may be using up far too many resources in the process, unnecessarily driving up costs.
Performance management must account not only for your infrastructure's ability to support services, but its ability to do so efficiently.
Optimizing Performance and Efficiency
Text
To get a real sense of the performance of your infrastructure, you need the whole picture. And for that, you need holistic views that instantly indicate how well your services are performing, as well as how those key performance levels are being achieved.
You could struggle to piece together volumes and volumes of performance data to determine how your application and service performance is being supported. But what you really need are powerful analytics that convert your raw data into actionable insights automatically.
Image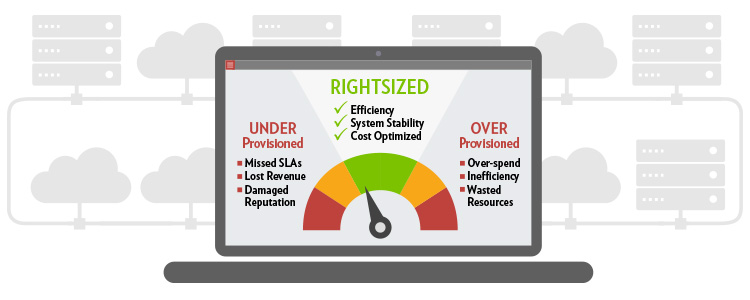 With capacity management solutions, you can manage the performance of information technology (IT) services by focusing your attention where it's most needed.
Simply use a single number on a scale from 0 to 100 to immediately see the current health of each IT service. This gives you a fast indication when a given service is using up far too many resources.
Let sophisticated algorithms automatically analyze mountains of data to identify which IT services are having performance issues, and which ones are draining your budget.
Use a simple IT health score that represents the current health of IT services across physical, virtual, and cloud-based environments
Use automated algorithms that analyze mountains of data for you
Know where to focus your attention
Monitor and analyze performance of multi-vendor environments
Avoid overspending by monitoring resources efficiency
Manage IT Performance the Easy Way
Make sure your systems are always up and running. Trust capacity management solutions to automatically monitor and analyze your IT environment. You'll get real-time health scores and know exactly where to focus your attention. Find out how. Try Vityl Capacity Management free for 30 days.
START A FREE TRIAL