Media
Image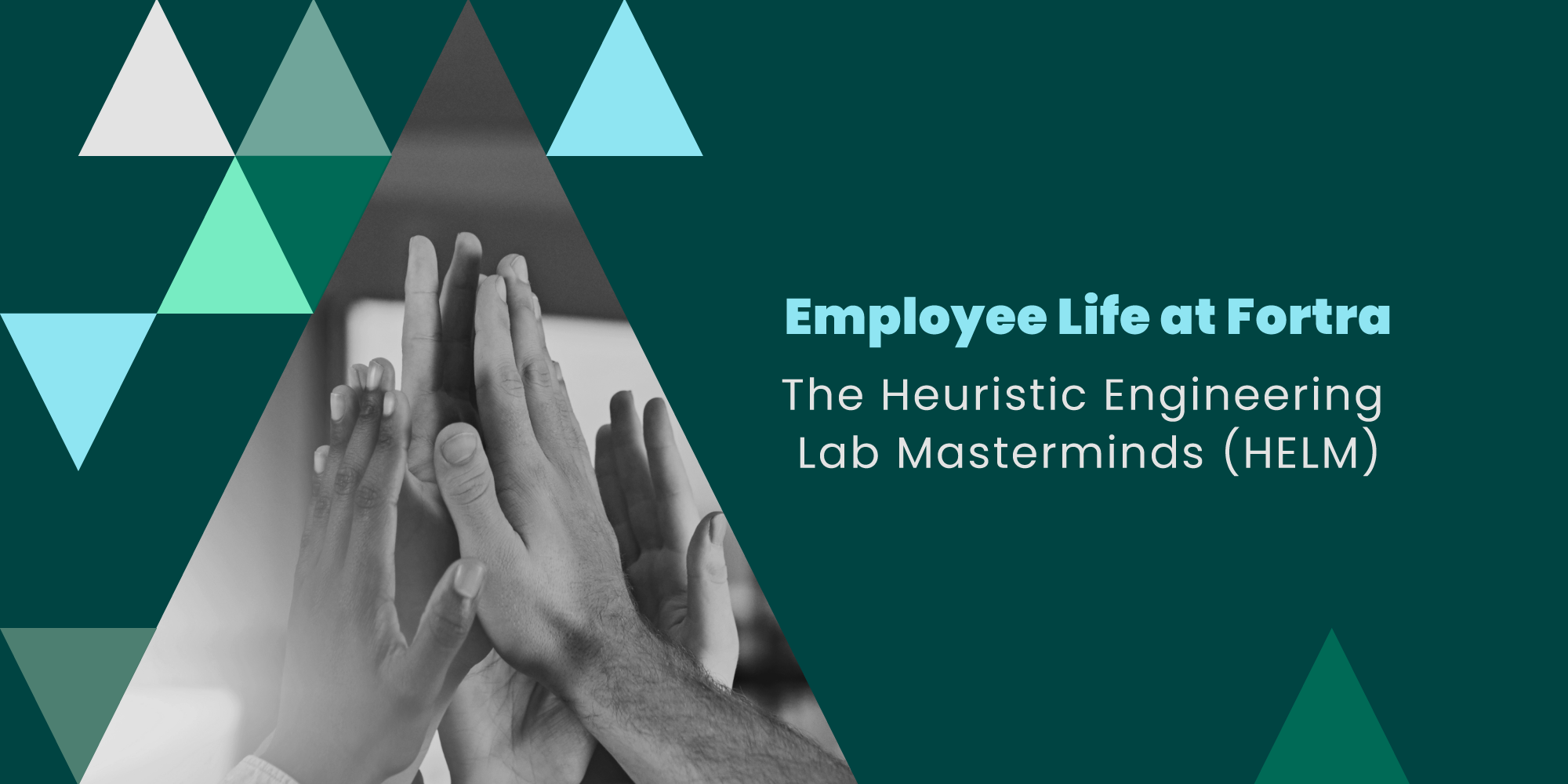 Text
The Heuristic Engineering Lab Masterminds
The Heuristic Engineering Lab Masterminds, or HELM, is a technology steering committee and club for Fortra R&D employees. Its goal is to guide Fortra's technology investments in the right direction and make the company a place where innovation comes to life.
Each Fortra R&D business unit or geography has a HELM captain to guide involvement in the community's numerous programs, which include:
Hackathons
Twice a year, individuals and teams explore ideas and take a fresh look at processes in these hugely popular one- or two-day events. Project managers are invited to post ideas they want people to work on ahead of time, adding a competitive element as the top hacks move to the finalist round. The top 10 are presented to the leadership team. One recent Hackathon idea was so innovative, Fortra patented it.
Dedicated Innovation Days
All R&D employees choose five days of free time each year to devote to exploring new ideas, training, or certification programs.
Tech Talks
In these knowledge sharing sessions, subject matter experts discuss complex, fun R&D technology, particularly if there's a topic that's applicable across teams. There are about 20 Tech Talks each year.
Training and Workshops
Subject matter experts share their in-depth expertise on a range of topics and involve attendees with hands-on learning opportunities. These gatherings are typically held quarterly. Some of these trainings are converted into courses in the Fortra University, containing the fully-outlined courses.
Inner Source
This program focuses on creating reusable code that's available to all development teams. However, unlike open source, the code and IP stay within Fortra to be used across multiple Fortra products. This improves collaboration between teams as well as product quality.
Lighthouse Projects
nyone in R&D can raise their hand for these exciting initiatives, which use next-gen technologies to explore a clearly scoped concept. With manager approval, employees can step away from the day-to-day of active feature development and spend a few months trying something new.
Other Professional Development Opportunities
R&D employees have access to company-paid training and certification programs that help them advance their careers. This is a win-win as Fortra benefits from the employee's newfound expertise, and the employee advances their knowledge base and capabilities.
What HELM Captains Have to Say

Ayman W.
As Principal architect of Fortra's data protection solutions, leader of the HELM programs, and the captain for the data classification and secure collaboration team, I'm very passionate about innovation. The HELM has many great programs to try new things, learn about bleeding-edge technologies, and explore. It is always fun to participate in the Hackathons, to see how much you can learn and achieve in a day or two, and the competition piece makes it exciting.

The Innovation Days program gives people time on the clock to try something they've been thinking about but haven't had the time to explore. Not many places allow people to tap into their interests and try something new.
Ben S.
I'm the UI enablement manager here at Fortra. I was recruited to be one of the HELM's original members, representing Minnesota and remote office employees in the U.S. At the time, I was a software engineer III, and this was a good leadership opportunity for me and my career path.

The Tech Talks are great, and I enjoy running Hackathons/hack days. It's definitely fun to see what cool and impressive ideas people can come up with and enable them to have time to work on them and show them off. It's an awesome thing to be a part of. 

Participating in the HELM has been a great way to become a more forward-facing presence in the Development department and take on more leadership opportunities. The HELM allows engineers to channel their creativity and take ownership of something they believe will be beneficial to Fortra. It's a huge culture win for the company. 
Moe A.
As a senior software development manager, I manage two engineering teams responsible for developing and supporting the domain monitoring, social, dark web, and open web protection areas. 

My manager told me about the HELM, and I thought it would be an opportunity to get a first look at great ideas, technologies, and products. I knew it would also be a good way to meet people across the company. 

My favorite part is watching the final demos of the great ideas presented by the participants. I think participating in the HELM supports my personal and professional growth by exposing me to new ideas and technologies.
Khachatur N.
I am an associate software architect working on various projects to provide extendable and easy-to-use solutions. These include Fortra's GoAnywhere, Globalscape, and FileCatalyst.

As a HELM captain, I run Hackathons for teams in Armenia and India. I've been on the core team since the community began and have always been interested in participating in the creation and implementation of cool ideas, projects, and directions. 
As technologies continue to transform, participating in the HELM keeps me up to date. It's also very important for the company to be up to date with the latest supported technologies. 

I've learned a lot from the HELM, including:

How to work with ideas 
How to gather employees from different products in one new team to focus on a new idea
How to highlight the most important part of the idea to start developing 
How to organize communication between different parts of the project
How to organize the steps from idea to proof of concept (POC) 
How to represent the idea in an informative and concise way 
How to prototype the POC to align with the company's direction 
How to move forward from prototype to development

The HELM makes Fortra a place for innovation with a lot of opportunities for employees to grow, experiment with interesting technologies, and try them in different areas. We're combining work with fun.
Alex M.
I'm a senior software engineer at Fortra. I've been writing software for over 20 years, as a daily job and as a hobby. I love exploring new techniques, languages, tips, and techniques. Software engineering is a never-ending learning journey!

When I was contacted four five years ago to join the HELM, I didn't hesitate. We encourage developers to be playful and try new things, to learn and share new techniques with our colleagues, and to think outside the box and innovate.

What I enjoy most about participating in the HELM is getting to know people with different backgrounds, interests, and skills, and sometimes helping them grow and shine within Fortra. We organize workshops and encourage developers to give technical presentations. But Hackathons are the most exciting event we promote. It's a great opportunity to innovate, try something new, and show it to the company leaders.