Centralize and encrypt your file transfers with secure MFT software.

Text
GoAnywhere MFT is a secure file transfer solution that organizations use to exchange their data safely. The solution helps organizations automate their data transfers, centralize file transfer activity, and monitor file transfers and user access.
Left Column
ENSURE DATA SECURITY
Secure sensitive data, like PHI, PII, and card information, in motion and at rest. GoAnywhere MFT uses industry-standard protocols like SFTP, FTPS, OpenPGP, AS2, HTTPS, and PeSIT to protect files during data exchange internally and externally (vendors, trading partners). If your organization needs to meet federal encryption standards for NIST or CSE,GoAnywhere includes FIPS 140-2 certified algorithms for your file transfers too.
Middle Column
MONITOR FILE ACTIVITY 
To help organizations achieve compliance with industry and government requirements, like HIPAA, HITECH, FISMA, PCI DSS, and the GDPR, GoAnywhere tracks all file transfers and administrator activity from within a central database. Transfer monitoring data is provided through detailed audit logs and can be viewed via GoAnywhere's user-friendly dashboard or distributed as PDF reports.
Right Column
AUTOMATE FILE TRANSFERS
GoAnywhere can help organizations automate their file transfers. Multi-step workflows can be set up in a matter of minutes, and these workflows integrate with existing processes and can be scheduled to perform at future dates and times, saving your IT team time and reducing manual scripting and scheduling. Built-in tasks can be added to projects and perform a variety of business processes, from calling commands to executing programs. See what you can do with GoAnywhere's workflows!
Media
Image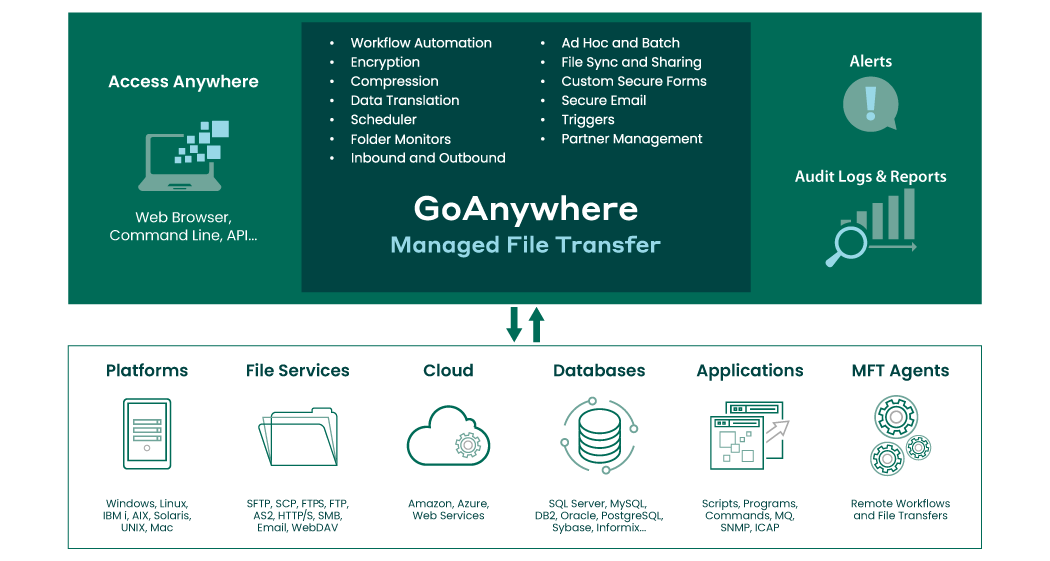 Work Seamlessly with Stakeholders
MFT Software Gold Medalist
Media
Image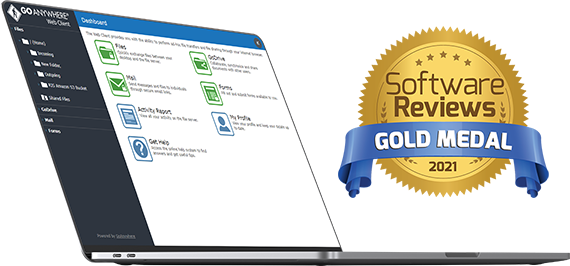 Text
Out of 40+ vendors in the managed file transfer marketplace, GoAnywhere received the highest score for product satisfaction, features, and vendor capabilities in a 2021 report from Info-Tech Research Group.
Which Encryption Technologies Can You Use?
Encryption is a necessary part of preventing vulnerabilities in an organization. GoAnywhere supports these encryption technologies to protect the privacy and integrity of your data.
Key Management System (KMS)
GoAnywhere MFT is the most remarkable product I have ever used. Since the purchase..., the amount of code I have had to write in the past has dramatically dropped but the efficiency of getting the proper data has been nothing less than unbelievable.
Raymond Murray, Schumann Printers, Inc.
GoAnywhere MFT has been a perfect fit for our systems because of its ease of use, security features, audits and reliability. The [addition] of functions and features gives us more opportunities to find solutions to file transfer problems.
Don Keating, Medical Device Company
I'm a Senior Network Engineer and work on GoAnywhere on a daily basis. I'm responsible for keeping it updated, writing and maintaining scripts, troubleshooting transfer issues and I absolutely love this product.
Tim Emmell, NTCA, The Rural Broadband Association
Previous
Next
The GoAnywhere Book of Secure File Transfer Project Examples
Media
Image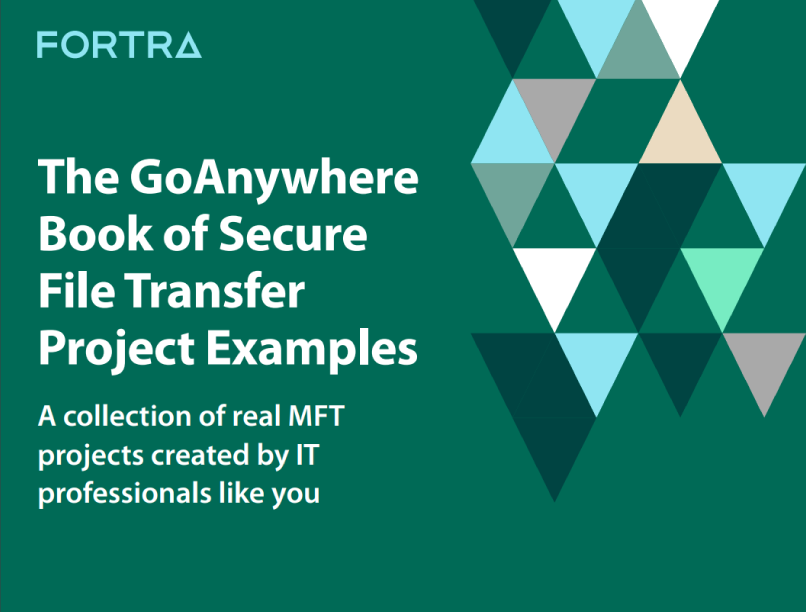 Text
In The GoAnywhere Book of Secure File Transfer Project Examples, you'll discover countless ways your peers use MFT in their organization. We share examples by industry, business initiative, and product feature, as well as give you tips on how to apply some of these ideas yourself.
The Ultimate Guide to Selecting Secure File Transfer Software
We know finding the right file transfer solution for your organization isn't an easy process. There are dozens of details to consider, from industry and compliance concerns to critical cybersecurity needs, and they can make choosing an MFT solution and vendor complex.
In this ultimate buyer's guide, you'll find the information you need to successfully search for and evaluate different managed file transfer solutions, so you can use the solution that fits your organization's needs best.
GET THE GUIDE
Secure File Transfers for Any Industry
Every industry has its own considerations, processes, and compliance requirements. GoAnywhere works with industries worldwide, providing encryption, automation, and auditing that helps organizations address critical cybersecurity gaps and prevent data breaches.
Whatever industry you're in, GoAnywhere can support you. Here's a sampling:
Ready to get started?
Try GoAnywhere MFT free! Our 30-day trial lets you test all of the software's features, including automation and encryption, to see if it's the right fit for your organization.
START A FREE 30-DAY TRIAL