Text
Image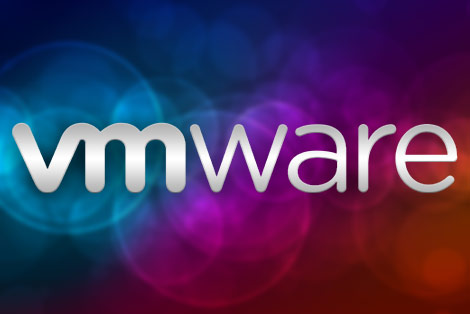 The Benefits of Virtualization
Virtualization is one of the hottest trends in I.T. today. Virtualization has valuable applications for controlling hardware costs, minimizing downtime, and many quality assurance and development benefits stemming from it's ability to keep processes in a virtual "sandbox" isolated from the host operating system. Additionally, of use to almost everyone is the ability to quickly return to a "known-good" snapshot of an environment. Needless to say, virtualization has become a key part of most IT infrastructures.
The Problem with Virtualization
What's missing in this picture is the ability to integrate the automation of these virtual machines with the rest of your business processes. For example, one virtual machine could be automatically shut down and another started in it's place in the event of a critical performance threshold being exceeded. In another scenario, at a hypothetical cloud service provider, a new virtual machine could be created based on a new customer provisioning request being initiated by the sales department. In a mission critical IT environment, a failure could trigger automatic restoration of a virtual machine to the next working snapshot. The possibilities are limitless. While most virtualization platforms offer certain automation capabilities built-in, the available functionality usually does not map very well to other business process conditions and events. Automate's virtualization actions allow new flexibility by enabling the creation of "automation mashups" intermingling automation of virtualization and other applications to more effectively automate the full range of diverse business processes.
VMware Actions
By far, the most popular choice for virtualization are software products made by VMware. The new VMware actions, available in Automate 8, are able to integrate and automate most popular VMware systems including: VMware Server, VMware Workstation, ESX/ESXi, VCenter, and VMware Player.
The new VMware actions, exclusive to Automate 8 Premium, are divided into two distinct actions both in a new VMware group:
VM Operations: Provides the ability to perform various VMware host-related tasks such as: Connect, Disconnect, Power Off, Power On, Suspend, Reset, Pause, Unpause, Create and Restore Snapshots and more.
Image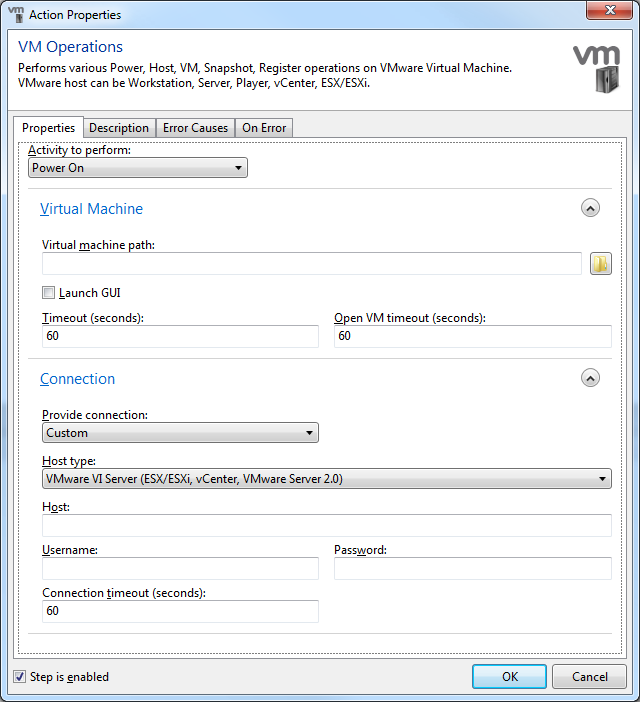 Screenshot shows the VMware Operations action in Automate 8
Image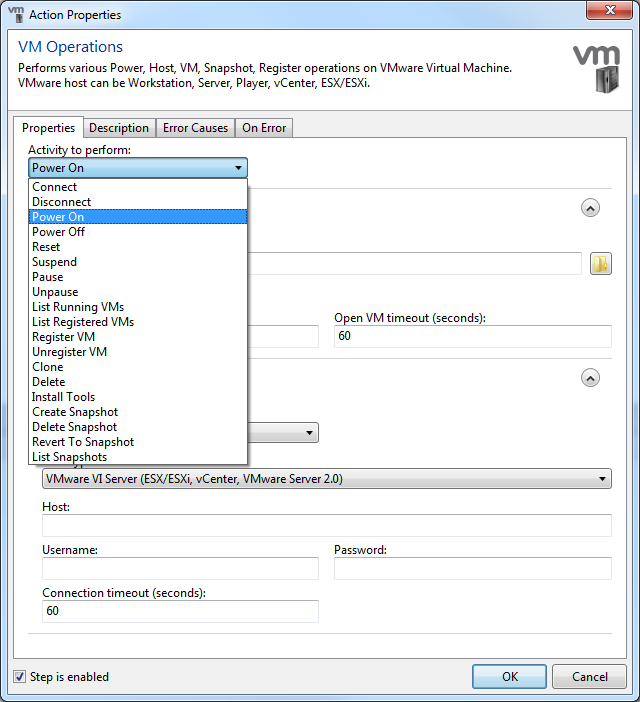 Many Different Activities are Supported in the VMware Operations Action
VM Guest Operations: Enables execution of many operations supported by the client tools such as file management, running and terminating applications, capture of screenshots and more. All without the need to install an Automate agent.
Image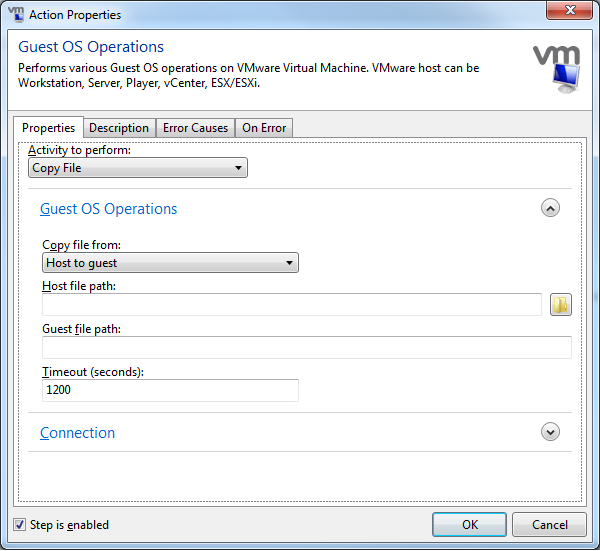 Screenshot of the new VMware Guest Operations Action
Image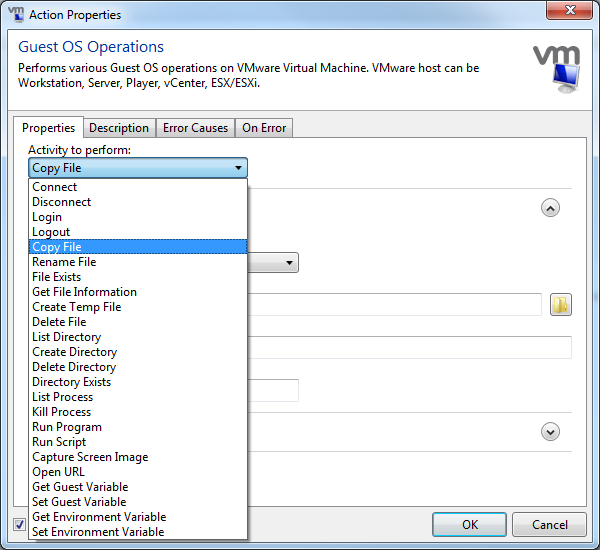 Many Activities can be Automated Without the Need for an Agent on the VM.
Our Commitment to You -- Complete Automation, Depth of Functionality
Many vendors implement only token features so that their marketing department can position a feature as "supported". For serious automation, Automate is the platform you can rely on for VMware automation -- with depth of functionality that eliminates the need for code without making compromises.
Pricing and Availability
For pricing and availablity, please request a quote.  One of our sales representatives will follow up with you to discuss your organization's needs.