When network traffic spikes or dips, IT professionals need visibility into who or what is causing the problem. Intermapper Flows is an add-on to the Intermapper product suite that gives you deeper visibility into network activity and valuable data about bandwidth consumption with NetFlow monitoring.
This guide covers how to download, install, and set up Intermapper Flows.
In this Guide to NetFlow Monitoring:
Watch The Video 
What is Intermapper Flows?
Before You Start: Questions to Consider
Installing Intermapper Flows
Editing Intermapper Flows Settings
1. Watch the Video
Text
In this six-minute video by Per Bauer, Technical Director for Intermapper, you'll get a quick overview of Intermapper Flows and its benefits, plus learn how to set up Intermapper Flows to get started.
Continue reading below for more details.
2. What is Intermapper Flows?
Media
Image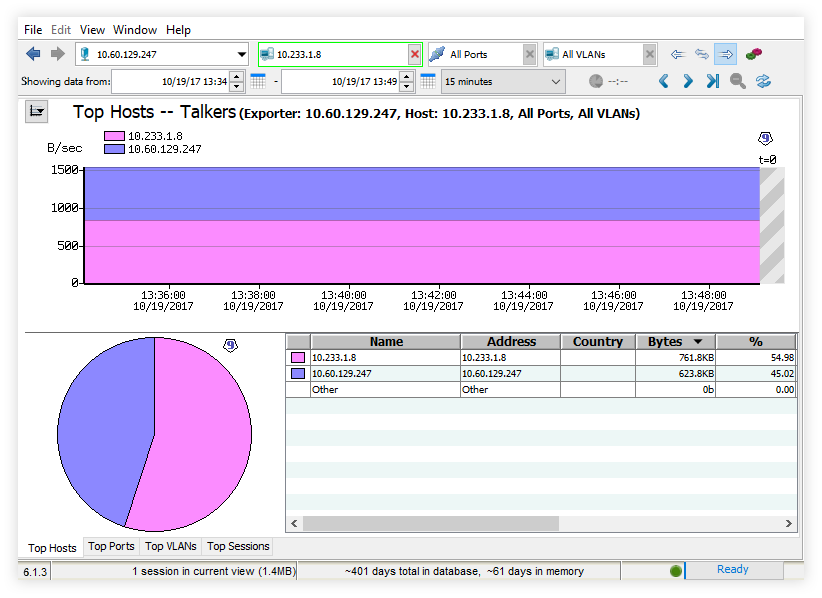 Text
Intermapper Flows collects data flowing across your devices and interfaces using common Flows protocols like NetFlow and sFlow. The software collects Flows data from NetFlow exporters (e.g. routers, switches, or other pieces of software) that the network administrator determines and configures ahead of time. Traffic data is displayed visually in charts in a graphical user interface (GUI) to help with network traffic analysis, capacity planning, and troubleshooting. 
Image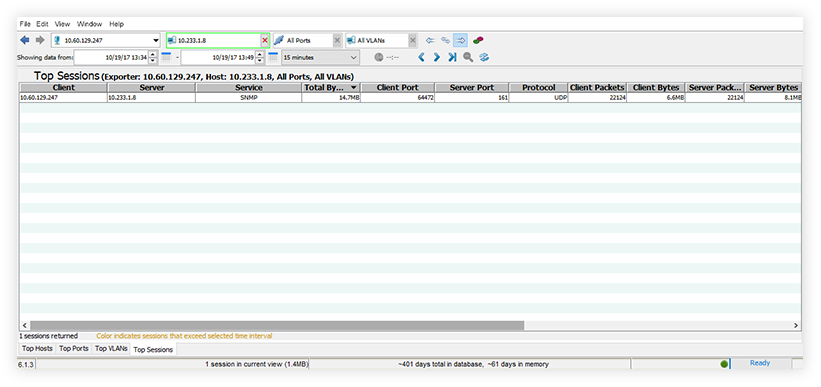 Key Features:
Real-time data collection with sub-millisecond accuracy
Identification of top talkers, listeners, protocols, conversations, sessions, and more
Historical reporting with easy filtering and sorting
Vendor-agnostic, working with all major traffic protocols, including NetFlow, sFlow, jFlow, and CFlow
Runs on Mac OS X, Windows, and Linux distributions
Intermapper Flows bandwidth monitoring can help you spot unusual traffic spikes, characterize new or increased bandwidth use, and respond quickly to DDoS attacks. The software makes it easy to analyze the source, destination, protocol, and volume of traffic. The forensic information it collects can also be useful for compliance and security purposes.
Learn more: Intermapper Flows Datasheet
Intermapper Flows Licensing
Licensing for Intermapper Flows is priced separately from Intermapper and based on the number of exporters you want to configure. Volume discounts are available the more exporters you purchase. If you're not sure how many exporters you need, we can help. Request a quote to get started.
If you're still evaluating Intermapper, did you know you can try the full functionality of Intermapper Flows as part of your Intermapper trial? Try it free for 30 days >
3. Before You Start with NetFlow Monitoring: Questions to Consider
Text
Ask yourself these four questions to make your Intermapper Flows implementation as successful as possible: 
1. Does my equipment support Flows?
Make sure that the devices you wish to configure as exporters can be set up as such. Your vendor-supplied documentation should be able to tell you this. Here are resources for Cisco and Juniper.
2. How many exporters do I need?
The answer will be different for everyone. The number of exporters you need depends on the size of your network, equipment, and overall preferences. For example, you may just want to configure one exporter if you only have one gateway router on your network.
3. How can I plan for the Flows traffic?
You'll want to consider the effect Intermapper Flows will have on your server load and memory. Intermapper Flows requires more horsepower than Intermapper's standard monitoring. We discuss this more in the Fortra Community Portal in this article: Intermapper Flows Server Load and Memory Usage.
Network bandwidth used by the Flows collection process is minimal. Within devices you can change how often flows data is sent to a collector to help control traffic levels.
4. How can I plan for Flows data storage?
Space will need to be allocated for storing your NetFlow data. Before you download and install Intermapper Flows, it will be helpful to determine how many exporters you will set up, how many Flows per hour will be generated, and how much flows data will be captured.
4. Installing Intermapper Flows
Text
When you install Intermapper, Intermapper Flows is automatically installed. This means:
1. If you're a current customer, you have Flows already! To use the Flows functionality, you'll need a Flows license. If you'd like to try it out first, your sales rep can issue a temporary trial license key allowing you to play with Flows and see if you like it.
2. If you've downloaded our free trial, you can try Flows. Anyone who's installed Intermapper as part of our free 30-day trial automatically gets 5 Intermapper Flows exporters to try.
Image
For Intermapper to successfully collect flows data, you'll need to ensure nothing is blocking the ports on which Intermapper Flows is listening. When you install Intermapper, make sure you remove firewall restrictions on selected UDP ports (2055 and 6343 default). Intermapper Flows can be installed either on the Intermapper server or a separate server. If you install it on a separate server, you may want to use a higher performance system for NetFlow analysis. Here's how to install Intermapper and Intermapper Flows on separate servers.
Once Intermapper and Intermapper Flows are installed, you will need to configure one or more Flows exporters to send data to the Intermapper Flows server. Most vendors provide documentation on how to do this. Once your exporters are configured, Intermapper will detect them and start collecting data.
Finding the right place for a Flows exporter depends on what traffic you want to analyze. Here are tips on Placing a Flows Exporter.
5. Editing Intermapper Flows Settings
Media
Image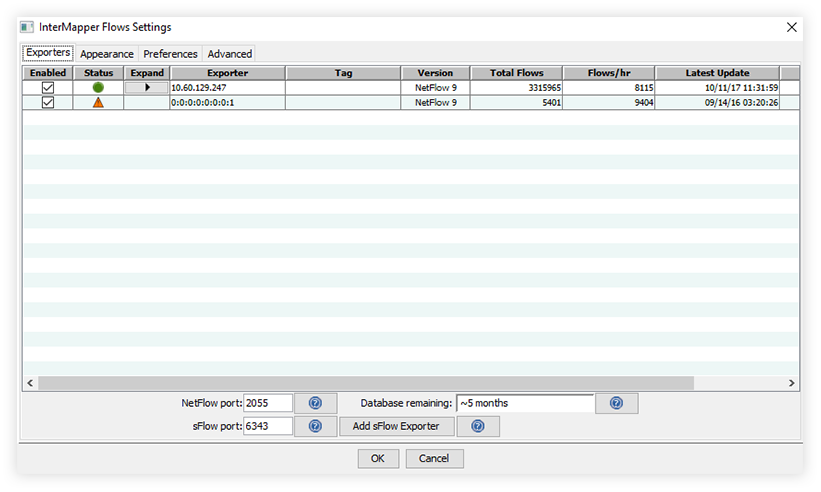 Text
Use the Flows settings window to view and edit your Intermapper Flows settings.
Use the Exporters tab to choose which exporters you want to collect from.
Use the Appearance tab to select a coloring theme for protocols and hosts.
Use the Advanced tab to set performance-related parameters, the path to your database, and a database size
Licensing is done in Intermapper using Edit > Server Settings > Registration
Got more questions?
We have variety of helpful articles on Intermapper Flows in the Knowledge Base in the Fortra Community Portal. Check them out and see if we've already answered your question.
If you have other questions about getting started with Intermapper Flows, email our support team or call us at 1-800-328-1000.
Monitor Your Bandwidth Today
Get started with Intermapper Flows. If you're new to Intermapper, start a free 30-day trial. If you're a current customer, shoot us an email at [email protected] and we'll help you get going.
START A FREE 30-DAY TRIAL