Selecting an RPA Vendor
There are many capabilities of RPA and each vendor offers something a little different s in their solutions. But there are certain key features—including some beyond the software—that will help you get started faster, scale easier, and work more efficiently. When choosing your RPA vendor, look for the following: 
Back-end and Front-end Capabilities
AI and Machine Learning Technologies
Further simplify the buying process and get all the information you need to know—like trends, benefits, options, and more—so you can find the right RPA solution for your business.
Download the RPA Buyers' Guide
Why Automate as Your Trusted RPA Vendor?
Text
Automate is uniquely positioned within the RPA landscape—helping you achieve your automation goals now and setting you up for where you want to go in the future. Built and priced right for employee driven, enterprise-wide automation—whether for personal productivity, business process automation across people and departments, or to drive your CoE initiative. As a well-rounded, complete automation solution, Automate RPA has the flexibility to streamline mission-critical IT and business processes across your organization, to maximize efficiencies and boost productivity. 
Text
The software
Powerful Automation for Anyone
Automate offers scalable automation software to solve real problems, deliver fast ROI, and help you achieve success, all within a single solution. Our no-code automation lets you quickly build unrestricted bots with form-based development and 600+ pre-built automation actions. And our simple pricing allows you to deploy bots as attended of unattended with no hidden costs to scale. 
Left Column
Application Integrations
Powerful out-of-the-box API and native integrations with your critical applications.
Middle Column
Step Recorder
Easily build, update, and create robust UI-driven automation with the Automate Recorder.
Right Column
Machine Learning and Intelligent Automation
Automate tasks where more critical thinking is needed for easier handling of structured and unstructured data.
Automate offers the ability to 'script' any kind of solution, even when you don't know anything about scripting. But Automate is powerful, too. If you do pride your scripting prowess, you can really take your talents to the next level with Automate.
Juan Garcia, Systems Analyst, University of Texas MD Anderson Cancer Center
Top-Rated by Users
Media
Image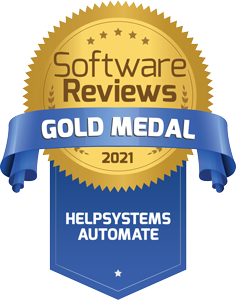 Text
 Don't just take our word for it—look to real Automate users to see why Automate is a top-rated RPA solution. Automate has been named a Gold Medalist and leader in the 2021 RPA Data Quadrant Report from SoftwareReviews, a division of IT research and consulting firm Info-Tech Research Group. See why Automate ranks first ahead of other solutions in multiple categories, including: 
Ease of implementation 

Quality of features 

Usability and intuitiveness 

Vendor support 

Ease of IT administration
Text
Get even more insight into the value Automate provides by reading our user reviews on G2.
Text
The people
Automate is more than just software—we're your trusted partner in automation. HelpSystems is a world-wide, people-first software company, with employees across the globe ready to support you. With loyal customers across all verticals, we're ready to help you Build a Better IT to meet your unique organizational needs.
Expertise & Hands-On Training
Whether you're new to Automate or a long-time user, our automation experts know that cultivating relationships and transferring knowledge is key to your success. That's why we partner with you each step of your automation journey with our hands-on services and training solutions. 
Get started on the right path forward: 
Do you have a process in mind, but aren't sure where to begin? 

Have you tried to implement RPA but hit some roadblocks? 
We have the know-how and expertise to help you see your RPA strategy come to life. Just reach out, and we'll hop on a call to help get you on the right track. 
Text
Services for every step of the journey: 
We offer a variety of services to help you get up and running quickly and make sure you stay at peak performance to ensure ongoing success.  
Our automation services include: 
Join a robust community of RPA users: 
Automate customers are invited to be part of our exclusive customer community, Automation Insiders. From expert advice to idea sharing with other users, Insiders allows customers to: 
Hear from automation experts 

Network with their peers 

Leave product feedback 

Gain automation building knowledge 
The value
There are many solutions on the market that require additional investment, add-on modules, or licensing structures based on a per-bot or per-process method—and it all eats away at your ROI. Don't get stuck with a solution that isn't financially scalable that lacks usability. 
Automate has no hidden costs or complex pricing structures. And we believe value goes beyond the price tag as we provide ways to get up and running to achieve ROI even faster—like the free pre-built bots in the Automate Bot Store.
Image