Media
Image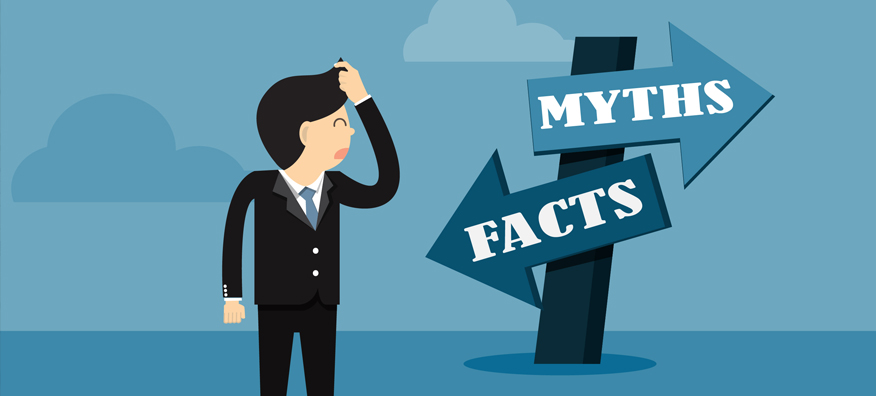 Text
Robotic process automation (RPA) has become one of the hottest technology trends during the last several years—increasing in popularity among IT and business users alike. And for good reason. RPA streamlines manual processes, eliminates errors, reduces the burden on human employees, and gives mundane, repetitive tasks over to a digital workforce.
RPA has also exploded across industries and functions—from banking and financial services to healthcare and insurance to human resources and call centers. With up to 50 percent of tasks performed by employees now considered administrative and labor intensive, one report has projected that RPA technology will replace up to 16 percent of repetitive duties by 2025. And that frees up employees to focus on more strategic work.
Yet with all the benefits RPA is bringing to organizations, automation has also had its fair share of myths accompanying its rise. In this blog, let's take a look at the misconceptions surrounding RPA and reveal the truths that debunk these claims.
Myth #1: RPA Requires You to Go Big Right Away
At first glance, automation looks like a huge undertaking—one that requires you to go all in at the outset. Many companies fall into this trap where they think adopting RPA across every process, in every nook and cranny of their business, is the way to go. But trying to automate everything right away means you don't have a focused strategy on where you should begin. And it likely means that you aren't sure which processes will deliver the greatest gains in efficiency.  
Instead, consider starting small and determining optimal places for automating processes in your organization. Pick the right tasks and processes that will help you deliver quick wins. Consider processes like report generation and distribution, employee onboarding, claims processing or other essential use cases. Ultimately, the processes you start automating is up to you, but finding a robust RPA solution that grows and scales with your business is vital for how you plan to move forward.
Myth #2: RPA Takes Jobs Away from Human Workers
One of the biggest misconceptions of RPA is the concern that it eliminates the jobs of human employees—and does not replace them. The truth is, robotic process automation is taking away the mundane work from employees and enabling them to focus on work that cannot be done by a software robot. In fact, the World Economic Forum Report predicts the 'robot revolution' will actually create 58 million net new jobs with emphasis on reskilling and upskilling employees.
That's because with RPA bots, employees are relieved from repetitive tasks and can focus more on the things that make a difference for the business. In this way, it's better to view RPA not as replacing the workforce, but as complementing or augmenting it. Understanding the top ways to collaborate with software robots is key to putting humans first in work and finding the right automation approach that works for your business.
Myth #3: RPA Does Not Deliver a Quick Return on Investment
When investing in a new technology like robotic process automation, many organizations fear that they won't see a return on their investment for quite some time—maybe up to several years. But that's just not true. When done right, RPA delivers value virtually right away, just like the 3,800% ROI Carter Bank saw in a few months. And that's why when planning your RPA journey, you want to look for the highest-volume processes that would have the biggest impact on your bottom line. Identifying what a return on investment looks like for RPA software is critical to creating an effective roadmap for leadership buy-in, organizational adoption, implementation, and support.
It's smart to establish a baseline expectation—typically around a five-for-one-return on your investment—and calculate your RPA ROI ahead of time. If you need a little help creating the right metrics for your business, take a look at this step-by-step Understanding RPA ROI Guide. Work through the financial justifications for RPA, including implementation and recurring costs. These will enable you to develop an ROI-centric automation roadmap to see those quick wins for your business. 
Myth #4: RPA Should Only Involve IT
Many organizations today may incorrectly assume they can purchase an automation solution and it will solely be managed by their IT teams. While IT should be involved from the start, successful automation projects require more than just IT professionals. In fact, building an automation center of excellence (CoE) requires a cross-functional team with a wide range of skills and expertise.
The core automation team should identify business pain points, document existing processes, gather requirements, research automation solutions, and build the initial workflows. This team should be made up of people who embrace change and champion process improvement. Often these people have already automated some of their own work and want to help others. From business analysts and developers to members of an operations team, your human automation team is essential in building a digital workforce. For help in building the framework for a successful CoE, check out The Business Leader's Handbook for Building an Automation Center of Excellence.
Myth #5: RPA Alone Can Tackle All Types of Data
There is a wide misconception today that RPA can handle all types of data within an organization. But the reality is that RPA excels at processing structured data. More simply, RPA delivers the greatest value when transaction volume is high, tasks are repetitive, and data is defined. Structured data is organized, quantitative, and searchable. Unstructured data, on the other hand, is typically qualitative. It's often difficult to interpret and analyze because it has no pre-defined structure. And according to Forbes, unstructured data represents an incredible 80 percent of all the data in your organization.
The key then to unleashing the true power of RPA is through unassisted machine learning that can harness both structured and unstructured data. With intelligent document processing, you can extract meaning from semi-structured and unstructured data and documents. And more importantly, when applied in context of robotic process automation, organizations can apply intelligence to document processing for use in eliminating costly steps like document classification, manual data entry, and document analysis. This means organizations can maximize the value of RPA with intelligent process automation across critical functions like mortgage processing automation, invoice processing, and sales order processing.
Begin Your Automation Journey with the Right Approach
Even with all the misconceptions that surround RPA, one thing is clear. RPA is transforming the entire landscape of how work gets done. As more and more organizations rely on automation to increase productivity, reduce costs, eliminate errors, and relieve employees, robotic process automation will continue to address the major challenges workforces face with a scalable, digital workforce.
Whether it's high-volume data transfers, mortgage and loan processing, syncing of patient records, or processing insurance claims, RPA can automate virtually any business or IT process. Fortra offers top-rated RPA products that put you in the driver's seat. That empower you to streamline business or IT processes that span locations, departments, and systems—automating as much or as little as you want to give your business and your employees a boost. Find out how you can approach automation in your organization with the right RPA solution today.
Ready to Get Started with Robotic Process Automation?
Download the guide on '6 Simple Ways to Get Moving with RPA' to discover the best steps for successful RPA adoption in your business.
GET THE GUIDE