Media
Image

Text
When it comes to robotic process automation (RPA), there are a wide-range of alternatives that seek to address everything from personal productivity automation to business process automation—all the way to large-scale center of excellence (CoE) automation. 
Image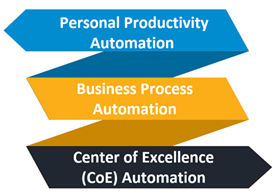 Personal productivity automation is employee-driven, and used in tackling multiple tasks for productivity gains at the individual level. Business process automation, referred to commonly as BPA, is employee-driven, but used to streamline business processes that result in efficiencies and productivity gains across users and departments. At the enterprise level is CoE automation that focuses on complex, enterprise-wide automation and orchestration, usually implemented by consultants or highly-trained users. 
While these use cases are not mutually exclusive, it is important to understand and choose the right set of characteristics that best meet your automation needs. And that starts by understanding your automation goals and strategies. With this in mind, let's dig into how robotic process automation providers Blue Prism and Automate RPA compare in relation to ease of use and cost effectiveness, and take a look at what users have to say when comparing these solutions head-to-head.
#1: How User Friendly and Intuitive is Blue Prism Versus Automate RPA? 
Blue Prism is a large, well-known enterprise RPA provider that offers intelligent automation capabilities. Its browser-based control room, dashboards, and drag-and-drop process automation building provide users the ability to automate processes in a connected enterprise, while leveraging cognitive and AI capabilities.
Blue Prism offers a mix of business concepts and programming concepts. For example, when interacting with time, users should know how and where to use Date, DateTime, Time, and Timespan. For Boolean values, Blue Prism relies on Binary and Flag, which typically favor a more developer-centric model over business user friendly concepts. Additionally, when creating tasks while working in Blue Prism, users must begin by creating an Action, then selecting MS Excel as the business object. An action definition pane is then presented in which users must define several components, including the Handle, Workbook Name, Collection, Worksheet Name, and other elements.
In contrast, Automate offers a streamlined, more business user friendly model to work with. Simply, Automate has Text, Number, and Auto. When using Auto, Automate infers the type based on how it's being used so it works for Text, Number, Boolean, Date, Monetary Values, and other items. When creating Tasks, Automate provides a no-code Task Builder that is easy for anyone to use. For example, to work with an Excel file in Automate, users are presented with an Excel action that has a simple, easily recognizable set of activities, such as Open/Close Workbook, Add Worksheet, Get Cell(s), or Set Cell(s). If you were to describe what you needed to do with an Excel Workbook, the Automate Excel Activities represent the exact terms you would use to describe what needs to be done. 
Image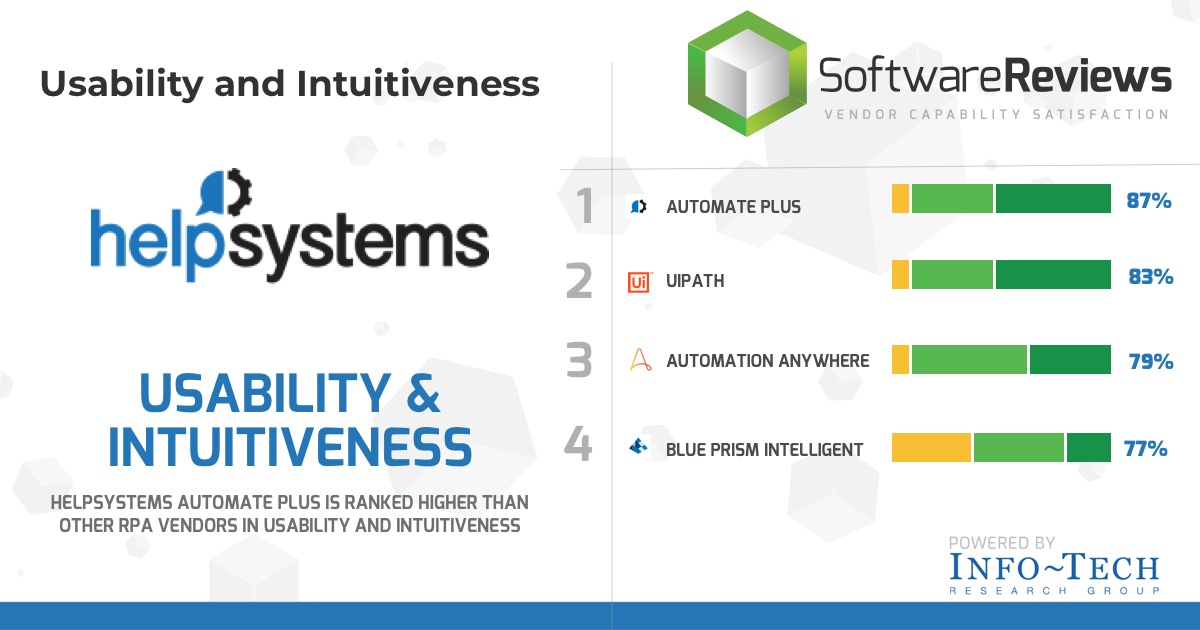 While these may seem like subtle differences, the key is that Automate Task Builder stays closely aligned to the needs of business users. And the Automate approach closely resembles what is required to describe the step-by-step process for building tasks. In addition, Automate provides more than 600 pre-built actions that make automation accessible and quicker to implement. 
The preference for Automate over Blue Prism is obvious in user reviews and industry reports. Based on the Info-Tech Software Reviews Report, Automate ranks first across multiple categories, outperforming other leading RPA providers, including Blue Prism. Specifically related to ease of use, Automate ranks highest in Usability and Intuitiveness, with 87 percent of users ranking Automate first among other RPA providers.
This is similar to G2 reviews, where users rank Automate as easiest to adopt, use, implement, and most likely to recommend.
#2: How Cost Effective is Blue Prism Versus Automate RPA? 
Knowing up front what you are going to pay for the automation solution you purchase is essential. When you encounter unexpected costs that diminish your ROI as you scale, it is difficult to justify additional spend for expanding your automation initiatives. With some larger RPA providers, expanding automation requires additional investment for add-on modules. Or the licensing structure is based on a per bot or per process method. The challenge with these approaches is that they are not cost effective for organizations as they broaden automation initiatives.   
Blue Prism offers a standard, linear pricing model with upfront license costs and annual bot license fees in addition to annual support or maintenance fees. In 2021, the company also introduced consumption-based pricing for its Blue Prism Cloud managed SaaS RPA platform. This new pricing model1 is intended to allow customers to respond to 'unexpected or anticipated spikes in demand for intelligent automation that fall outside of their existing digital worker license agreements.' These pricing structures do not scale well because users must pay to expand their automation strategy, and the high cost of support and consultative services diminishes RPA ROI as organizations mature in their automation. 
Image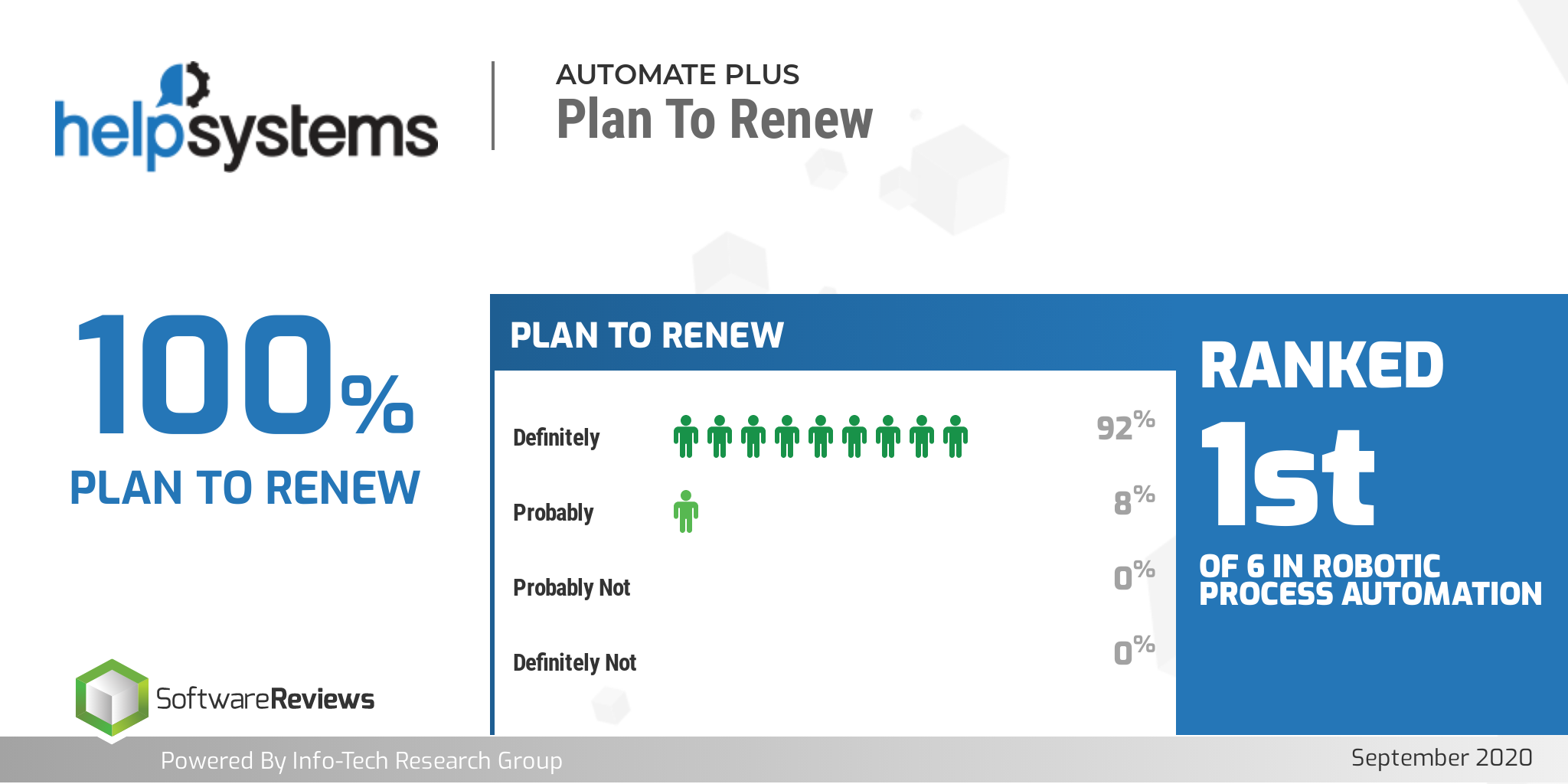 Automate RPA, on the other hand, offers a pricing structure that is not based on tasks, but on scalability. You can deploy anywhere from one to unlimited bots for considerably less than Blue Prism—and know the cost upfront without hidden fees. Automate does not require organizations to pay more to further their automation strategy, but enables them to scale without charging for additional features. With Automate, you can run attended or unattended bots with no restrictions, and integrate with any application or system without the price going up. This means there are no unforeseen charges that decrease return on investment as you widen the scope of your automation projects.
Automate offers unparalleled value in the market and eliminates the challenges of scalability. Customers repeatedly rank Automate RPA as essential to their own success. Based on the Software Reviews Report, 92 percent of respondents said Fortra Automate is critical to their professional success and 100 percent of customers say when it's time to renew, they will stick with Automate. Similarly, on G2, Automate received the best ranking for ROI and in meeting requirements of users. 
1 Blue Prism Introduces Consumption Based Pricing for Automation. April 2021. Retrieved from: https://www.blueprism.com/news/blue-prism-introduces-consumption-based-pricing/
How Blue Prism and Automate RPA Can Be Used Together
As you look to expand the use of RPA, you may discover there are a few gaps in the capabilities and value of your existing solution. Automate can fill in those gaps to help your team truly maximize your RPA efforts. Automate can be used alongside solutions like Blue Prism to enhance the features of both. Organizations that want increased scalability, ease of use, and reduced time-to-value and implementation may want to consider implementing Automate alongside Blue Prism. Check out how companies already using Blue Prism in multiple verticals have maximized their automation outcome with Automate Ultimate.
Image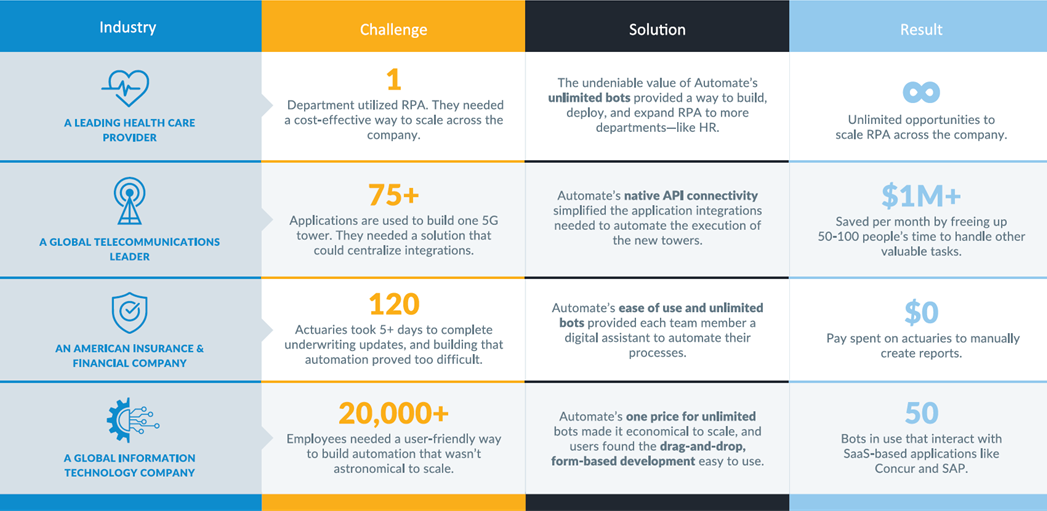 See the Power of Automate RPA for Yourself
While Blue Prism offers a leading RPA solution, there are limitations when it comes to its usability and scalability. Automate delivers powerful, intelligent, enterprise-class automation that stacks up—and outranks—Blue Prism across multiple categories, features, and capabilities. With flexibility to automate mission-critical IT and business processes across your organization, you can leverage no-code automation with unrestricted bots to maximize efficiencies, eliminate manual tasks, decrease costs, and achieve truly scalable automation with a top-rated RPA platform. Look to the powerful automation solution that spans people, processes, and departments by considering Automate RPA—built and priced right for employee-driven, enterprise-wide automation.
Want to See Automate in Action?
Download a free trial of Automate and use it for 30 days. See why Automate delivers more value than other enterprise RPA solutions available on the market.
Start My Free Trial