Media
Image

Text
Within the robotic process automation (RPA) landscape, there are typically three automation paths. One path leads to larger enterprise providers that depend on consultative services to automate processes. These solutions can be difficult to scale and typically come with a higher price tag. Another path leads in the opposite direction, offering impressive low-code or no-code automation from vendors that focus primarily on individual productivity. However, these solutions can lack complex automation functionality. In the middle of these extremes is an RPA path that offers a powerful UI with back-end automation, enabling individuals and teams to automate end-to-end workflows with full scalability across the business.
While it's important that every organization chooses the right path for their needs, it is also critical to understand where differences exist so you can get on the best path for your business. Let's take a deeper dive into two of the paths mentioned above: the Power Automate offering from Microsoft that provides a low-code automation tool and the alternative from Fortra, Automate, which integrates front-end and back-end automation workflows, and offers flexibility and scalability across people, teams, and processes. Let's consider three key differences between these automation solutions in relation to practicality, scalability, and cost.
#1: Going Beyond Reliance on Recordings 
Choosing an automation solution to fit your needs for real-world use is critical. One highly desirable feature today among users is a recorder that can easily capture and record actions—like navigation and clicks—on frequently used desktop applications.
Power Automate offers a solid, reliable recorder that is intuitive for users and straightforward for anyone to use, especially when recording actions in Windows applications. One downside though is that the recordings must happen in one take, and that leaves little room for process complexity. Users aren't able to re-enter recordings if edits are needed, and are required to re-create it from the start. Programming logic is fairly difficult to add into the Power Automate recorder, so the task builder is typically used instead. Some users find limitations in mixing the non-UI business logic in the recorder. The ability to mix non-UI actions with recorder steps is important in creating complex recordings. For example, if you have to copy selected rows in a table, you must be able to use decision logic alongside loops.
Automate offers a robust recorder, but also provides the flexibility to incorporate small tasks into larger, complex business processes. With the Automate recorder, you can easily update, edit, and manage recordings once started, add basic programming logic, including loops and conditional logic, and incorporate non-UI automation, like calling an API. This allows you to mix recorded (UI) tasks together with back-end automated tasks and customize the automation to your organization's unique workflows. It also leads to more robust rules-based decision making and easier management of recordings because they can be edited.
#2: Focusing on Long-Term, Scalable Enterprise Automation
Single user automation is a highly-used and valuable part of an organization's automation strategy. But true enterprise automation means the ability to scale from a single desktop to multiple desktops to centralized automation across departments.
Power Automate is purpose designed to focus on individual productivity and excels in this area. It supports users in moving rapidly from idea to automated task. This emphasis on efficiency at the single user level ensures that individuals can automate tasks quickly within their own function. One limitation, however, is that it is not very scalable and is limited to date in terms of available connectors to maintain business continuity.
This is in contrast to Automate, which may require additional time in building the workflow, but is designed for long-term use and scalability that can be maintained in house—without paying for custom connectors or waiting for Microsoft to update connectors. Automate offers no-code automation to quickly begin automating tasks at the single user level, but also allows business users or IT teams the ability to build up the automation they need—not fit their needs into an automation template.
The Automation Connector Hub also offers free downloadable bots to get started right away with automation, which can then be extended or customized. Automate's RPA functionality offers key enterprise security features, including role-based, priority, change tracking/audit logging, and password vaults. This means the top challenge of scalability is eliminated, unlocking your full enterprise automation potential in-house and empowering you to build a long-term asset for your organization.
#3: Relying on a Cost-Effective, Predictable Pricing Model
Knowing up front what you are going to pay for the automation solution you purchase is foundational. Organizations do not want to encounter any 'gotcha' pricing or unexpected costs that diminish ROI as they get further and more mature in their automation strategy.
The Power Automate pricing structure is based on the number of users and attended bots an organization deploys per month. Three tiered options are available—with two focusing on license by user and the third option focusing on license by flow. Unattended bots cost extra each month, per individual bot, and additional flows may be purchased per flow each month. The approach Power Automate takes with its pricing makes it a more costly option as more tasks are automated.
One important differentiator of Automate is its approach to pricing. Automate uses a pricing structure that is not based on tasks, but on scalability. Automate does not require organizations to pay more to further their automation strategy, but enables them to scale without charging for additional features. For example, enhanced features around security and machine learning are not considered add-on options with Automate. This means there are no unforeseen charges that decrease return on investment as you widen the scope of your automation projects. Automate even offers an unlimited bots and studios option with Automate Ultimate for unlimited automation potential.
What Users Say: See How Automate Stacks Up as a Power Automate Alternative
In the recent 2021 Robotic Process Automation Emotional Footprint Report by Software Reviews, Automate achieved high-ranking scores compared to Power Automate. Automate received a customer experience score of 8.1 out of 10 with leading scores in several key areas. Here we will take a look at a few of these items when directly comparing Automate to Power Automate.
Ease of Customization
In relation to customers' ability to customize the solution, Automate outperformed Power Automate with an 83% satisfaction rating versus 69%. 
Image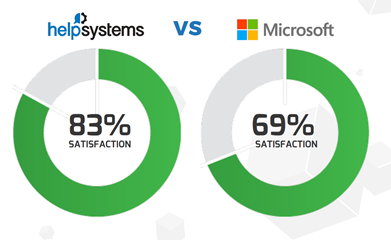 Product Features 
Automate outperformed Power Automate in two key capabilities: Breadth of Features and Quality of Features.
Image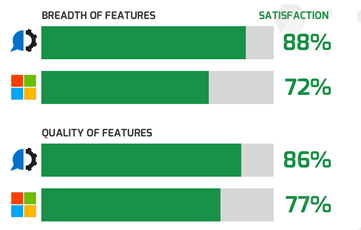 Technical Capabilities
Automate achieved strong rankings for technical capabilities, specifically regarding Ease of Data Integration and Ease of IT Administration.
Image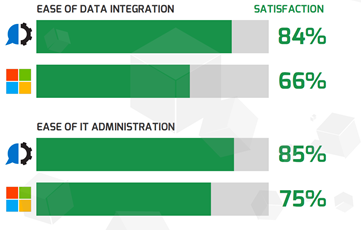 Choose the Right RPA Path for Your Organization
While it may not be as well known in name, Automate delivers powerful automation and outstanding value to customers—and is a formidable alternative to Power Automate. It offers the ability to start small and scale across your business. With flexibility to automate mission-critical IT and business processes across your organization, you can leverage no-code automation with unrestricted bots to maximize efficiencies, eliminate manual tasks, decrease costs, and achieve truly scalable automation with a top-rated RPA platform. Look to the powerful automation solution that spans people, processes, and departments by considering Automate as your primary path to RPA success.
Want to See Automate in Action?
Check out a short demo to view sample tasks and get an idea of what Automate can accomplish.
Watch a Demo