Media
Image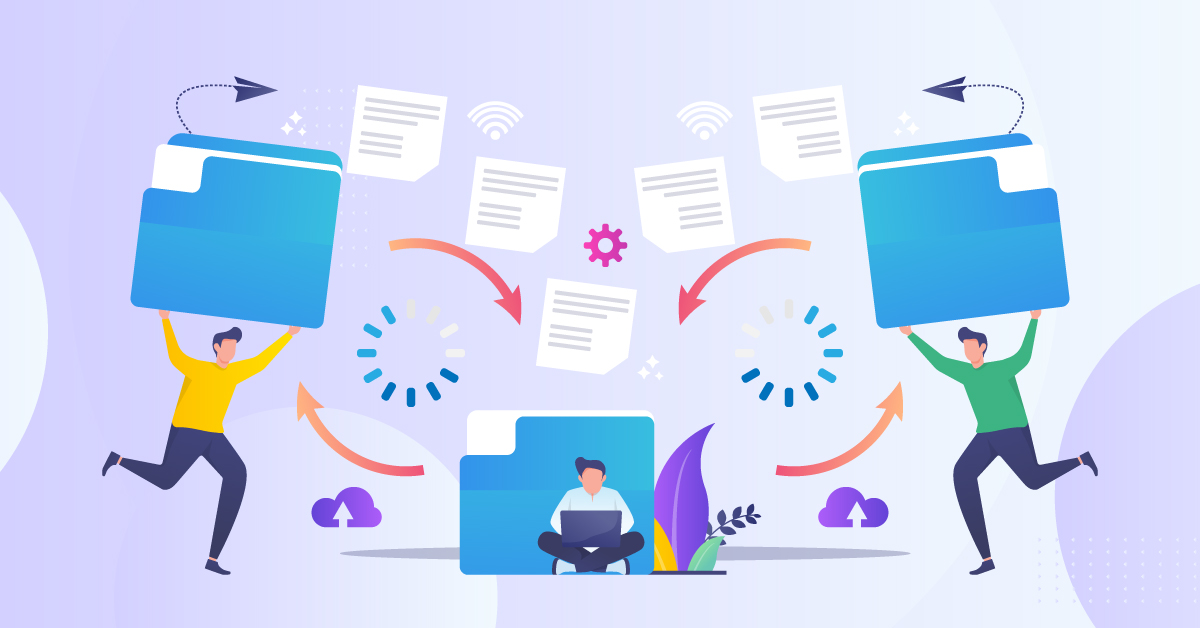 Text
Implementation 101
An enterprise file sharing solution is an important tool for organizations to have. The benefits are practically endless – from ensuring compliance with data regulations, to streamlining transfers with automation, to the auditing and reporting capabilities – implementing the right tool is key.
However, the act of implementing the right enterprise file sharing solution can be confusing and a rather daunting task, but it doesn't need to be.
If you're feeling overwhelmed by trying to determine which enterprise file sharing solution is best for you, we're here to help. Check out our tips below for some insight into implementing the right enterprise file sharing solution for your organization.
Tip 1 – Make Sure it's Centralized
When it comes to an enterprise file sharing solution, a centralized solution can help you manage all your file transfer needs with ease.
A great way to achieve this is through a single interface – from file sharing, to collaboration, and automation capabilities. A centralized solution should have the flexibility to simplify and secure your processes without causing unnecessary strain.
Additionally, centralized enterprise file sharing solutions allow your organization to move away from using multiple products and manual tools. From batch server-to-server file transfers, to user-to-system ad-hoc file transfers, to person-to-person file collaboration – the right solution should work for you, not against you.
Related Reading: Benefits of a Content Collaboration Platform
Tip 2 – Know that Security is Key
Data moved via FTP is not encrypted or protected whatsoever. It's also not authenticated, meaning that anyone with know-how can get access to your files which puts your entire system at risk for breach.
Implementing an enterprise file sharing solution that truly prioritizes security is key. The right solution should use industry-standard file transfer protocols (like FTPS, SFTP, and AS2) to send files securely and encryption standards (like Open PGP and AES) to protect data in transit and at rest.
Keep an eye out for bonuses like a provided Key Manager that can be used to create, import, export, and manage your PGP keys and certificates.
Related Reading: What Are the Top File Transfer Protocols?
Tip 3 – Look for Flexible Sharing Options
Whether you're sending files in bulk, collaborating on a sensitive document, simply need to send large files – or perhaps all three – your enterprise file sharing solution should be able to execute these tasks without a second thought.
An enterprise file sharing solution worth implementing should let you easily share files in a variety of ways by using specific modules, all from one easy to use interface.
Some examples of different sharing options that can be beneficial for you to take advantage of are:
Secure Folders: Give your trading partners and customers quick access to authorized files and folders through a web browser.
Secure Forms: Set up custom forms for customers, trading partners, or employees to fill out and easily upload information to your organization.
Secure Mail: Send encrypted messages and files to your employees as secure "packages" on an ad-hoc basis. This is a great alternative to regular email since there are no file size or file type restrictions.
Related Reading: Can Your MFT Solution Do These 20 Things?
Tip 4 – Keep an Eye Out for Automation, Monitoring, and Tracking
One benefit that's important not to overlook is automation. Automation is key in today's world. Single-function tools and manual processes like homemade scripts rely on the availability of specific individuals, increase the risk of human error, and can cut into more critical tasks due to their time-consuming nature.
The right enterprise file transfer solution should be able to handle recurring or high-volume file transfers so other business-critical tasks can be simultaneously pursued and efficiently prioritized. Whether you send a dozen file transfers a week, hundreds a day – or more – automation is a smart and powerful tool to have in your toolbelt.
Look for solutions with built-in schedulers and automated workflows (projects) that can execute automatically whenever a file monitor detects new, modified, or deleted files. File monitors can also save your organization from unwanted issues as they can alert you if an error occurs during the process.
An enterprise file sharing solution should also offer the ability to store, track, and report detailed audit information. By having access to comprehensive audit logs of all file transfer and administrator activity, you can gain better insight into your file transfers and data movements.
Related Reading: How Are Your Peers Utilizing Automation in GoAnywhere?
Tip 5 – Verify the Deployment Options
The deployment options available through your preferred enterprise file sharing solution should also impact your decision. While some organizations prefer to self-host their software, whether locally or in a cloud computing service provider, others may prefer to do everything in the cloud and favor SaaS options over maintaining software.
Some enterprise file sharing solutions can connect with cloud environments and web apps that you and your trading partners use every day. It's a good idea to verify that you will have access to a tool that can do just that, such as out-of-the-box integrations. These integrations can help you connect with a variety of popular technologies like Amazon Web Services, Azure, Salesforce, SharePoint, Microsoft Dynamics 365, and Dropbox.
Hybrid solutions are also an option for software hosting needs, having gained popularity as many companies are moving more processes to the cloud. While bonus options like MFTaaS give you all the benefits of enterprise file sharing, minus the uncertainty of managing cloud infrastructure or installing software on-premises.
Related Reading: What is a Cloud Connector?
Related Reading: 9 Ways to Use GoAnywhere's Cloud Connector Integrations
Tip 6 – Ensure You Can Comply with Regulations
Complying with industry security standards is a vital issue that can stop an organization in its tracks. Without the right enterprise file sharing solution, your organization is at risk of being hit with large fines or sanctions for non-compliance of data security laws.
It's important to make deploying a robust enterprise file sharing solution a priority for your organization in order to help to ensure compliance. Common file transfer requirements your solution should comply with are PCI DSS, HIPAA, GLBA, GDPR, and FISMA.
Related Reading: How to Help Ensure Compliance with Data Privacy Laws
Tip 7 – Check to See if You Can Try Before You Buy
A free trial is an excellent way to determine if an enterprise file sharing solution is right for you and your organization's needs. If you're going to take the time to compare your options, check to see if you can try before your buy – request a demo or a trial to see the possible solution in action.
Trials and demos can also help you explore the features, resources, cost-savings, and many benefits of the right enterprise file sharing solution.
Related Reading: 5 Projects You Could Tackle with a GoAnywhere Trial
Related Reading: How to Evaluate MFT Vendors
Take the Next Step
In order to implement the right enterprise file sharing solution, it may be useful to check out how solutions compare. Explore the MFT Buyer's Guide, full of additional tips on getting started, pre-search considerations, and in-depth evaluations.