Media
Image

Text
What is Hyperautomation?
Hyperautomation is an application of advanced technologies, including:
Robotic Process Automation (RPA)
Artificial Intelligence (AI)
Machine Learning (ML)
Cognitive process automation
Intelligent Business Process Management Software (iBPMS)
The goal of hyperautomation is to generate increasingly AI-driven decision making and end-to end automated processes. Because of the end-to-end nature of hyperautomation, it often results in the creation of a digital twin of the organization (DTO), which essentially means that all operations have a digital mode that can replace the existing manual or physical mode.
Trends and Benefits of Hyperautomation
Media
Image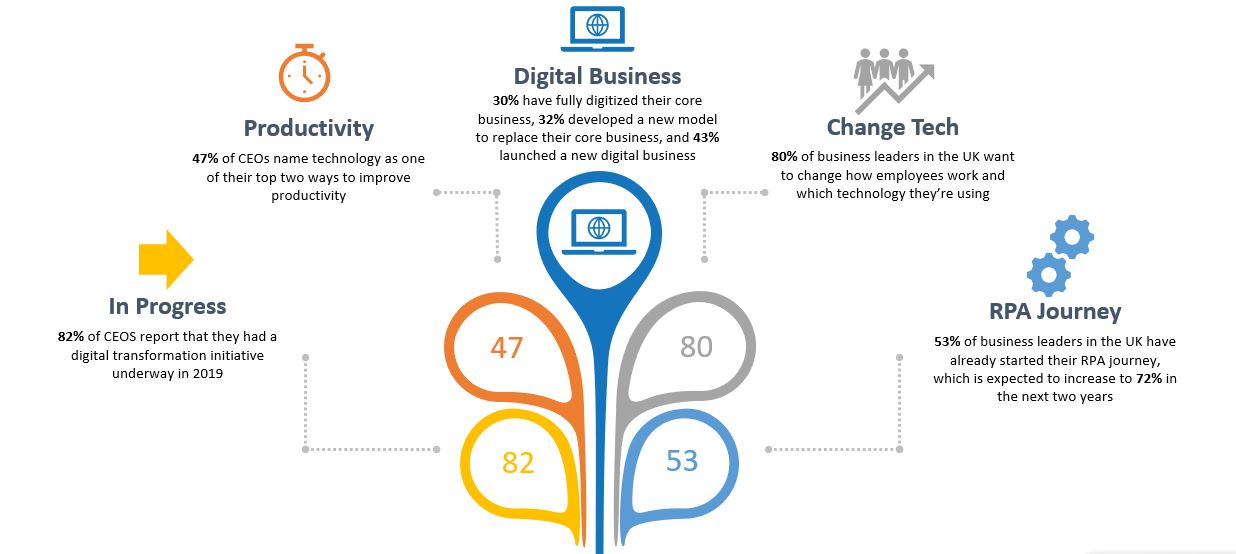 Text
(stats source: Deloitte)
Knowing about hyperautomation is one thing. Acting on the trends surrounding it is another. Organizations around the world are increasingly adopting new forms of automation, progressing in maturity in order to save money, optimize operations, and put employees back to meaningful work.
30% of organizations have digitized their core business. 32% have developed a new model to replace their core business, and 43% have launched a new digital business. These numbers represent hyperautomation in action. Organizations are recognizing the benefit of automating processes end-to-end with the assistance of AI technology in order to streamline and deliver a better experience to customers and employees. Central to this initiative is the discussion about how people work, which 80% of business leaders say they want to change. Hyperautomation will be disruptive, meaning that leaders have to be ready to retool, retrain, and reframe employees' responsibilities and ways of seeing their work.
Understanding the key drivers for success
Businesses that see real transformation and lasting organizational change start small, pilot processes, generate quick wins, and progress to change the culture in their organization.
How do you start small? RPA is a great foundation for a hyperautomation initiative. Because even an RPA implementation can start small, transforming one department or process at a time, and pick up momentum as it continues. That's the nature of the RPA journey, to gradually generate momentum. People will see the positive impact and be more likely to embrace hyperautomation. Generating quick wins and having the support of a team of champions to move an RPA implementation throughout the enterprise paves the way for introducing AI, ML, and other intelligent automation to accomplish end-to-end automation.
Learn how other organizations have found success through RPA and start developing your plan to implement.
GET THE GUIDE