Media
Image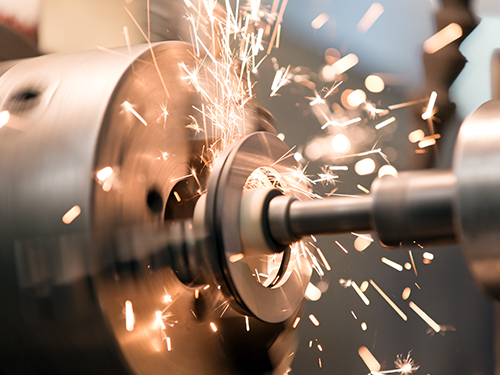 Text
In manufacturing, time equals money. When an device, server, or application that's instrumental to your business fails, you can't waste time troubleshooting by trial and error. Network administrators want more than just up or down status—they want answers. When did the failure happen? What did traffic levels look like beforehand? What, exactly, caused the outage?
Without network visibility, it could take hours to find the culprit. In the meantime, every minute of downtime impacts your business production, and ultimately, profit. You need performance data on every device in your network so you're able to quickly detect anomalies.
It doesn't matter what you manufacture. From cars to chemicals, electronics to consumer goods, anything you produce requires network uptime. Whether you're a company with one small plant or hundreds of factories worldwide, efficiency matters.
Monitor Your Entire Manufacturing Floor
Text
Lack of network availability will put a halt to production. As your floor becomes more and more computerized, your network must continue to support all of these critical systems and devices. You need tools that can continuously poll network devices for real-time status updates and notify you when devices exceed normal traffic levels. From standard devices like servers, routers, and workstations to non-standard items such as IP-enabled sensors or power meters, constant monitoring of every network device helps IT maintain optimal traffic levels.
Network Monitoring Benefits
With the help of network monitoring software, manufacturing IT teams can:
Stay on production schedule
Meet critical deadlines without being hindered by devastating network outages, which can stretch anywhere from a few hours to several days in length.
Get immediate network notifications
Unknown network problems can worsen rapidly, but immediate notifications keep IT aware of network events so they can be quickly addressed.
Monitor ruggedized equipment
Keep an eye on the up/down status of ruggedized switches, routers, and cameras in your manufacturing facility.
Cut down on visits to the factory floor
IT has enough on your plate, so enable remote network access for easy at-a-glance views of network traffic and troubleshooting abilities.
Automatically create a network map
Network diagrams in Excel are time-consuming to create and update, so automatic network mapping does the work for you, giving you a real-time visual of your entire network infrastructure.
Reduce your IT workload
When troubleshooting issues and monitoring devices takes dramatically less time, IT teams in manufacturing companies are freed up to focus on other business priorities.
Use Intermapper to Meet Deadlines By Eliminating Downtime
Text
Manufacturers such as Fortune 500 electronics companies and automobile makers depend on network monitoring tools to monitor their networks every day. Intermapper is powerful, user-friendly network monitoring software that gives you total visibility into the health of your network with real time mapping, monitoring, and notification abilities. Intermapper can monitor non-standard equipment such as environmental sensors or heating, ventilating, and air conditioning (HVAC) systems that are uniquely important to the manufacturing environment. Whatever sector of the manufacturing industry you compete in, Intermapper can help you reduce downtime, cut costs, and improve operational efficiency.
Get Started
Map your manufacturing floor for better visibility into network performance. Try Intermapper for free with a 30-day trial.
START A FREE TRIAL